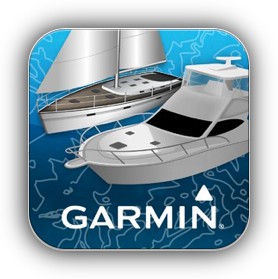 After posting version 1.0 on August 1 2012 gone relatively unnoticed, Garmin updated version 1.0.3 fully completed of its app on January, 2 2013.
BlueChart Mobile, today only for Apple iOS devices, uses the full vector mapping BlueChart g2 and g2Vision from the undisputed leader of GPS leisure (¹). Adopting look and feel familiar to users of the brand, they will not be thrown in its use. The application is completely autonomous, but nevertheless allows a connection with latest manufacturer's chartplotters.
The app, like many others, is free and charts are bought and downloaded in-app. The good news, is that the geographical areas are extensive : the North-West of Europe for 55 € covers the whole of Western Europe and the British Isles, then it would take two applications Navionics Marine HD, thus 100 €, to cover the same area. BlueCharts data come from the majority of world hydrographic services and most famous nautical guides (Reed's Almanach, Adlard Coles Nautical, Bloc Marine, aso.).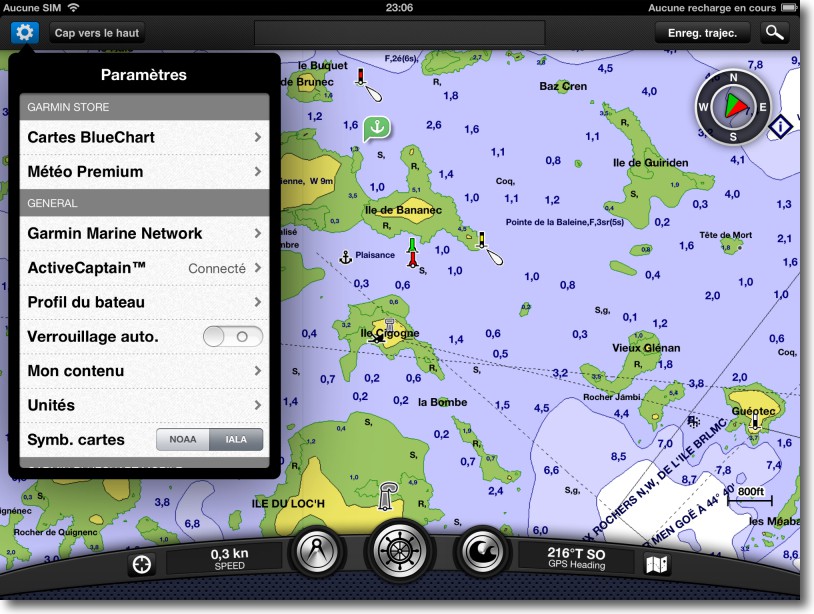 The bottom bar of instruments looks like a motorboat console. More over, in this application are references to many boating : profile settings boat, vessel icon, fuel consumption calculation. If aesthetics is questionable, this toolbar is particularly cumbersome. On the other hand, nice trick is to have created a circular contextual menu provides access to several options and numerous information :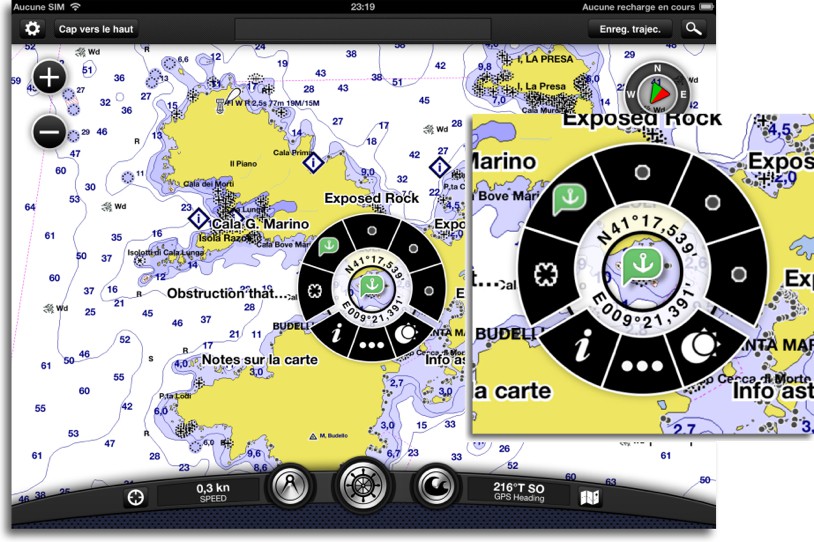 This menu is used to add a waypoint or create a route, to access information about POIs and navaids (²), obtain astronomical data. In short, a very clever system which is easy to learn operation.
Garmin had the idea to incorporate a link to the U.S. website ActiveCaptain, well known by boaters overseas, community website incorporating full details on port services, the best anchorages, obstacles and hazards to navigation, etc.. With a simple free subscription, you can download the entire database in the application to benefit from the wealth of information contained.
It is possible to display on the chart GRIB weather forecast data for wind, data from weather stations, and for an unlimited subscription of a few euros, radar satellite images (precipitation) and cloud cover.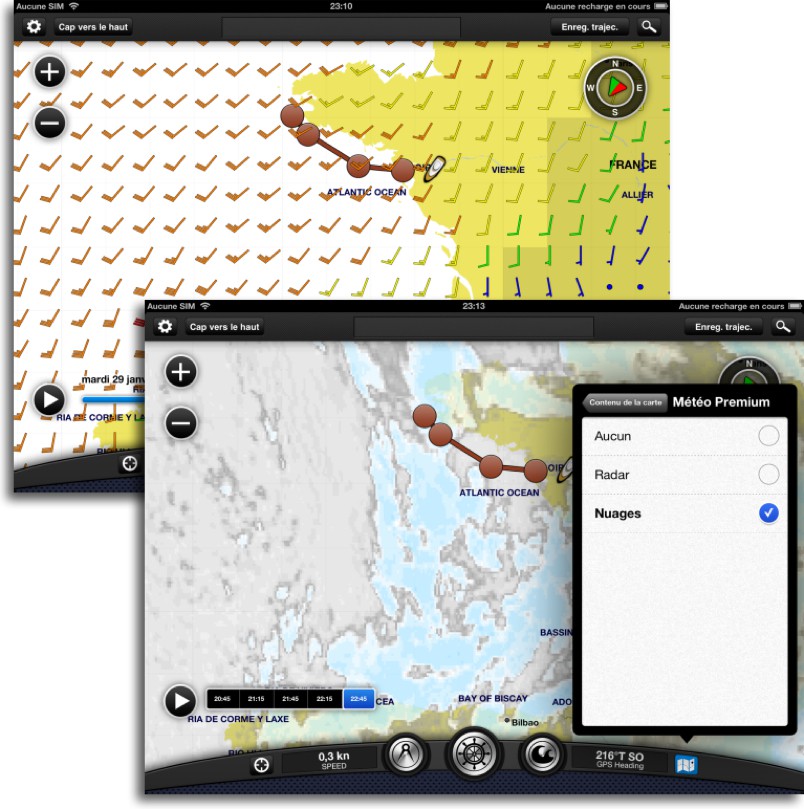 Management of waypoints and routes is relatively simple, they automatically log, as tracks, and can be edited, modified or deleted. No function to import or export by mail or in another application. But Garmin provided with a WiFi connection its most recent chartplotters to exchange waypoints, routes and tracks in sync between the iPad and its instruments. The application includes a complete user guide, This is not a luxury.
Garmin therefore embarks on iPad with its charting and an application that is fairly close to the spirit of Navionics in visual design. To remain at sea for testing compared to its competitors.
—
(¹) See article The stakeholders of electronic charting
(²) See Glossary
—