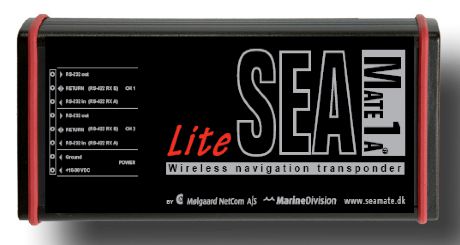 In the spring 2008, company Mølgaard Marine House has developed one of the first WiFi multiplexers for pleasure in order to connect navigation equipment and AIS to onboard computer. If this product is still available today, however, it is surpassed by several recent products, already mentioned in this blog (¹), more efficient and cheaper.
Nevertheless, for holders of this unit, it is possible to configure iNavX to receive NMEA data transmitted. Richard Ray just give us a tutorial that will soon be added to iNavX Help (²).
1 – Settings > Wi-Fi iPad (or iPhone)
After connecting the instrument to the instructions of SEAMate User Manual, Open the settings of your device :
Activate Wi-Fi "I".
Choose "SEAMateLitexxxx". If a password is required, enter "123456abc".
Tap the blue disclosure button ..
Select IP address on "Static".
Enter the IP address as above " 192.168.127.200 ".
Back to Settings with "Wi-Fi" button.
2 – Start iNavX
Select home page Preferences > TCP/IP NMEA Client :
Enter Host : " 192.168.127.129 ".
Enter Port : " 10002 " to use CH2 : NMEA Instruments data, OR : " 10001 " to use CH1 : NMEA AIS data.
Select "TCP".
Select Activate Waypoints "I" if you want to import waypoints or routes with a GPS receiver active.
Activate Location Services "I" if you use the CH1 : NMEA AIS data.
Select On to "I".
Quit with "Save" button.
If you have properly configured these screens, NMEA sentences received must scroll through the black window.
The disadvantage of this device is that it does not merge the data from CH1 and CH2, a limitation compared to newer WiFi Multiplexers, such as Digital Yacht iAIS or Brookhouse iMux.
—
(¹) https/navigation-mac.fr/tag/wifi/
(²) http://www.gpsnavx.com/iNavX/help/seamate1a.htm