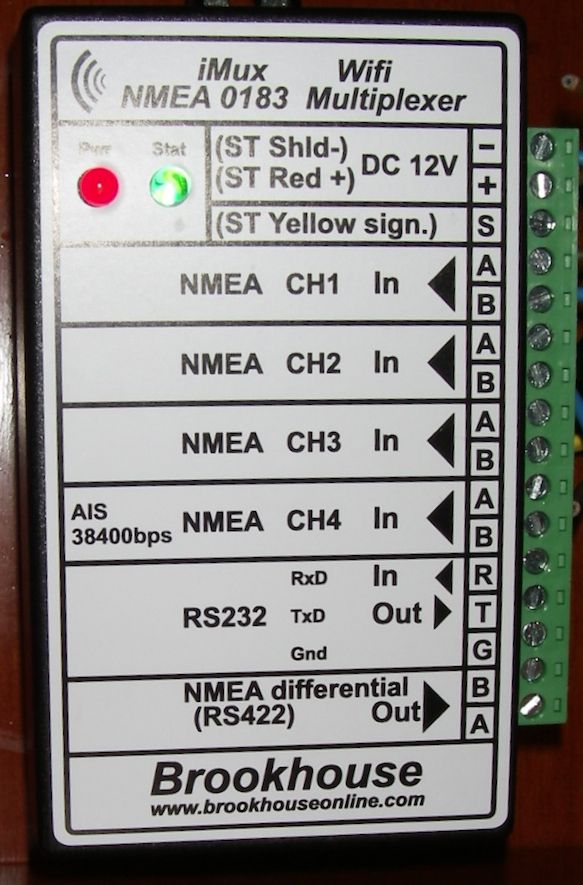 More and more great ! AfterWi-SP from Digi Connect, The'iAIS from Digital Yacht, here is the 'iMux from Brookhouse.
The multiplexer is a iMux (*) NMEA 0183 able to transmit in WiFi data from the instruments connected to it (GPS, Navigation, AIS) to an iPad, iPhone, or any computer featured with a built-in WiFi receiver. All navigation applications receiving NMEA data 0183 through a serial port, USB or Bluetooth can communicate with the iMux. Of course, It has been specially designed for use with iNavX.
Easy to install, no configuration needed unless you want to enable advanced features, the IMUX comes in two versions :
iMux Standard
This device combines all the NMEA data from any receiver or AIS transponder with GPS and those instruments into a single data stream. This stream is transmitted via WiFi to 38400 baud to an iPad or other compatible PC. This model also features a serial output for connection by cable to a chartplotter or a computer. It includes all the functions of the multiplexer AIS Standard and does not limit to only transfer via WiFi.
iMux-ST (SeaTalk)
Specifically designed for the range RayMarine, This model converts the data protocol SeaTalk instruments on NMEA sentences, combines with other NMEA devices connected (GPS, AIS,…) before transferring them via WiFi. In addition, iMux-ST adds the features of AISC multiplexers, to integrate with AIS transmitters or other NMEA with Raymarine chartplotters. GPS position provided by iMux can be used as input by a DSC VHF or SSB radio.
These two models are "all-in-one", including all the features of other models Brookhouse, NMEA including filtering and conversion rate 38400/4800 baud.
Implemented with iNavX :
OpenSettings from iPhone / iPad
Select "WiFi"
Activate "Wi-Fi" to "ON"
Choisir « Brookhouse_iMux ». If another network is already selected, click the blue arrow button, then "Forget this Network".
Set IP address "Static ", "169.254.1.2 ", subnet mask " 255.255.0.0 " , Proxy «Off ".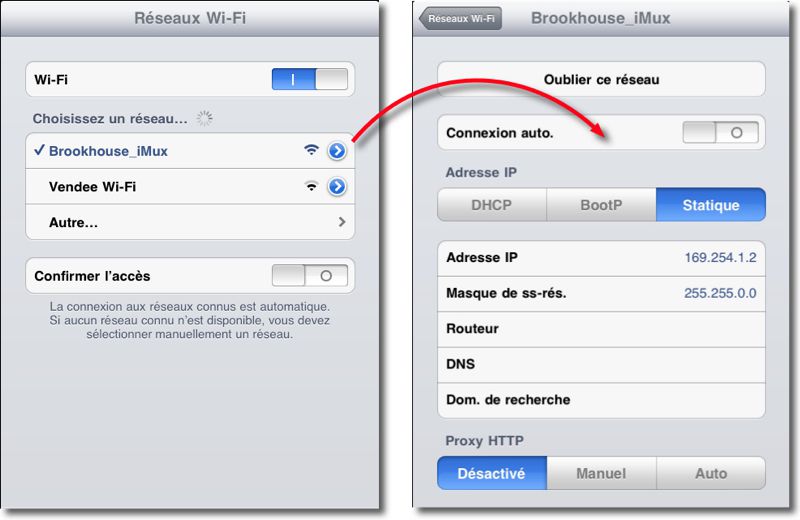 Exit Settings and launch iNavX. In thePreferences select "TCP / IP NMEA Client" :
Host : enter "169.254.1.1 "
Port : enter "2000 "
Activate "Location service" on "I" if no GPS receiver is connected to iMux. This will allow iNavX to use iPhone / iPad "Location Services"
Set "Active" to "ON"
Close with the "Save" button
Notes :
• Set "Repeat to AP" to "I" to send the NMEA data from the active waypoint to the NMEA output. (RS422) the IMUX when iNavX is working (iPad only).
• Connect a GPS to NMEA input CH1 of the IMUX.
• Connect the output of a DSC VHF radio on the iMux NMEA CH2 input. If a DSC distress message occurs, iNavX create a waypoint from the received position. To be sure it works, make sure that the "Activate waypoints" function of the "NMEA TCP / IP client" settings is on "I".
• Use the NMEA CH3 to any other compatible instrument.
• Connect an AIS receiver or transponder to the iMux NMEA CH4 input.
• Connect the NMEA IN on the autopilot on the differential output (RS422) NMEA OUT. One can also add a NMEA IN VHF DSC to send the GPS position.
There can be only one unit (iPhone or iPad) connected to a WiFi IMUX (a single client IP address).
—
(*) See information on multiplexers on the site pageNMEA / Wi-Fi interfaces