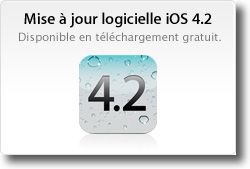 A quick note to discuss what is new in this iOS for us, boaters.
For'iPhone, not much : multitasking was already present in version 4.1, to close iNavX without stopping, to use another application. It is therefore possible to switch one application to another, iNavX continuing to record the traces.
For'iPad , the system finally brings the long awaited multi-tasking. A definite advantage for the use of navigation applications that multiply. It leaves turn iNavX background while you write the logbook with Numbers, or other application.
On these two devices, and can switch from one application to another without service interruption by double-pressing the "Home" button and briefly press one of the icons of active tasks.
To close an application completely, prolonged pressure on one of the icons displays a 'No entry' which allows, a new short press, to really close the app.
Both devices, function AirPrint can print to a compatible printer, or on a printer connected to a Mac network (WiFi or other). At time, applications with the "print" option are few, but no doubt that Richard Ray soon will implement this feature in iNavX, to print charts from iPad, for example. Currently, AirPrint function is disabled in OS 10.6.5. Fortunately, AirPrint Activator The Netputing, free utility and well designed, can enable this feature now, I just test it and it works perfectly.
Are all, nothing very revolutionary…