Following my previous post and the many comments it has provoked on the forum Sail The World, MaxSea answer was not made to wait, coming from Anthony :
Different elements come justify the price difference mentioned in the example cited.

First, the taxes are not the same in the U.S. and Europe and are not included in the price mentioned by Defender. Then very important, the card is free in the U.S. and therefore the cost is not reported on the overall price!

Rate U.S. Dollar / Euro is used for the benefit of U.S.. At last, remission applied to our products through our resellers within their decision.

Time Zero products mentioned are the same.

Hoping you have made a satisfactory explanation.

I wish you a merry Christmas.

Cordially,

Anthony
So I made a few mouse clicks and resumed my calculator :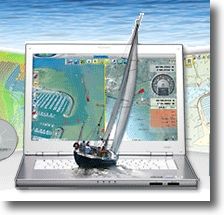 MaxSea TC $347 =
290 € inc VAT
FedEx Postage 0.65 lbs $104 = 88 € inc VAT
France = Map MapMedia 359 € inc VAT (in Nauticom)
(VAT 19,6% included)
TOTAL = 737 € inc VAT more than 310 € saved on 1048 € Site MaxSea France.
Therefore 300 euros for the French version, or the margin of U.S. retailers is much lower than that taken by MaxSea on its website (direct sale without dealer) ! I remain sceptical.