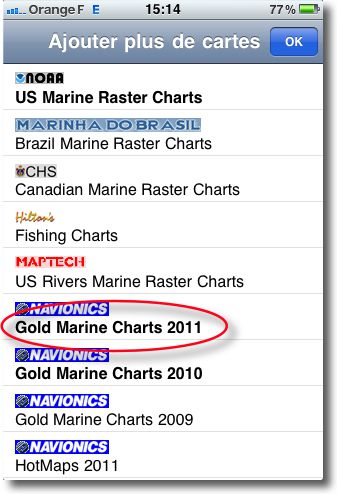 Navionics recent weeks published new versions of its charts regions stamped 2011. A new file of Navionics charts « Gold Marine Charts 2011 "Has been added in the function" Add more charts »Of iNavX.
These regions replace the previous ones and must be purchased to be able to download. I explained the procedure in a previous entry. I mention that Navionics charts are subject to free updates between editions, but a new paying edition replaces the previous one each 1 to 2 years. Having, no obligation to buy a new edition every issue.
These Navionics charts, only available at X-Traverse, are intended to be used by multiple applications on different devices. For our purposes, they are essentially iNavX for iPhone and iPad, and MacENC for Mac. Charts region are identical, only formats and prices are different.
[Update 29/04/2011] View ticket Navionics new rates 2011.
Cutting areas
Some regions have been cutting a new geographic area. This is particularly true of the Mediterranean. Region 23XG (2010) is replaced by the region 43XG (2011) which no longer includes details of the southeast coasts of the Mediterranean from Libya up to Syria. These coasts are now included in the region 30XG.
These coasts are relatively uncrowded by the yachtsmen, it is likely that will not bother many people.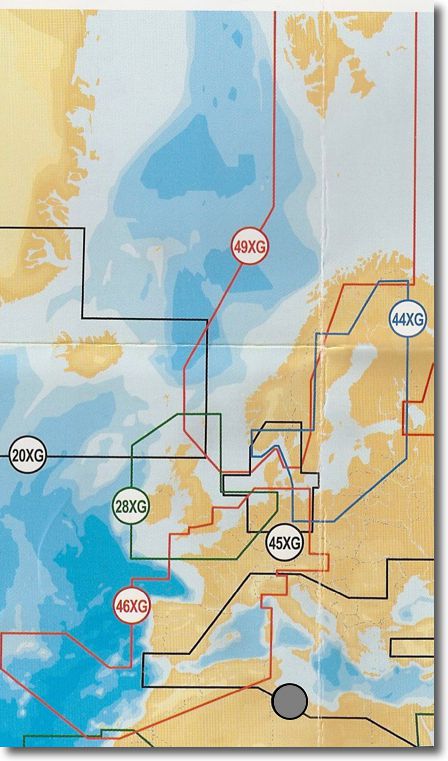 Other areas of Western Europe are unchanged (This left-cons). It should be noted that the cutting of region 28XG, 46XG and 43XG are overlapping benefit to boaters because they offer an extension to the coast surrounding the geographical base. For example, the English can navigate the French coast of the Channel, Holland included up. The French may reach the southern coast of England, Azores, Canary Islands, and tour of Spain until, and including, Corsica and Sardinia.
Navionics Marine cutting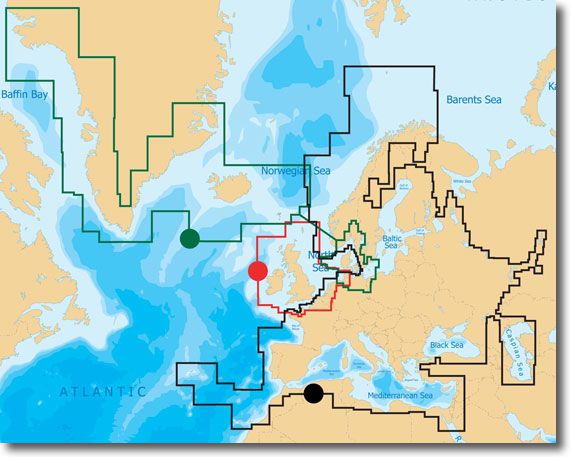 Navionics Mobile, sold directly from the iTunes AppStore, now called Navionics Marine (¹). The new version for iPhone and iPad has a totally different geographic cutting (cons right here), which was not included in the offer for third-party applications, both for computers applications and for boating chartplotters.
The regions were reduced in number, but relate to considerably expanded geographical areas. However, their cutting presents surprises that are not in favor of users, like the "Europe" map which does not include the south coast of England or the Danish peninsula which is included in the Greenland-Denmark map. To bound from France to Norway, must therefore buy three charts !
—
(¹) See article Navionics new offer on AppStore