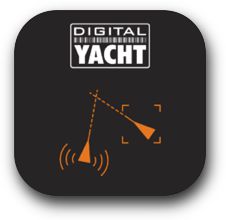 Early this year 2014 is decidedly fertile in new navigation applications. After NavPlay and Navionics Boating, this is NavLink UK edited by Digital Yacht. We know well that British company, located in Bristol, for these many WiFi devices connecting instruments, AIS transceivers, aso., regularly mentioned on this blog. But provide a comprehensive navigation application is a real surprise.
British Admiralty vector charts
NavLink UK is the first application to offer the ENC S-57 by UKHO (¹) for iPhone and iPad. Version NavLink US is also published on the U.S. AppStore with vector charts by NOAA (¹). Unlike many of its competitors is the application fee, but for 26 € you have all the charts covering the UK, Channel Islands included, of course.
On first sight, you will quickly find that you are dealing with English : the colors used are quite consistent with the bright colors of their famous "jelly". In comparaison with Navionics charts, it requires some habituation :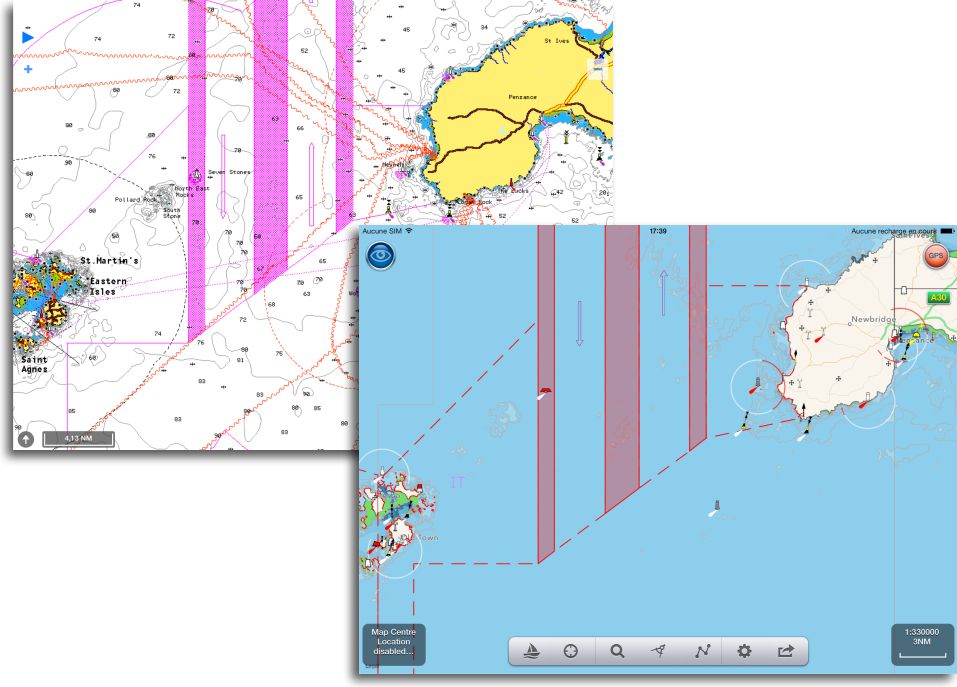 This is even more evident in the details :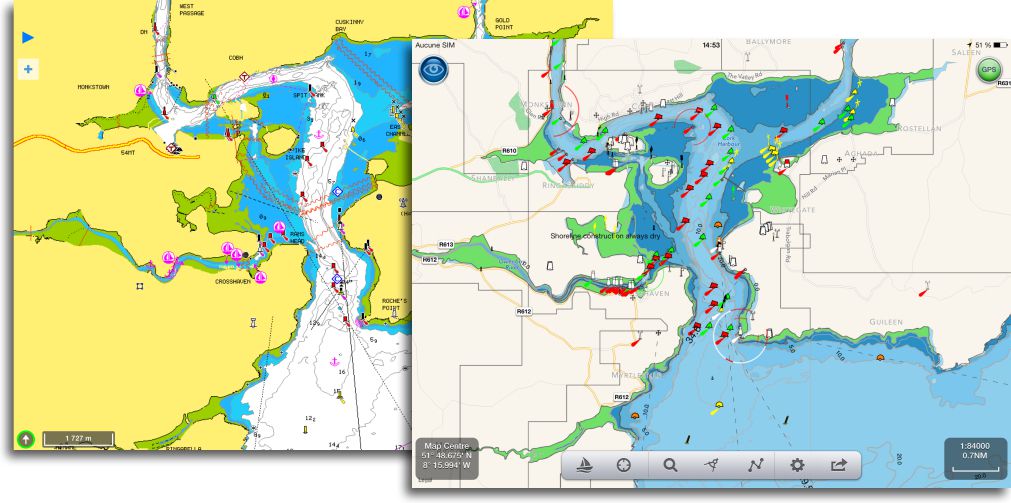 However the port plans often lack details, textual and cartographic information is very poor. For example in Scotland, the name of the islands is not charted, must do a long press on each to get in an information window. This is quite confusing, not to say exasperating.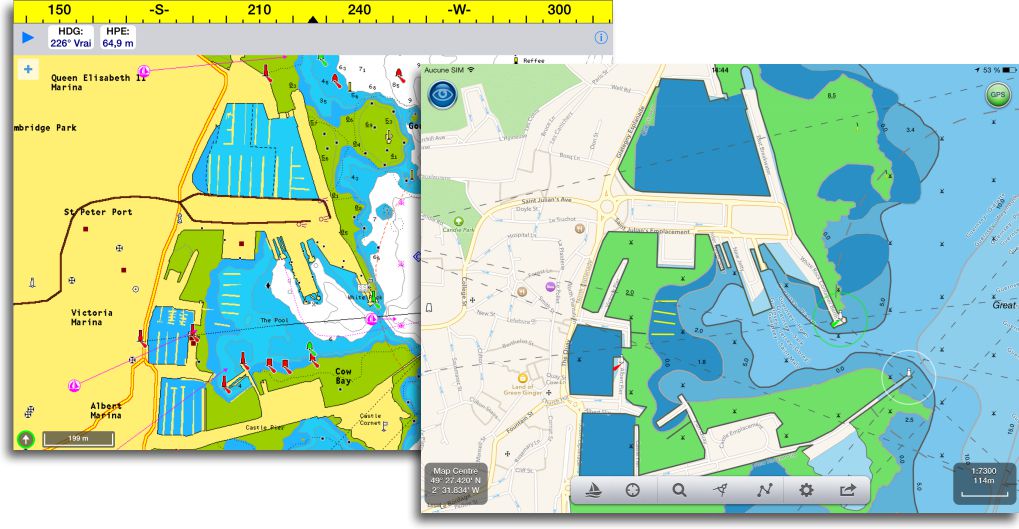 The display refresh is very slow, especially with my iPad 3 whose screen is reputed to be the slowest of the range. Plan to download your destination charts in advance with a good internet connection.
AIS connection
The minimum that could be Digital Yacht was to make his application compatible with the display of AIS targets. To this is added the receiving NMEA data from external GPS. It is only a pity he had not expected to display other NMEA instruments, as Digital Yacht has developed an application dedicated to this function iOnBoard. Hopefully this will be included in a future version.
Targets are displayed with specific colors by type of vessel, and a tap on a target displays a label bearing his name and ⓘ button to display detailed information. CPA and TCPA calculations are made and an adjustable alarm alerts on collision courses.
An innovation : Route in augmented reality
An innovative feature in this application : view chart objects and data in augmented reality. Creation route function is relatively conventional…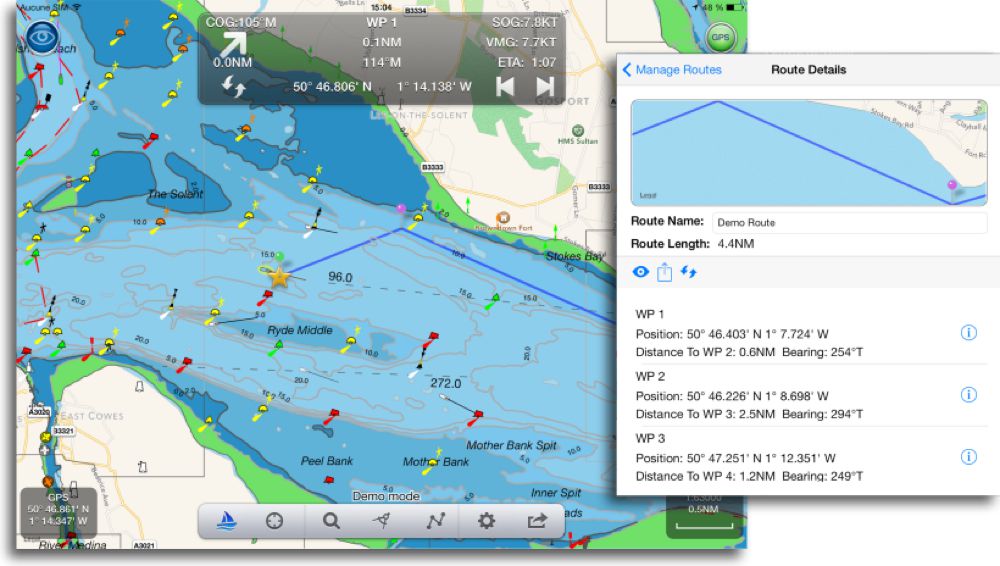 … but follow the route can be done flat on the chart, or through the camera of your iPhone or iPad :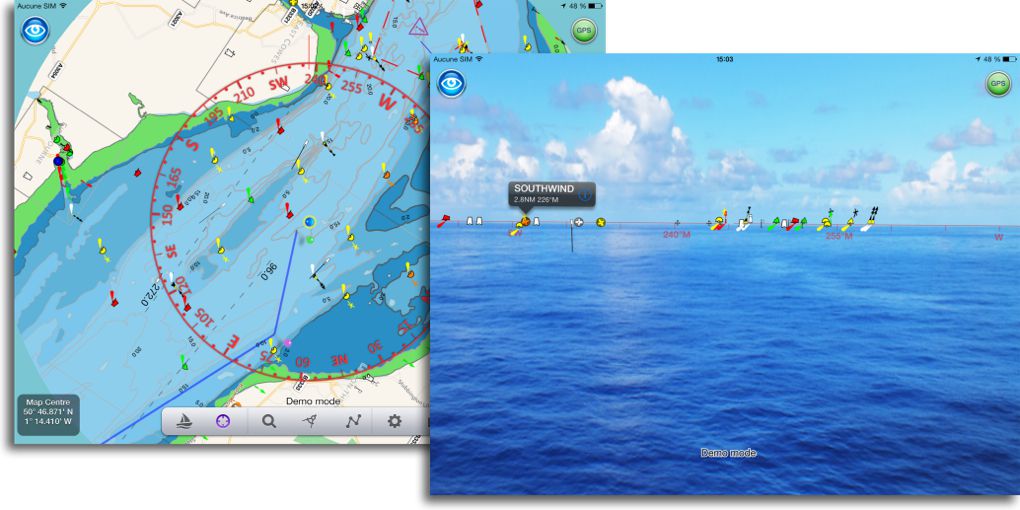 Gadget or really useful ? It will see in use. But it is a fact that this feature brings a new dimension to navigation, by overlaying the chart to landscape.
About other functions, the application provides weather data and tide information by connecting to internet websites. No export/import file function (waypoints, routes, tracks). At last, for that price, must not either ask too much !
Today NavLink concerns only the British Isles, it is likely that the geographical coverage will be extended to other European countries. Pending, it allows you to navigate with vector charts from Ireland to Scotland for half the price of Navionics Marine UK for the same area.
—
(¹) See these acronyms in the Glossary
—