IPad is not watertight, we know. Apple has not designed for that purpose, one suspects. The creative genius of Steve Jobs has certainly not been to imagine that sailors would use the tablet as a chartplotter and get it over the oceans ! (¹)
But voila : we decided to take with us this equipment at sea, beach, desert, in a pool, and why not in the ISS (²), isn't it ?
It was therefore necessary that accessories manufacturers, and there are many for Apple devices, We produce protection against salt, water, sand and all external aggression that can damage our iPad.
After my post about mounts adapted to the boat, here's a quick overview of the various protections available on the market.
There are two broad categories of products : sealed flexible cases and rigid protective boxes.
The sealed cases
Several manufacturers sell waterproof cases to protect documents and many smartphones. Some have designed a pouch specially designed for the iPad. Among the best known, include :
The company offers its model 668 polyurethane, features 4 Fixing eyelets for securing the iPad. The closure system by rotating latches Aquaclip ™ was introduced by the brand and has demonstrated its effectiveness. The cover is guaranteed 100% tight 5 meters. It comes with an adjustable shoulder strap for transport. I use a model of this brand for my iPhone in a sea kayak and I never had any problems. I use another for over ten years for my old GPS MLR SP24 still in good condition despite its age.
Sold online at the manufacturer's website 29 pounds or a little less 35 € including delivery.
The WaterGuard Plus iPad case is manufactured in a plastic UV-safe. It further includes a padding in the back to improve the protection of the iPad if dropped. It is closed by a double ziplock rolled, protected by a flap with two snaps.
Sold on the manufacturer's website $24 + $8,75 postage for France (less than 25 € total)
Sleeve designed for iPad certified waterproof IPX8 (immersion 10 m proof for 1 mn), its closure is the principle of triple ziplock rolled and covered with a Velcro flap. It comes standard with a waterproof headset that connects through the pocket, therefore usable in all circumstances.
It is found in France 35 € resellers.
These sleeves, and there are others, have the advantage of lightness and a very cheap price. However, they have some drawbacks :
If the use of the touch screen is still possible, sometimes the water drops, and sometimes the soft surface of the pouch itself, act on the screen and active applications. The flexible plastic material is temperature sensitive : It softens and hardens in the sun to the cold, which may affect its long term robustness depending on the quality of the material. Finally, if the closures are experienced, must take care to choose a model extruded, that is to say, do not lean on the sides, because far too fragile.
Protective cases
Designed by Otterbox company in Fort Collins, Colorado, USA, The'iPad Defender is a protective casing made of 4 separate components to be assembled around the iPad : a flexible screen film, a rigid plastic shell into two parts into which slips the iPad, a thick envelope from silicone wrap and protect all the buttons. Finally, a rigid cap reversible snaps in front to protect the screen, or back to the store. A removable section is provided to allow access to the dock connector for charging, no need to remove the protection. If the installation looks like a construction game, once mounted this case seems sturdy rubber grip that provides good grip.
But beware, OtterBox Defender if fully protects the iPad shocks and external aggressions, it is not designed to be watertight.
It weighs 205 grams and its price is quite reasonable, about 75 € Resellers in France.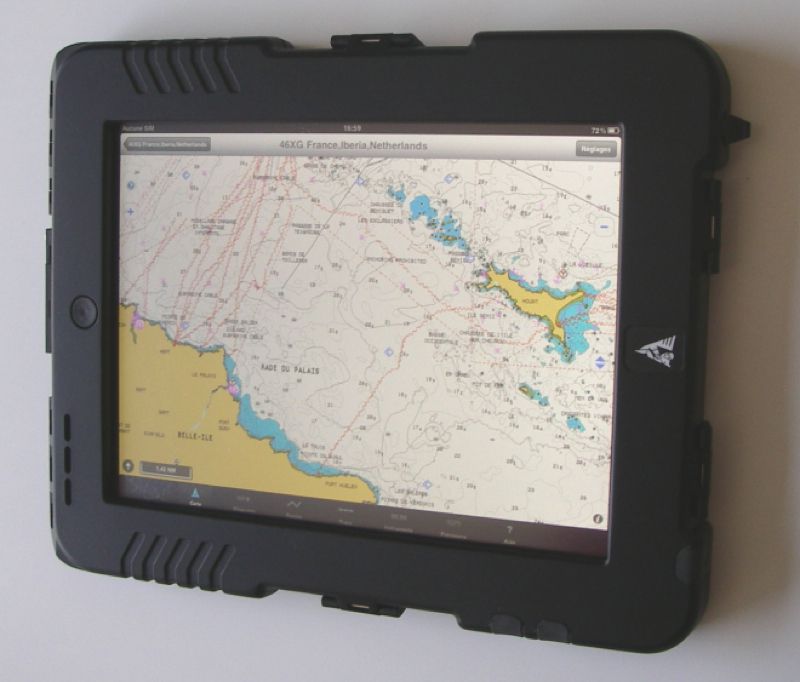 The Andres iPad Case consists of two high-strength polyamide casing, equipped with a double O-ring, receiving the iPad and assemble by robust clips. A flexible transparent sheet, fully secured to one of the caissons, protects the screen while allowing its use touch. The assembly has a build quality that inspires confidence. Function buttons (home, On / Off, volume) are accessible by protective rubber flexible retaining the sealing.
The German design is quite cumbersome (210 x 260 x 25 mm) and weighs 630 gr, almost 1,4 kg between the hands with the iPad. But security is probably at this price ! Speaking of price, precisely, it may seem prohibitively, 290 EUR TTC, but just watch the video below, performed by iPadNav.fr (³) (now the sole importer in France) to be convinced of the effectiveness of protection.
httpvh://www.youtube.com/watch?v = WHO6lvIXMsg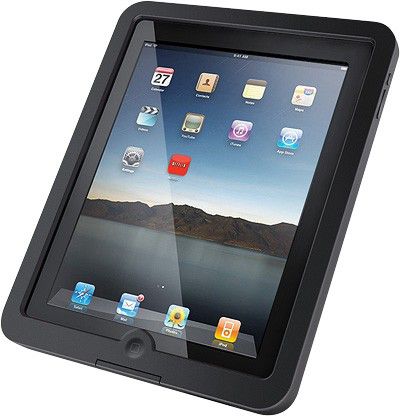 This young company based in San Diego, California, USA, offers a new concept of waterproof housings and accessories for iPhone and iPad.
The first model, Available for iPhone 4, has been tested according to U.S. military specifications MIL-STD-810F-516.5 (26 drop tests 2 meters) and if consistent with the waterproof index IP-68 (prolonged immersion in 2 meters of water). The careful and fine design for this product (1,5 mm/26 gr iPhone) makes it particularly attractive. You can see demonstrations performed at a show in San Francisco on their Facebook page.
For now, the LifeProof Case for iPad is announced with the same specifications as the iPhone, no fee. It will certainly wait several weeks until we know more. The company announced the commercialization of the box iPhone 4 April ($70) and that of the iPad for summer.
While waiting to compare it to other product, only the Andres's case has a seal and full protective, at the expense of a certain size. Otherwise, his material is quite slippery and this lack of slip does not easily stall the. No support being offered to date by the manufacturer.
My opinion
As you can see, there is no miracle product. In addition, manufacturers have now to provide accessories for both models iPad, as for the iPhone, this does not facilitate their economic choices. Clearly seen with LifeProof who first chose to provide housing for iphone 4, and following the requests collected probably will propose iPad case before 3GS case. And yet we do not know what model iPad. For its own, Andres working to adjust the current box to receive the iPad 2, and a future model finer, more slip, equipped with an optional stand .
So many accessories for the general public are now legion, as those designed to reduced target (yachting, for example) will take time to appear on the market. This year, it will probably be patient !
—
(²) Crossing the Atlantic with an iPad
(²) International Speace Station (International Space Station)
(³) iPadNav.fr