Meteo France will deliver the 3 June 2010 an update of its application of queries and viewing GRIB weather files, texts, graphs and satellite images.
Patrick Le Lay and his team have made many technical improvements to make this tool more robust and ergonomic. They have also incorporated the latest advances in meteorological modeling.
The new
Most apparent is the loading rate has been halved by modifying the compression system. The most user friendly is the ability to customize the loading image, by replacing the standard image by any image of the same size.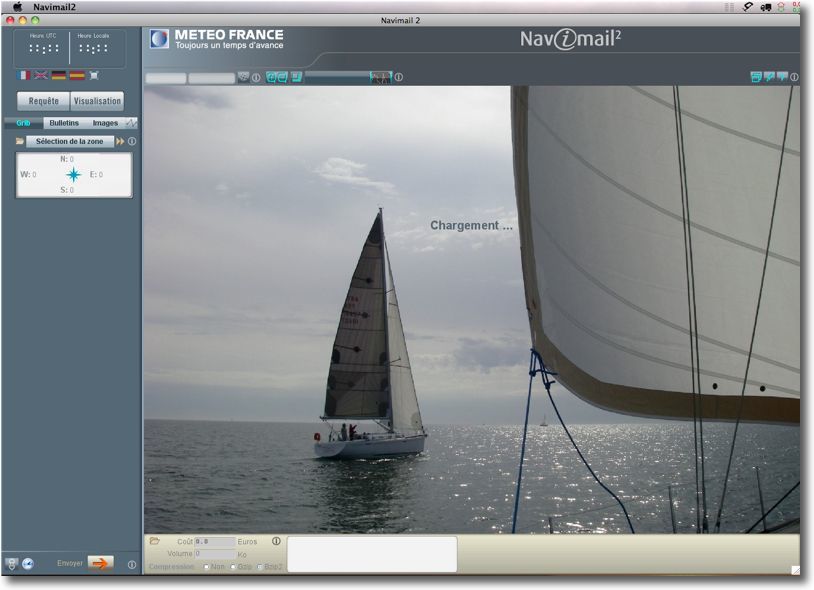 A histogram of weather is available now for a grid point and for a predefined route :

The histogram grid point is simple, simply activate the button in the viewer then right click the mouse, which now displays the information window and histogram. Moving the mouse constantly updates these 2 windows. One histogram available for each of the 9 pages (tabs) in the viewer.

The histogram for a predefined route allows, After clicking this button in the Route toolbox, of seeing a window with changing weather parameters on the route for each waypoint corresponding to a term of GRIB file displayed. One histogram available per route.
These histograms windows can be moved and expanded in width. The data displayed depends on the choice of display parameters selected in the viewer. Two paragraphs of Help are dedicated to this function.
This novelty is an option, that can not activate (if one is too complicated) but Patrick Le Lay hopes that the data is displayed in a new dimension will allow users to better exploit the data received.
Weather models
Meteo France now offers two versions of the model Arpege High Resolution :
Some regions disappear (Tropics, Atlantic) and the Aladin model will disappear finally 2011. The interface gains in clarity.
Various improvements
—