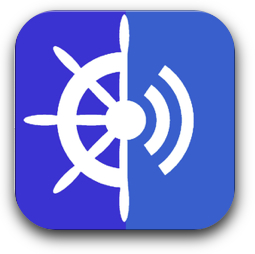 Designed by the Italian company NavCove srl, NavPlay is an application that enables interactive navigation planning and monitoring of routes in real time. NavPlay represents a new concept application that aims to completely replace the chart table by combining several tools easy to use : cartography, instruments view, navigation combined view , alarm manager, logbook, multimedia diary, backup on the Cloud, for main. [Update] This app and its company have not spent the year.
User Interface
The choice of charting has focused on C-Map 4D, the same as that used by Jeppesen Plan2Nav (¹) alternating with the Google Maps satellite images (with internet connection). C-Map is still based in Italy after its acquisition by Jeppesen, it may seem natural. As the majority of competitors, charts can be purchased in-app, that is to say directly in the application via the AppStore.
The home page provides a dashboard to access the five main screens and application tools. You can also scroll through the views by dragging icons on the left or right border :
Innovative ideas
For the first time on iPad, a navigation application incorporates a logbook that, in addition, automatically saves all navigation data in real-time : location, heading, speed, data from instruments connected, personal notes. The track takes shape in thumbnail next to a calendar, can turn pages by sliding your finger or a tap on a date. Data can also be placed in a personal diary « Experience Maker », which we can add comments, snapshots or videos.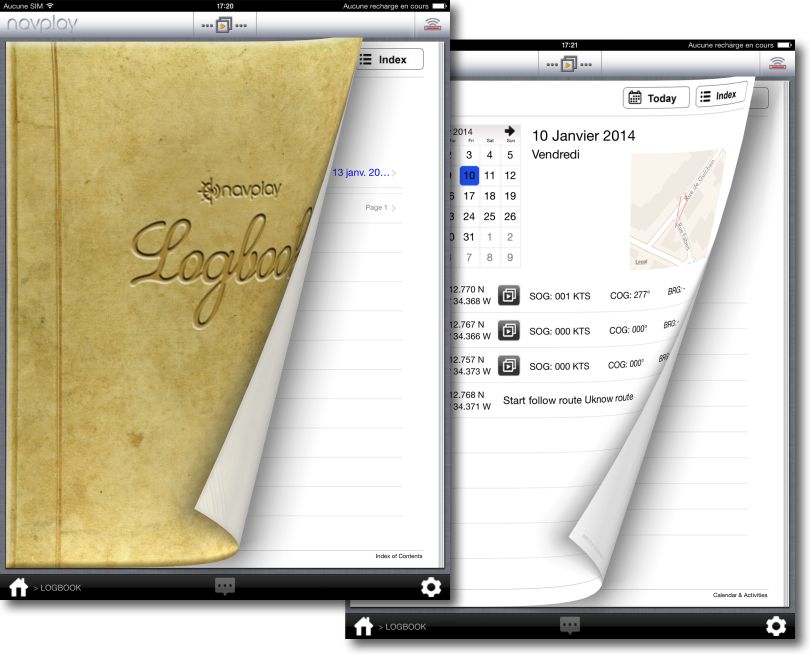 All these navigation information can be saved on a personal space on the website www.navigationbook.com and shared with guests, as with DropBox or Google Drive. This function is not yet operational, I have not found how to create an account.
On the chart, it is possible to create a route, either conventionally via the context menu by successively placing waypoints, but even better by a single stroke of the finger on the screen that will automatically generate the route. This is stunning. Then simply adjust if necessary the position of waypoints by dragging. It can hardly be easier !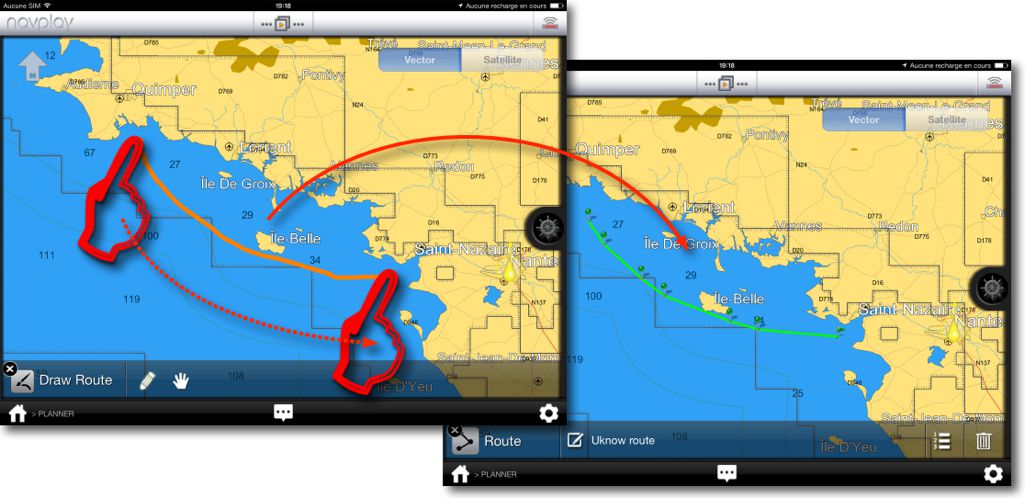 The context menu, displayed by a tap on the chart, allows also initiate the calculation of distances, drawing a VRM / EBL tool in the same way of iSailor.
A surprising economic choice
Everything seems very attractive, but the result is a little less. NavCove announces on iTunes Store a NavPlay Bridge function with onboard instruments. This function is not yet available in the application. All instrument data will be displayed on the screen with analog or digital jauges, which size, units and the position will be customizable. The autopilot control from the iPad, manually on the course or automatically following an active route will also be implemented. Finally, diagnosis of data reception will ensure a permanent link with the instruments : audit instruments functions, alarms disconnect data during navigation, display the list of NMEA sentences received for a quick assessment of problems.
However, this major function of application will only be available by annual subscription :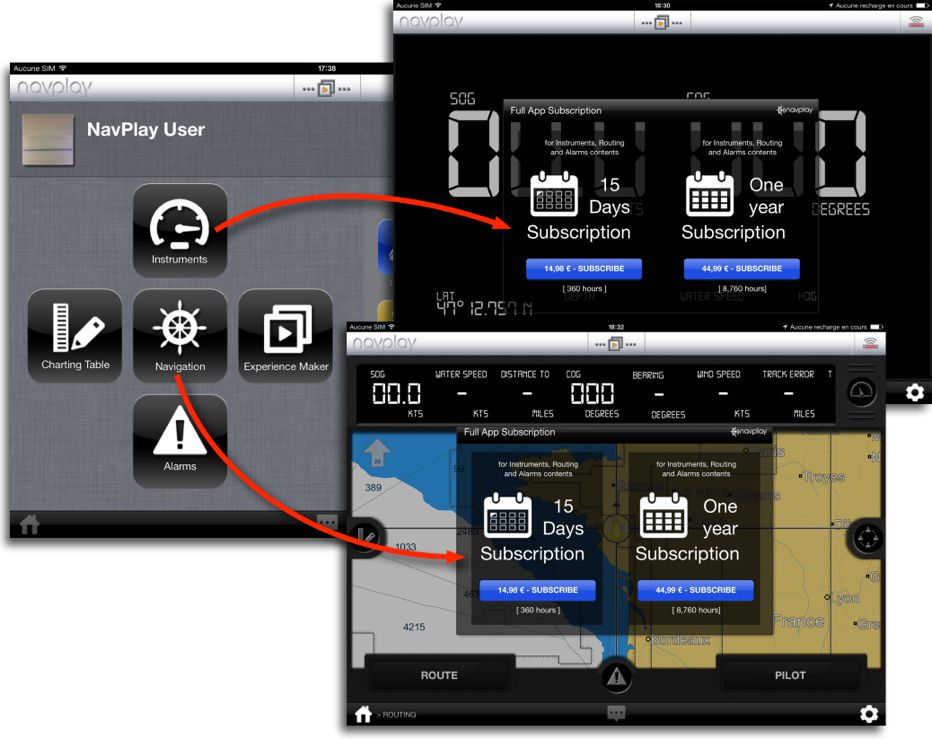 At 5 € to purchase application, should therefore be added at least a C-Map chart 40 € (²) and an annual subscription 45 € to use the instruments. For without subscription you can not even have the data simply from the built-in iPad GPS (COG, SOG, data related to an active waypoint or route). This means that the application cost 50 € first (without chart) then 45 € each following year. This principle is quite surprising, especially as the connection to the instruments is generally unnecessary for sailors who are not boat owners, and they are many.
NavCove explains their business model : they wish interest electronics manufacturers to implement in their WiFi devices and gateways a system of "free voucher" for a long period (?), each WiFi device being registered within the application as a "unit WiFi compatible". This partnership will bring some benefit to NavPlay customers who could not pay as well as 5 € initial purchase.
Want them to succeed, because today, despite the real innovations present in NavPlay, the entry price seems a bit steep face competition already in place.
—
(¹) Plan2Nav the C-Map charting on iPhone/iPad
(²) Warning, Area cover of C-Map charts is narrower than Navionics, for example it is necessary three charts folders to cover the equivalent of 46XG Region.
—