Trade policy for Navionics charts purchased on the website x - traverse.com has - again - been reviewed in recent weeks, at the same time as the 'My Account' page has changed. These changes are unfortunately not all positive.
The renewal of the charts purchased was proposed for two years at a price of half of the initial purchase price, what had seemed a reasonable offer. This offer is gone for mobile media, and is maintained only for MacENC and applications for PC. This means that users who want to keep their charts updated beyond the first year must renew their chart folder at the initial purchase price. I find this totally counterproductive, as this will encourage many users of this excellent mapping not to renew their files and use them in the State for several years.
[Update 25/08/2014] Changes in the site X-Traverse
New page «» My Charts & Maps. "
It is now confirmed, in the page My Charts & Maps in your personal account (formerly "My Account"), for each chart folder bought a button Renew Now proposes to renew the licence of the current maps folder to be able to continue to perform updates for another year. The offer of 2012/2013 who proposed this renewal half price has disappeared, except for Mac and PC (150 $ instead of 300 $). But for how long again ?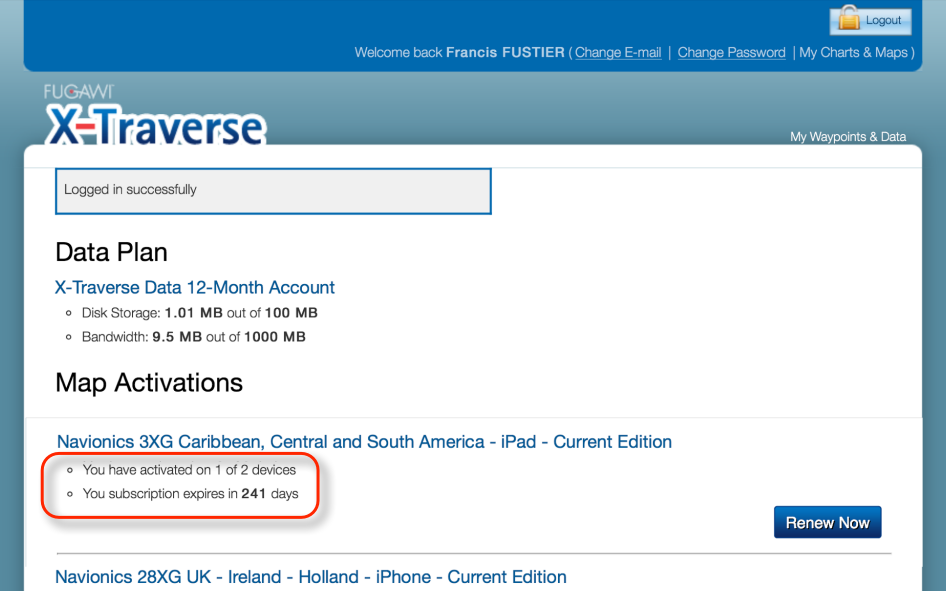 For each map folder, a line indicates if you have enabled the folder on one or two devices, another line indicates the number of days remaining authorizing updates the folder maps.
But that's not all, alas !
Navionics prices continually increasing
Prices for some region (¹) still come to increase : 15% to 80$ for the 46XG, region 50XG launched at 50$ is today 80$. At this rate, Navionics has aligned its tariffs in 2018 on those charts for Mac/PC and chartplotters !
I admit that if I had previously struggled to understand the evolution of the commercial policy of Navionics, now I denounces as their sales volume does nothing justify these increases in price for mobile. It is urgent that new players come compete this hegemony of an editor that seems to disregard its customers, while playing the card of the community sharing allowing to enrich its data for cheap.
—
(¹) The price for iPhone have joined those of the iPad in 2010. Prices for MacENC have not changed.
—
Related Articles : https/navigation-mac.fr/tag/tarifs/
—