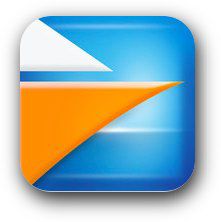 The app Jeppesen Marine Plan2Nav arrived on iTunes AppStore during September for iPhone and iPad.
As I detailed in a previous post (¹), Italian company C-Map has been owned from 2007 by the US Jeppesen, leader in aerial mapping, depending on the Boeing group. We knew that Jeppesen was preparing an application for smartphone, Panbo had seen a draft in March at Miami Boat Show, is now done, but…
Great ideas…
As for Transas iSailor, Jeppesen has chosen to provide a free application for downloading paying C-Map charting region.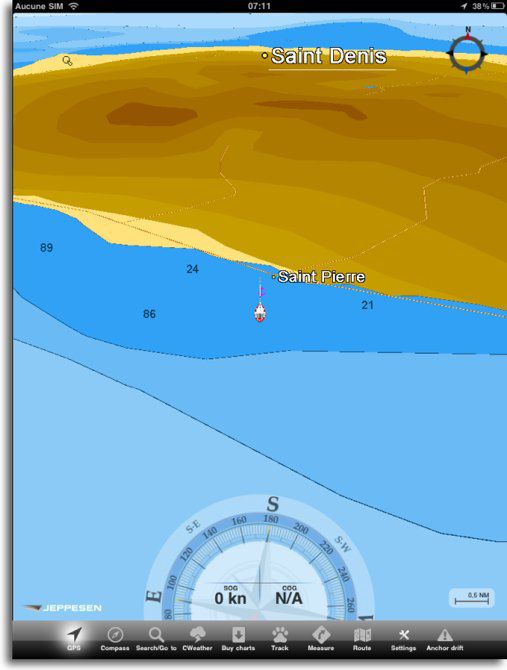 As usual, with C-Map, charts design is particularly pleasant to the eye. Chart expands with one finger double-tap (zoom +) and reduces with two fingers double-tap (zoom -). Chart turned round by two fingers rotating on the screen, and we can give it a perspective view by dragging two fingers vertically on the screen. Position icon is displayed as a 3D ship designed of the most beautiful effect, it looks like "Time Zero" in lighter. A Google Maps like icon in the upper right of the screen shows chart orientation, a double-tap it remains chart north up. A clever and very readable half-compass at the bottom of the screen continuously displays the speed and the route if Gps function is activated.
Charts selection is easy to achieve, with Buy Charts button opening a list of geographical areas and sub-areas charts folios. The purchase process through the AppStore, just to confirm selection by the iTunes account password. Coverage is not yet complete (it lacks even the Caribbean) but the prices are reasonable, below the rates for some Navionics region.
Western Europe folio costs only 30 euros and weighs 190 MB, better to have a WiFi connection with large bandwith.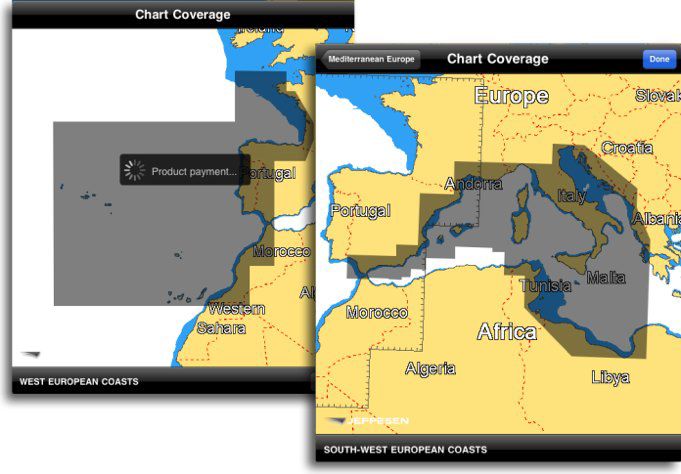 Application settings are very basic, functions are controlled by a set of ten buttons on bottom banner (scrolling on the iPhone). It's beautiful and well designed, but chart display is quite confusing : text too big, multiplication of the sounding color lines, arrows currents of unknown source… In short you will understand, I do not like. Each his own.
… bad points…
The application is in English only and that is unfortunate. But the most unpleasant is that no help is provided, and no online support explains the operation of the application. Everything must be guessed. For example, the first "Gps" icon successively takes three forms when clicked. I do not understand yet what are the last two… I must be a bit stupid !
Waypoints creation, available via "Route" button, let place a tap point on the chart, but the use is confused and help would be welcome.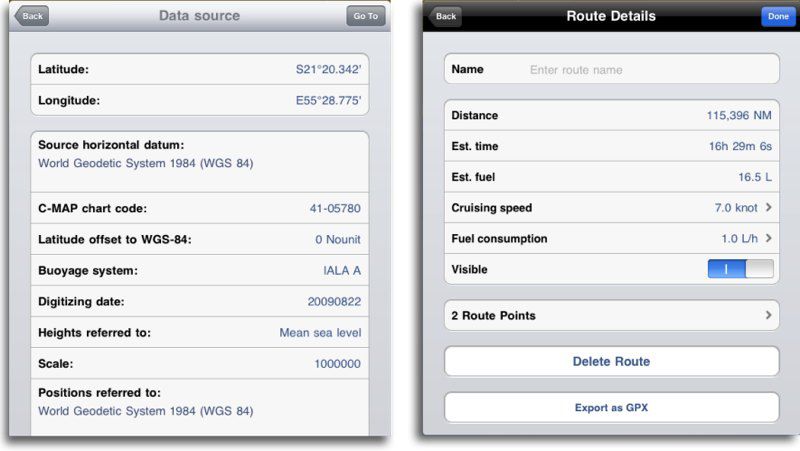 This promising application seems incomplete. One would think that this very serious company would put on the market a product well done to catch up on Navionics, Italian still competitor charting for pleasure, it is not.
… and the worst
Alain Saniez, avid reader of this blog and initiator of this post, pointed out to me an incredible positioning error of his boat, currently anchored in Patagonia in Puerto Monte : the position given by Plan2Nav shows a difference of 20 minutes of arc in latitude and 40 minutes in Longitude of its actual position ! This is probably due to poor adjustment datum on South America charts folio but it is completely unacceptable. He comes to warn Jeppesen, expect the answer in an upcoming comment.
Before rushing to this application, better to wait for an update most successful, including at least one detailed help on how to use, explanation of the origin of the current display and weather files, etc.
I'll be able to test it in comparison iNavX / Navionics in navigation from Canet to Las Palmas next month, Perhaps I would have anyway of surprises, I will not fail to express my investigations on this blog.