I use an iPad 1 for a little over two years for two reasons : the first and foremost as a navigation device, the second as viewer for many PDF documents related to my job. I'm not using it for watching movies, no more to store photos, even less for games. On the move, I use most frequently on my iPhone to manage my emails, see the latest tweets about my business, few RSS feeds, and sometimes see Google News.
March 2011, in a post dedicated to the release of the iPad 2, I concluded by a prospective trial of what could be the future iPad. I note with "New iPad" I had just seen in part. Improvements in cameras and graphics quality. However I was mistaken about the connectivity : no new physical connector, only WiFi, Bluetooth improved, and 4G (for U.S. !).
Once again, I see nothing in this new model that makes me a "New iNvestment". Apart from the consequent increase in RAM, other features will not bring much to Mariners. Some improvements may even have negative consequences for marine use.
Comparison table of 3 devices :

Resolution :
4 times more pixels for the same screen size. Developers will need to modify their applications. Consequence : two to three times bigger according to GUI. Forget the 16GB iPad. iNavX has announced its next update a setting that allows the user to activate or not high resolution for Retina iPad and iPhone 4/4S. This will apply only to raster charts. For vector charts, as Navionics, the new screen primarily improves colorimetry, but nothing fundamental to chart reading, unless Navionics adapts its charting in next future.
Olivier Bouyssou, Weather4D's developer , sent me a mixed review :
"I started to test this new iPad. The screen is great but the price is a bit high : it gets very hot (also consumes) and graphics performance are reduced 1.5 with respect to the iPad 2 in full resolution. Not sure this is the perfect companion for the boat… "
The power supply :
Size and battery capacity has been increased, so as to preserve a range close to the 10 hours of previous models. The first consequence is a charging time significantly larger. Measured by Olivier Bouyssou :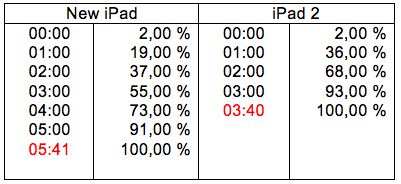 Another consequence, and not the slightest, is that the charger 10 Watts provided seems insufficient to spread the discharge during heavy use. Lionel, with HardMac, explains :
"Is it a problem ? Everything depends of course on the use that everyone will. Is there a solution ? We do not know yet. If the iPad is able to withstand more than 10W through a more powerful charger yes, at least if not heated more by accumulating loads and intensive use. If the mail is, however, unable to handle more than 10W, will require a hardware change to achieve the load and use the same time. "
Still, we'll have to find a new generation of chargers 12 volts suitable for boats, able to provide almost continuous use of the iPad, without its discharge in use.
Operating temperature :
The spokesman for Apple, Trudy Miller, has claimed that iPad worked in its temperature range, the fact remains that this model heats upper during operation than its predecessor. If this is not a real problem in common use, it could be that its use onboard in summer, or under the tropical sun, causes a faster security lock for excessive temperature.
GPS :
A major innovation about that. This is no longer a Broadcom chipset as the previous devices. Qualcomm MDM9600 modem processor provided integrating all communication standards including 4G/LTE, and embedding a GPS receiver chipset supporting Russian GLONASS network in addition to the US GPS network. No details are available for this chip GPS, hope it will provide the same performance as the Broadcom BCM475x series which was excellent.
My opinion
I remain skeptical on whether this new model with regard to our use in navigation. Obviously, for new fans, this model represents the culmination to date of Apple in tablets, and whatever the critics, the sales figures speak for themselves. However the points mentioned above will be to monitor, and it will be necessary to avoid the 16GB model which may quickly become insufficient when the applications " Retina fit »Will appear.
For other, owners like me a former model, and especially the owners of the iPad 2, it does not seem wise to buy a model that will bring anything better to use marine applications. For my own, I stick to my iPad 1, completely filling the features I need, although the low RAM and the limited graphics processor impose not to shake the device through too fast manipulation.
I'll wait for one year the next model, with a true quad-core processor 2 GHz, European 4G-compatible, and may be some new truly revolutionary that Steve Jobs had accustomed us. Then there, yes, I will replace my "Old iPad '.
[Update 17 June 2012] Since the announcement at WWDC that the next iOS 6 is not supported by iPad 1, it became clear that the new owners must seek at least one iPad 2. It is unfortunate that Apple imposes such forced renewal of its devices.
—