For those who navigates in the English Channel and along British shores, an elementary English language practice is a great help. Apart from knowing how to order a " Pint of Guinness "Or a plate of" Fishes and Chips »To the first pub accosted, nautical books in English reading, with help of a French-English Navy terms lexicon is a valuable asset. English navigation guides are among the best in the world, to the extent that many of them have been translated into French, as Imray Guides.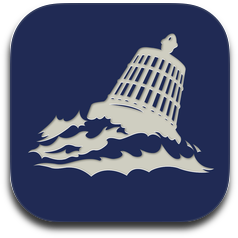 But if there is one absolutely essential, It is the Reed's Nautical Almanac, "The" Navigator's English Bible. A pad of several hundred pages, fortunately available today in digital version on iOS.
For 60 € enjoy much impressive of nautical information about West coasts of Europe. From Shetland Islands to Gibraltar Strait and the Azores, hundreds of harbours descriptions, sorted into 26 regions, give you access to all the information : plans of the ports and port information, lights and navaids, Sailing Directions, tidal tables, local weather, and many other necessities.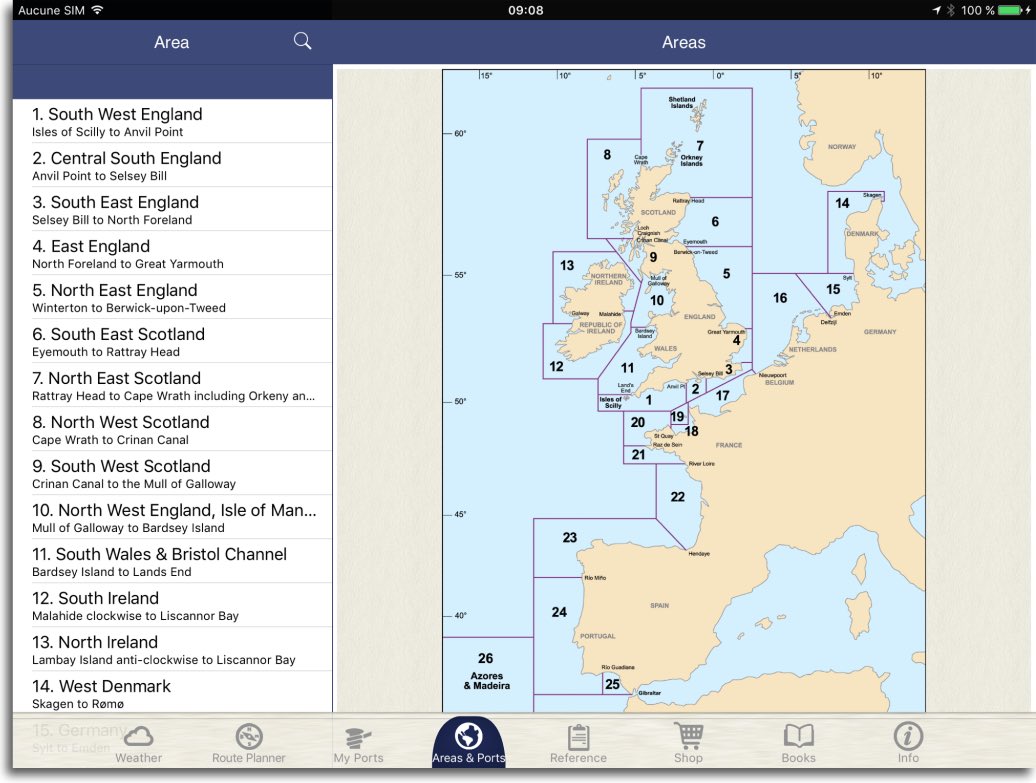 Most of the information is downloaded and stored on the device after validation of the subscription (in-app purchase). An internet connection is required then to update data, weather predictions and alert bulletins. The annual subscription, that can be done by region or all regions (much more interesting), to maintain these updates beyond one year.
Port information
All information regarding ports are provided in a very detailed manner : access and communications, plans, tides, services and facilities.
Sailing Directions
For each region of the sailing directions describe routes and hazards, lights, marks and beacons, currents.
Marine weather
Local and regional marine weather bulletins are supplemented by weather charts predictions from the MetOffice up to 72 hours, the all updated via internet connection.
Routes Planning
A tool to create routes with ports or waypoints for planning navigation. Useful in addition to a navigation software to present concisely route : Tides at start and arrival, mean time to go, etc.
Documentation
Full documentation is provided, downloaded with the application, such as for example the catalog of symbols and abbreviations of nautical charts "Reference Data", equivalent of SH1D by SHOM.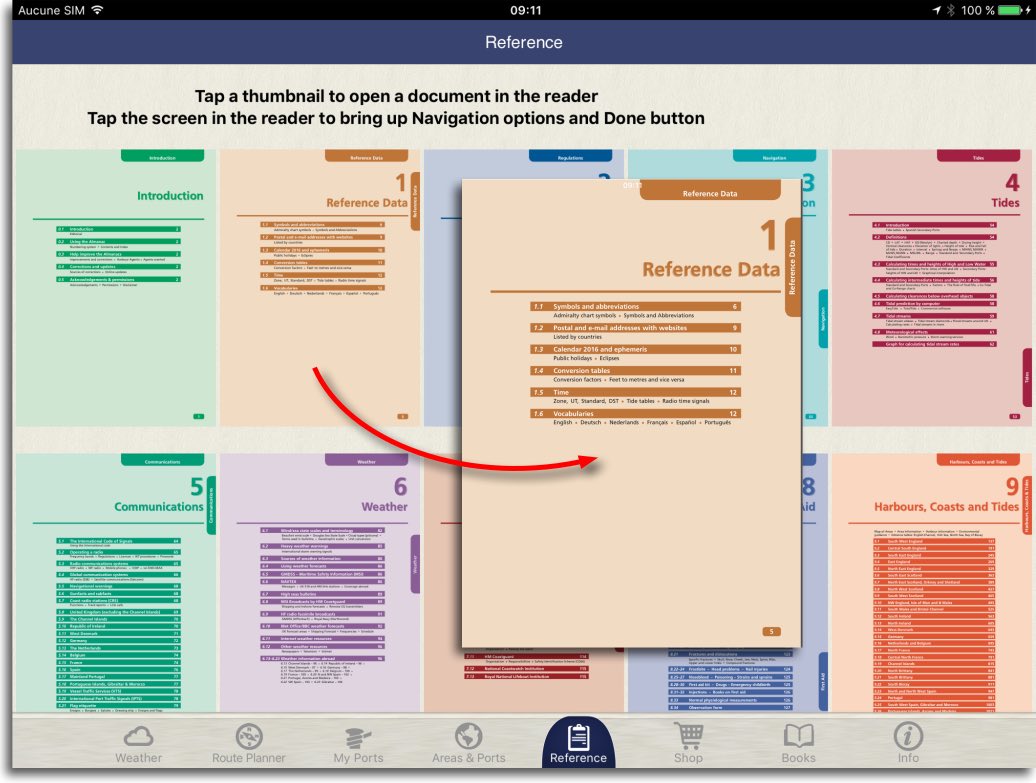 In brief, a valuable resource for the safety of navigation, can usefully complement navigation applications (¹) and French nautical guides already mentioned on this blog (²).
———
(¹) See the "Tutorials" menu on this blog.
(²) Nautical documents on electronic media
———