For my 100th post, I propose a little gem.
The 24 came up on the AppStore version 1.0 with Weather4D (*) that we owe to the French Olivier Bouyssou, a guy living France South. Yachtmen my friends, it gives me the best weather app ever seen on iPhone. The major players in the weather will take a good lesson, a developer of engineering in Toulouse has done it alone, hat !
Follow me, you'll see…
Presentation
Aesthetics of the interface
Design 3D, beautiful colors for displaying data, fluidity of the forecasts animation, ergonomics function icons, intelligent touch controls, learnability, using integrated as fully as well done, I have nothing but superlatives to describe its interface. It is Pixar service for the iPhone !
Technical Development
Only 78 MB on the iPhone to have all the basemap built without network access, perfect management of memory resources and graphical display allowing ultra-fast, the automatic update of the forecasts to the choice of each geographical area, load forecasts in a few tens of seconds with a simple connection 2G (Edge/GPRS), and not a single crash in abusing the application on my iPhone 3G !
Operation
Weather4D retrieves weather data from NOAA GFS model and displays for predefined areas or user-defined. For each geographical area you can select options for forecasts : Date 1 to 8 days, step 3, 6, 12 or 24h., resolution 0.5 °, 1° or 2°, and data types : wind, precipitation, air temperature, cloud coverage.
You can create, change, remove as many geographical areas that you want.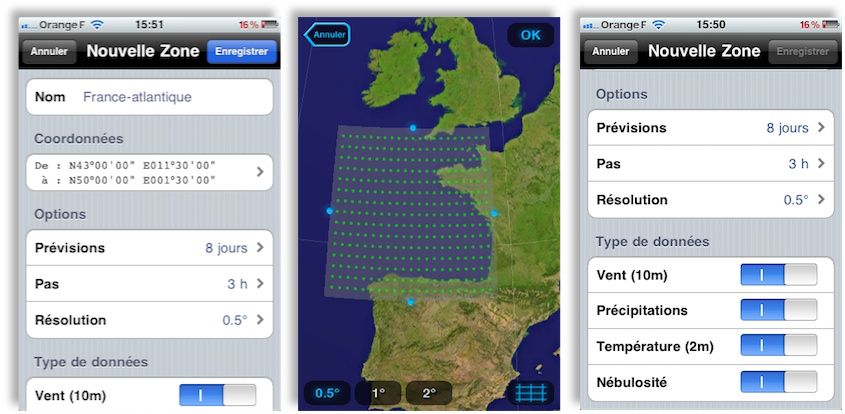 User Interface
The base map of the Earth is from high-definition images from NASA pictures library.
Ten icons to select and combine the data to display as needed. They appear with a tap on the interface, and once the choice made a tap make them disappear.
We can combine the data display (wind vectors, pictograms, temperatures) and the gradients (wind, temperature, cloud coverage) represented by shades of colors. It can simulate the progress of the day and night, restrict the display of predictions solely on land or at sea.
Two display modes are available :
Orbiting Mode that allows you to zoom in/out the map and move the map by sliding a finger. A double-tap refocuses the entire geographical area.
Time Mode that, once map positioned as desired, scrolls forecasts date by sliding a finger, at left to go previous, at right to go next. A double-tap on one of the four areas of the screen to move forward or backward by steps 6h or 24h.
In both modes a video button to start and stop the animation of the forecast, hourly marching with surprising fluidity, especially if we have set a 3h step.
The combination of wind vectors and colors of the wind gradient allows perfect viewing of changing weather.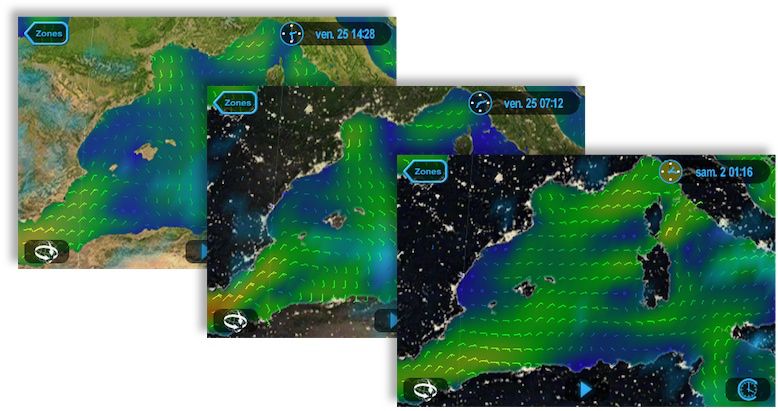 This version is the first, there is, of course, improvements to come :
Data
Pressure fields contours
Wave direction and height
Surface temperature
Ocean Currents
are planned.
Olivier a encore bien d'autres idées d'évolution dans sa « to do list " , but it was mainly an HD version in preparation for iPad.
Pending, this version is already fully accomplished, and 5 €, is really present !
[Update 21 May 2011]
Version 1.1 iPad and iPhone is available.
—
(*) The website Weather4D French and English.