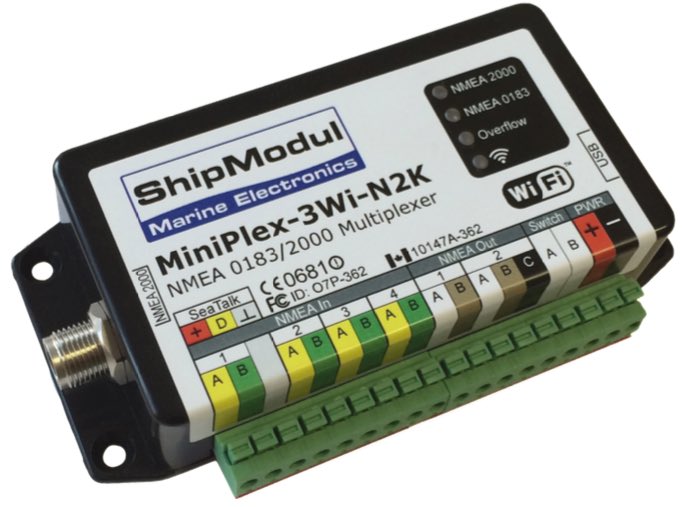 ShipModul just completed a major upgrade V.2.0.6 of MiniPlex-3 firmware. Once installed in the MiniPlex-3-N2K, it becomes a certified product NMEA2000®. To perform this update, it is imperative to download and install the new version of the utility MPX-Config3 V.2.4.1 (¹). the firmware update is integrated into the utility package.
Description
Many new features have been added for even more fluidity in the integration of networks NMEA 2000/0183 and SeaTalk¹ and to give better control of navigation data.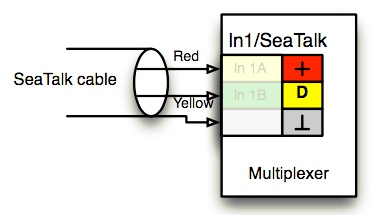 Control Raymarine autopilots in SeaTalk¹ was implemented and waypoints transfer from a navigation application to SeaTalk¹ and NMEA 2000. plotters. It means that, now, these data are transmitted to SeaTalk¹ network through SeaTalk bi-directional input port. This will connect the network SeaTalk¹ as shown opposite.
The NMEA 0183 sentences treatment method was changed, providing better throughput and loss reduction of sentences when too much data is sent to a NMEA 0183 too slow output.
The complete changelog of this update is available in English on ShipModul website.
Implementation
Warning : this update will erase the current configuration of your MiniPlex-3 ! Thus the new utility MPX-Config3 V2.4.1 (¹) can not read your old configuration file correctly. We advise, before proceeding with the update, first, make a screenshot of your configuration using the previous version of the MPX-utility Config3. This will allow you to redo your original settings after the update.
The user manual for Miniplex-3 was also partially corrected (English only for now).
———
(¹) At the time of writing this entry, the Windows version is available, but MacOS version is still under development. This article will be updated with the implementation of screenshots as soon as received the Mac version.
———