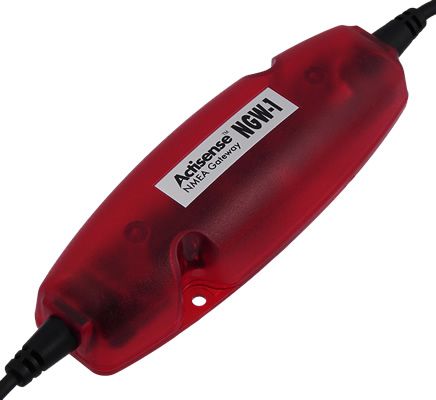 In a previous entry I talked about NGW-1 by Actisense company (¹), an NMEA 0183 converter to NMEA 2000 bidirectional.
Since then, This gateway has been available in several versions. Each of which can connect to the NMEA 2000 a range of specific instruments, and so combine their data with other NMEA 2000 instruments already present on the network. This can be particularly useful, in an installation mixing both protocols, to facilitate data transfers in iNavX.
NGW-1-ISO is the standard NMEA 0183 already mentioned. Provided with an opto-isolated input and an ISO-drive output for a bidirectional connection to NMEA 0183 standards devices (4800 bps).
NGW-1-ISO-AIS model is a dedicated NMEA AIS 0183 (38400 bps). This is a pre-configured version of the previous model that can convert specific AIS NMEA data 0183 AIS in their equivalent NMEA 2000. This solution is ready for quick installation.
NGW-1-USB is dedicated to a NMEA connection 0183 bi-directional interface to a PC with USB (compatible 1.0 and 2.0) provided.
NGW-1-STNG model is dedicated to Raymarine SeaTalk NG. This version converts NMEA 0183 to SeaTalk NG and vice-versa, providing seamless integration with Raymarine products. NGW-1-STNG gateway combines NGW-1-ISO standard with an adapter cable Raymarine SeaTalk NG to interface NMEA 0183 instruments in place to SeaTalk NG bus compatible NMEA 2000.
As seen in this diagram, all NMEA 0183 may be converted and added to the NMEA 2000, or SeaTalk NG (²) Raymarine. By connecting a SeaSmart WiFi (³) in this network, all data will then available for iNavX. So it prevents the use of an NMEA 0183 multiplexer since all data passes through the protocol NMEA 2000.
—
(¹) Receive NMEA 2000 data with iNavX.
(²) SeaTalk NG is owner Raymarine cabling NMEA 2000® certified.
(³) Seasmart WiFi connects the NMEA 2000 on your iPhone
—