The last update of the three applications Weather4D (Lite, Routing, Routing & Navigation) several user-requested improvements in the display of meteograms. But what is less obvious is a big work on the charts display in the Routing & Navigation, to better streamline the tiles overlay at different scales, during handling of zoom and slide, and remove the "black zones" that sometimes remained on older generation low-performance devices.
Regarding the display of data, changes include :
Display time of arrival and departure on the meteogram (Routing, R&N)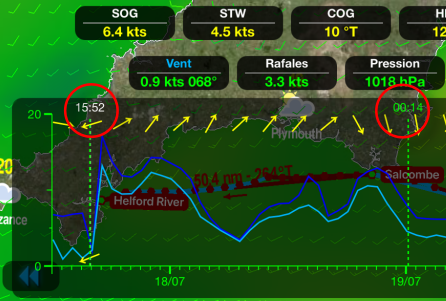 Display of arrival time and distance in "Simulation and Routing" (Routing, R&N)
Date display in full screen mode (All)
Adjustable units to the direction of waves and current (All)
Added to this is, as usual, some bug fixes and various cosmetic improvements.
–––