Since the operational commissioning of the constellation Iridium NEXT (¹), the Iridium company has started to offer its new range of services called " Certus®". These services are based on the considerably increased technological capabilities of the new satellites., which allowed, among others, Iridium to be approved as a second satellite communications provider for the GMDSS maritime security service (²), whose competitor Inmarsat had held a monopoly for 1979.
Certus®, in addition to demonstrating that American businessmen are also literate. (³), is a range available in six bandwith levels starting from 22 Kb/s up to 704 Kb/s, and up to 1408 Kb/s in the near future.

Iridium first started providing broadband services for professionals (aviation, maritime, railway, aso.) and public institutions (military, civil protection, etc,), as industrial partners, Thales, Intellian, Sailor, and others, placed their compatible communication devices on the market. The first certified devices Certus® 700 and 200 were marketed from mid-2020. We could see some on the boats of the last Vendée Globe, and more recently the Transat Jacques Vabre. This month of november 2021, Iridium has just announced the availability of several new devices compatible with the service Certus® 100.
Certus® 100, suitable for (great) yachting
Two devices are currently available for maritime use. The most affordable is the SkyLink 6100 by Blue Sky Network LLC. With a nominal bandwith about 88 Kb/s., i.e. a maximum of 650 KB / minute, it is 40 times faster than an Iridium GO!®. This allows a relatively comfortable internet connection.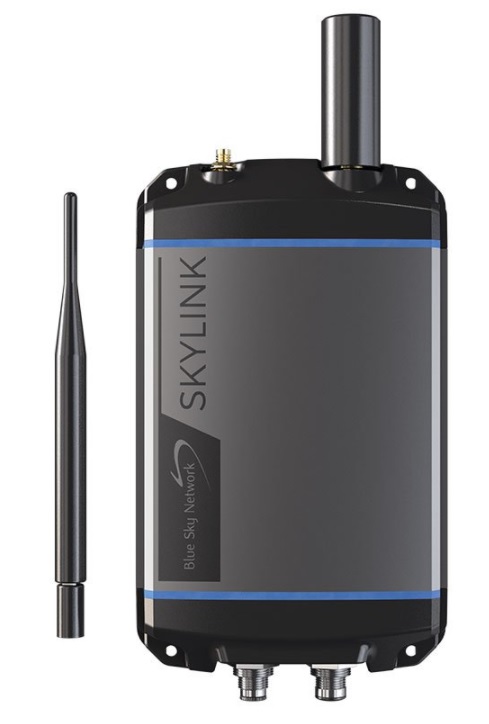 In addition, the device also acts as a cellular router : you can insert a cellular SIM card in addition to the Iridium SIM card. This allows, once configured, to give priority to the cellular connection, as long as it is accessible, and thus save on satellite communication costs. So, when connected to the SkyLink device's Wi-Fi, with cell phone activated, you can browse any website and use all applications.
The device supports messaging apps, IoT data transfer and mobile optimized internet browsing. It is not, however, intended for general web browsing or high bandwidth applications.. With an iPhone or iPad, in example, you can activate the "Low data" mode on the SkyLink network WiFi configuration screen.
For the voice, SkyLink enables Iridium calls with a SIP app on a smartphone. Currently two applications are documented, with a configuration guide : Linphone and Wave Lite (⁴). It is likely that other SIP applications can be used, compatible with the SIP server built-in the device. It remains to be verified.
Comparison of available products
A column has been inserted for a possible future device according to the service Certus® 20 not yet available, in order to compare the bandwiths.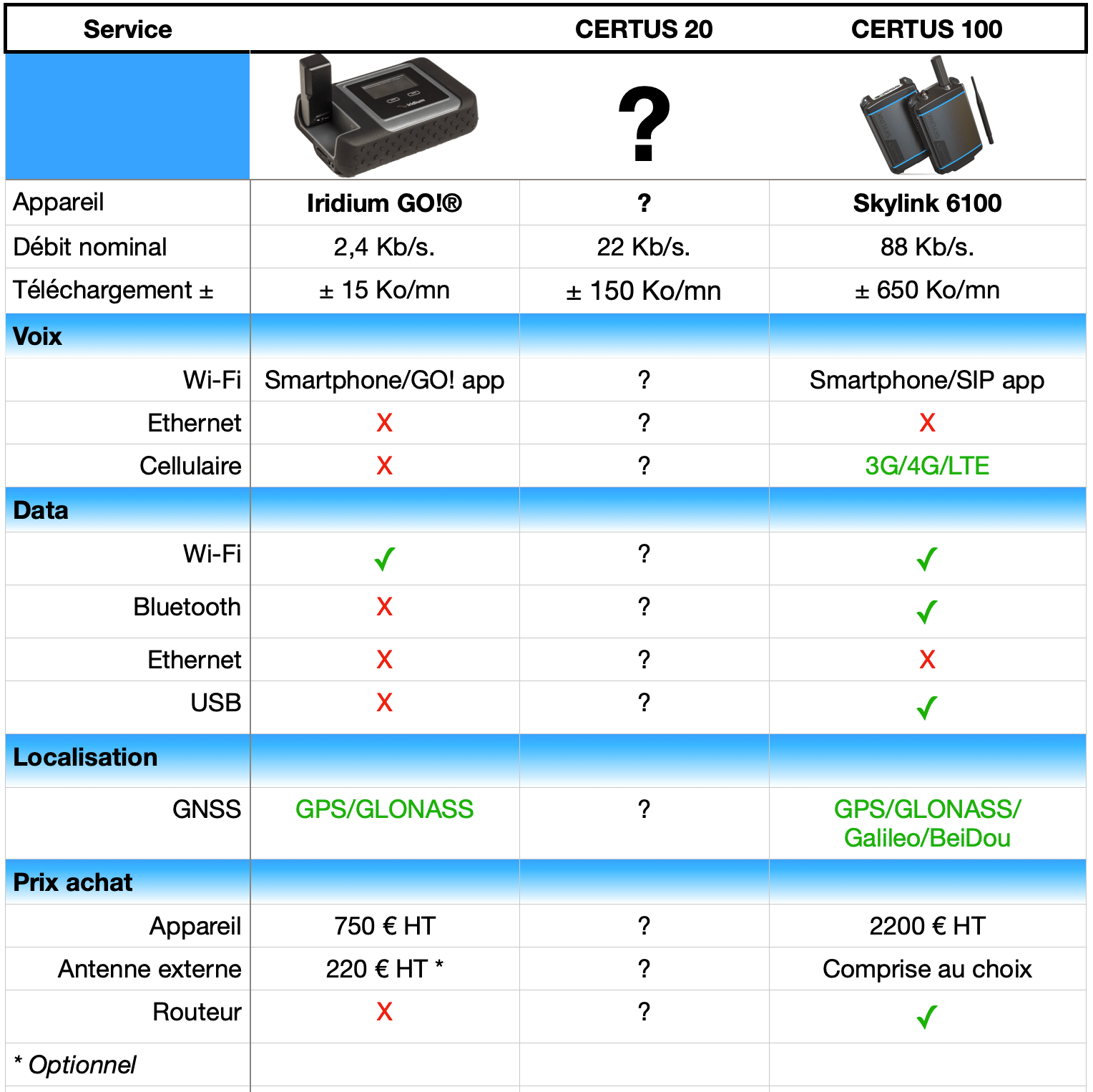 Communication costs
Communication services are billed at data volume, with airtime per tranche corresponding to a maximum volume, to which may be added an overage cost. Voice is billed at a single price per minute.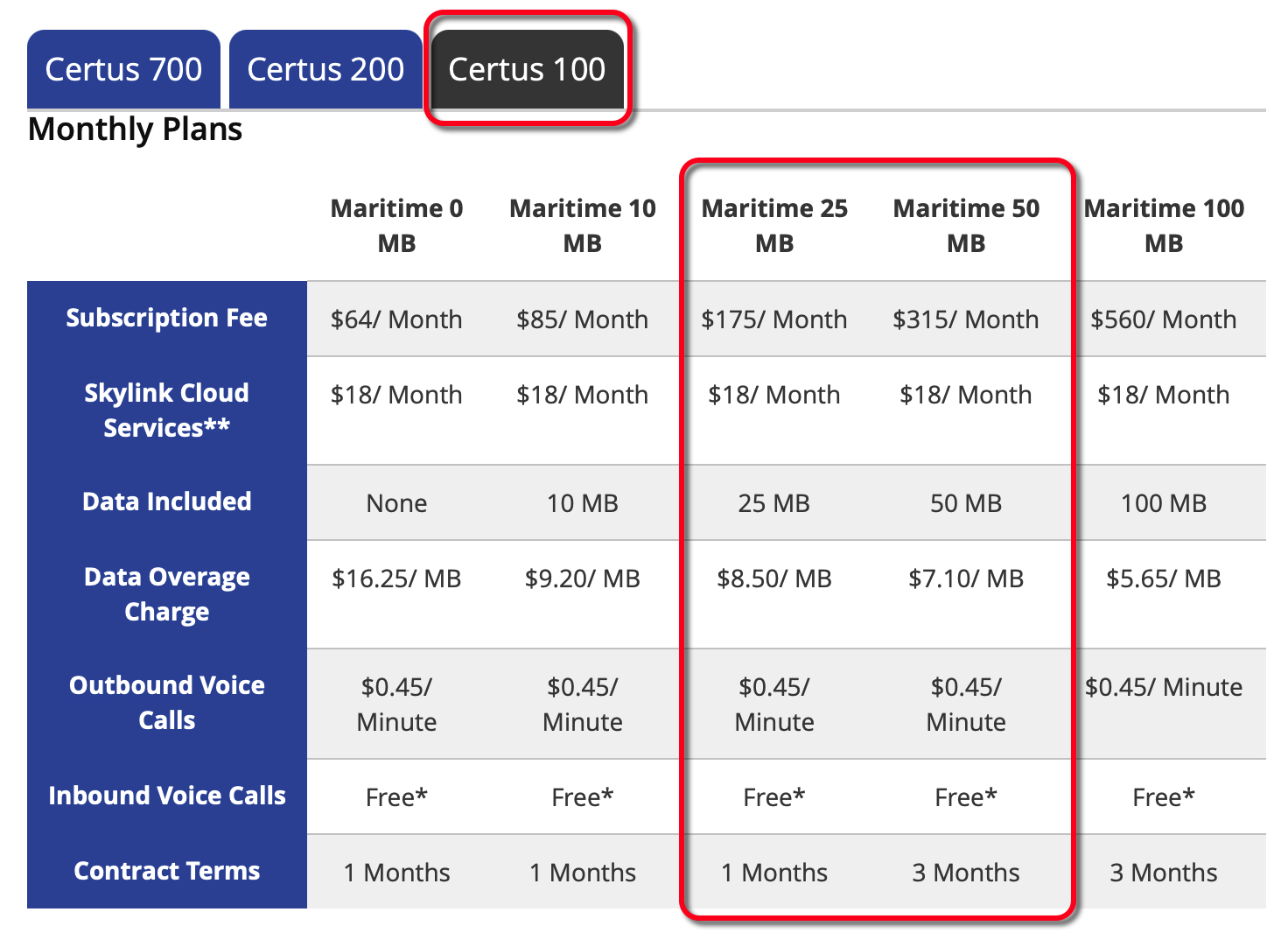 Airtime 25 MB and 50 MB (⁵) correspond to monthly use, as commonly practiced with an Iridium GO!® with an airtime unlimited data + 150 MN voice calls, for downloading GRIB files and messaging. For example, the airtime 50 MB will cost about 350 € TTC / month for data, to which we will add approximately 70 € TTC / month projects for 150 voice call minutes. The service will therefore cost 2,5 times that of an Iridium GO! with a device approximately 3 times more expensive. Nevertheless, this is still quite reasonable for a very superior service.
But we can also be satisfied with 25 MB / month For about210 € TTC / month, and limit voice calls. In this case the price is barely higher than that of the unlimited plans for Iridium GO!®.
Certus® 100 associated with SkyLink 6100 could therefore satisfy long-distance boaters, practising of expeditions or polar navigations (not covered by Inmarsat), professional conveyors, or even individuals remaining in professional activity while sailing, there are more and more !
–––
(¹) The new Iridium NEXT constellation is completed
(²) SMDSM : Global Maritime Distress and Safety Service. See GMDSS in the Glossary.
(³) Certus, Latin word meaning : decided, resolved, and also : precise, sure.
(⁴) All SkyLink Guides 6100 are accessible from this page in PDF file .
(⁵) 50 MB = 50 Mega-Bytes = 50 Mega-octets (and not Mbps = Mega-bits / seconds)
–––