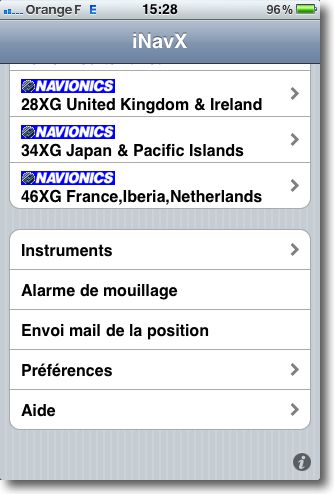 iNavX offers for a while an "anchor alarm" feature, currently available at the bottom of the application Home page.
This feature was frequently criticized as impractical. iNavX 3.3.0 rectifies the failure in an improvement that makes it particularly clever now fully operational.
The "Anchor Alarm" is used to define the radius of a circle drift, with an adjustment from 0,01 NM (19 meters) to 0,30 NM (556 meters) beyond which an alarm (buzzer) triggers.
The distance is displayed according to the setting "Distance decimal" in Preferences > Units, either in nautical miles, in meters, or in feet if Yards has been selected as main unit of distance. A cursor used to select the desired distance, buttons [+] and [-] to adjust more accurate.
The big news is the " Anchor "Which allows you to choose the distance and bearing of the estimated position of the anchor to define this position as the center of the radius of the drift alarm. The safety distance will therefore focus on this position. In addition, with Location Services enabled, it is enough to steer the iPhone or iPad to the anchor position and hit " Select " button to get the right bearing. Only remains to choose the desired distance for drift radius.
" Test "You can check the correct operation of the alarm.
Anchor alarm is displayed on the chart with red cross plotting center position of drift circle, displayed with red circle.
Once triggered, the alarm is turned off by " Cancel "Or closing of the alarm window.
Last improvement, alarm setting is also available now, either from the Instruments banner in Chart view, [i], button, either from Settings in view Instruments.
Richard Ray responds by the way to many users feedback on macsailing.net forum.
—