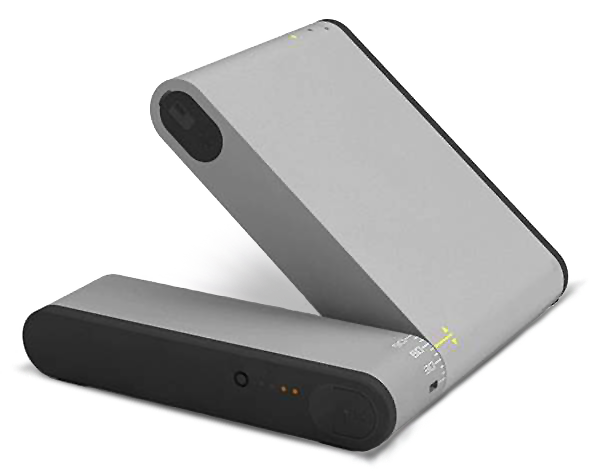 After the announcement with great pump of the GO! by Iridium few month ago, but not yet available, Inmarsat has introduced IsatHub at CommunicAsia show which just closed its doors in Singapur. The competition is tough between the two industrial, but unlike Iridium more oriented towards mainstream users, Inmarsat is aimed primarily at a professional market.
IsatHub is a WiFi hotspot allowing to connect all mobile devices to Inmarsat satellite network. No need cellular towers, IsatHub provides aworldwide connectivity to your tablets and smartphones.

Just have to point the IsatHub in direction of the three Inmarsat satellites (¹) in using lighted control indicators (leds) , and the device is connected to network Inmarsat, becoming thereby a Wi-Fi hotspot for all mobile devices (tablets, smartphones) located up to 30 meters long. IsatHub supports IP Protocol thus allowsall iOS apps (6+) or Android (4.1+) connecting to The'Internet to use voice and data. Sending SMS, communicate with Skype, Viber or all other similar apps, connecting to social network, sending emails, pictures, in short connecting like at home. Data speed provided will be 384 Kbps down and 240 Kbps up, that is considered as bottom of broadband. (²).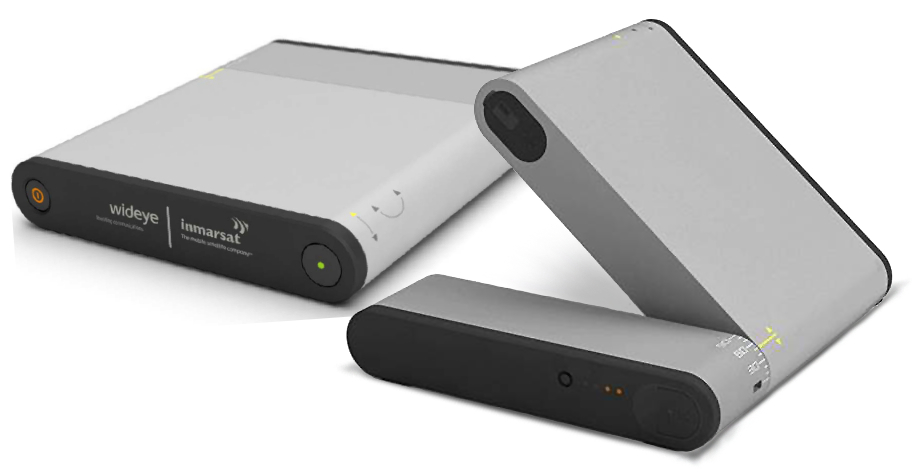 1. IsatHub device
Functions
Voice, text, Internet connection with smartphone and tablet (Support IP).
Easy handling and setup.
Designed for Android, iOS (iPhone, iPad ) smartphones and tablets with free control app.
Worldwide coverage, but the Poles.
Data transfers up to 384 Kbps download, 240 Kbps upload.
Wireless range up to 30 meters from IsatHub.
Flip antenna with lights indicators of signal strength.
Personal warning button to send an emergency message.
Specifications
Weight 850 grams.
Dimension 179 x 170 x 30 mm.
Network validity 99.9% of time.
Built-in SIP server (

³

) with auto-connection to HQ SIP capable systems.
Battery life : up to 8 hours standby, 2 hours transmitting (at max power 100% of time).
2. IsatHub Control App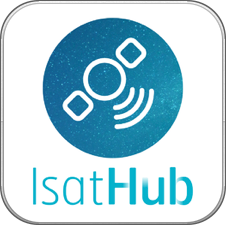 The app IsatHub Control App (iOS, Android) rely your mobile device to global satellite network Inmarsat 3G through a Wideye iSavi terminal. IsatHubprovides a connection service for mobile device allowing your smartphone or tablet to reach the Internet far from any cellular or WiFi network.
Application provides :
Set-up assistance.
Full control over shared access.
Visibility of data usage which comes in useful as multiple devices can share one IsatHub connection.
Other useful features :
Signal strength indicator with pointing assistance.
Network registration.
Manage each connected device with service.
Access controls and usage counters.
Battery / AC status indicator.
Firewall pre-set selections.
Security two-levels.
MAC address filtering.
WiFi password control.
Device temp warning.
Personal assistance button.
User Help.
3. Comparative
Inmarsat IsatHub, announced priced $1400, about 1300 € inc VAT. This intends it more business customers. We do not yet know the pricing of communications. Compared to Iridium GO! The essential difference is the speed rate. A 2.400 bps unable to surf Internet, much less to use Skype or other VoIP application. Iridium GO! should be better for the price to voice users who want to use their smartphone to make their calls. This also suits the low-speed messaging, as weather forecast GRIB files request and reception, in the same way with Iridium Extreme or IsatPhone2 handheld satphones.
For demanding users to continue to access to Internet, eg to continue to manage their business from the boat cockpit with peace of mind, IsatHub will address them, as providing a good flow rate at a much lower cost than a Fleet Broadband or BGAN.
[Update 15 December 2014]
BUT ! Because there is a "but" : not going to use IsatHub in navigation, car, to lock the antenna to the satellite with a maximum level of reception, the appliance must be stationary. The slightest movement of the antenna decreases reception up to cause the link is broken. IsatHub is intended for use in the pontoon or a perfectly calm anchorage. It is above all a device intended for terrestrial use. It has no active antenna connector, as the home of the IsatPhones stations.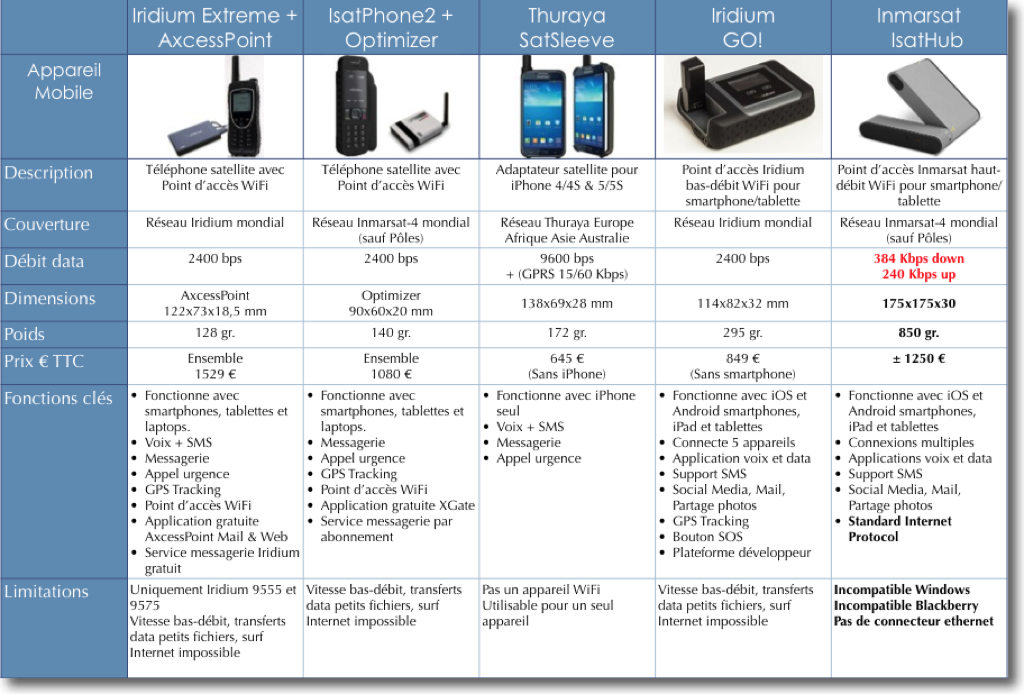 —
(¹) I remind you that Inmarsat uses a geostationnary satellites constellation.
(²) According to the criteria accepted by 'OECD.
(³) Session Initiation Protocol : standard of sessions management used in media telecommunications (its built-in, image, aso.). The most used standard for voice over internet (VoIP).
—