It is increasingly common to see an AIS receiver, Automatic Identification System (*), receiver above yacht's chart tables. Although only merchant vessels of over 300 tons and passenger ships are required to fit onboard an AIS Class A transponder, small commercial vessels are increasingly fitted with cheaper standard AIS Class B transponders.
Receivers
Found on the yachting market AIS receivers at reasonable prices, as those of company Comar System, Digital Yacht, or Nasa Marine.
You can also choose to install a transponder (transmitter/receiver) Class B, as Nauticast-B from ACR.
Implementation
To operate an AIS receiver with GPSNavX or MacENC on your Mac, must follow these steps :
Install FTDI driver used with most AIS receivers. (latest version to download on my webpage Hardware Onboard from my website).
Connect AIS to a USB port on the Mac and start it.
Launch MacENC or GPSNavX.
Open the window with the menu "AIS / RADAR > Connect ». In the drawer Settings, select port USBSerial-XXXX, flow 38400. Uncheck "Use the GPS port" and "Use the Instruments port".
If AIS targets are available (data received by the receiver) you will see them in the list of the AIS window and you will be able to see scrolling the received NMEA data in the "Monitor" drawer after clicking the "Launch" button.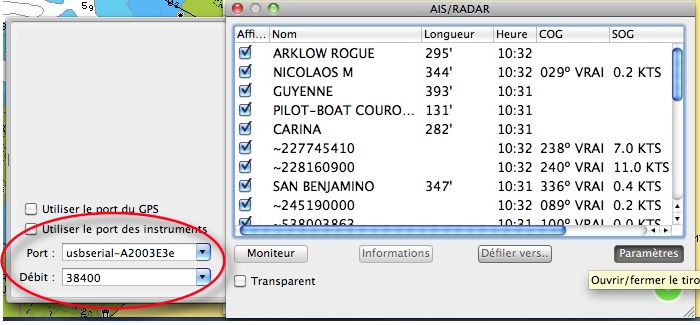 Warning : Most receivers do not transmit AIS NMEA data if they don't receive AIS information themselves. The red icon is displayed otherwise.
Advanced Features
GPSNavX and MacENC both support the AIS receivers and transponders.
MacENC also offers the possibility of using an AIS transponder for positioning without the need for a GPS receiver connected. Indeed, transponder having its own GPS system, simply select, in the Settings of the "GPS" window, the serial port to which the AIS transponder is connected in the Parameters drawer of the "AIS / RADAR" window so that the vessel's position is that of your own transponder. If, however, GPS is also connected to MacENC, it is then the outcome of the GPS position will be taken into account.
Warning
Anti-collision safety provided by the AIS is relative and inadequate. Many vessels are not equipped with AIS transponders, and some boats do not start them, such as fishermen who do not want others to know where they fish, or Navy ships that do not want everyone to know where they are !
Therefore, be careful and keep lookout as the primary means of security.
—
(*) See Glossary
Refer also to'GPSNavX Help or'MacENC Help.