Can not join the chorus of comments about'iPad Apple introduced yesterday. For our purposes, for us yachtsmen, this new touch pad does not seem to represent anything other than an iPod Touch bigger screen, and yet it is all his interest !
The model we are interested with, equipped WiFi and 3G, and with a GPS, should be available in France in June. However, it will take the time to see offers operators, knowing that the unlimited 3G connection is included in some packages for iPhone, but not all, What will it cost ?
Actually, Will we need the cellular network (GPRS/3G) for the use of GPS at sea ? Nothing is less certain : iPhone without a network is correctly positioned with its integrated GPS. The A-GPS chipset in the iPad have perhaps a more powerful antenna than the iPhone that will capture satellite broadcasts correctly without assistance. There are still a few weeks to watch the websites (*) which dissect the beast to learn more about its components.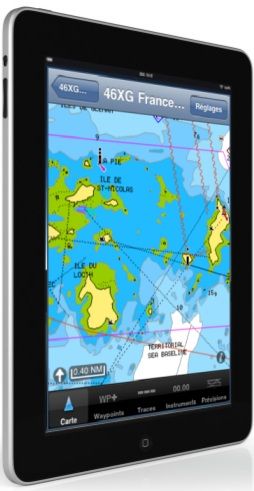 The iPad already allows to run iNavX, because all applications are compatible from AppStore, that confirms Richard Ray :
« iNavX tourne tel quel sur l'iPad, but be assured that future versions of iNavX will support native screen resolution of iPad. iNavX be installed by existing users [iPhone] sans coût supplémentaire sur l'iPad. "
Apple has indeed planned to synchronize the applications already bought for the iPhone via the iTunes application iPad, not need to pay again for iNavX, AyeTides and our other favorites apps. The question is what will be the policy on commercial Fugawi charts Navionics Gold already purchased on x-traverse.com for iPhone ? Amanda Holt, Sales Manager, I quickly responded to this question :
« Les cartes Navionics font l'objet d'une licence pour un unique appareil. If a customer wishes to move his charts to install it another device, we are able to accommodate this.
Other charts of the site www.x-traverse.com, such as CHS Digital or NV Verlag, font l'objet d'une licence pour deux appareils. "
So we know what to expect.
With its screen of 9.7″ (24,6cm) diagonal, its small footprint and its lowest power need, The iPad will certainly be of interest to owners of small boats who were reluctant to carry a bulky laptop and power hungry.
Otherwise, Apple has planned to provide an optional USB adapter and SD Card for the dock connector. This should open the possibility to connect a GPS and other external instruments via USB, and why not Navionics if the firm decides to provide a driver compatible OS 3 for his support SD Card Mapping. (See article Navionics knows no crisis…).
Let's wait till next summer to see if the iPad meets success with Mariners. For my own, I think this tablet will make a real revolution on the chart tables, if its performance is to go. It represents, anyway, a particularly economical alternative to get a Mac onboard (or even a PC) for sea craft.
_
(*) phoneWreck, iFixit