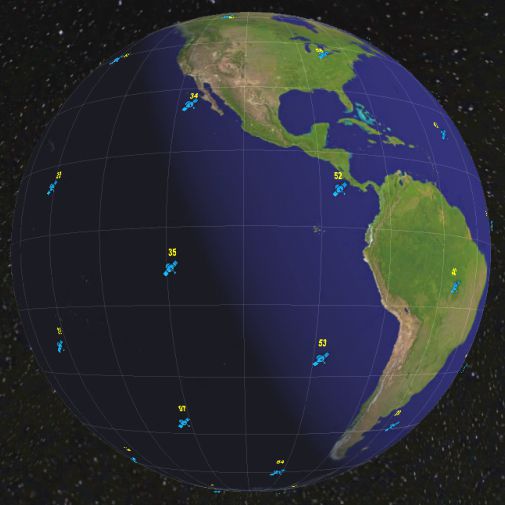 The use of Iridium takes a growing place among offshore sailors. Safety at sea to join his family at all times, or be able to contact a medical emergency, arguments are often raised by purchasers. In addition, satellite phone offers data services to send and receive text messages and emails, and especially to query GRIB weather files. Unfortunately, to date the available bandwidth for data exchange is extremely low, do not allow more than 2400 bits per second on average to use from a mobile phone. Only large fixed installations, out of reach of the average boater, offer data rates up 128 Kbps.
And tomorrow ? Iridium Communications Inc., based in McLean, Virginia (USA), announced in June 2010, launching a major program of development of a constellation of new generation, coming gradually replace the current : Iridium NEXT.
These satellites, more powerful and longer life, allow a significant extension and improvement of mobile communications services with, as now, continuous coverage of 100% of the Earth surface. Iridium NEXT will mainly :
Data rates higher (1,4 Mbps instead of 128 Kbps).
Data services and mobile devices more powerful (3G/4G)
The advantages of IP technology.
Retro-compatibility with existing devices and applications.
A unique constellation
As the current constellation Iridium, Iridium NEXT will include 70 LEO satellite (about 780 km high) :
66 operational satellites to replace the current constellation
6 spare satellites in orbit
8 satellites ground spares
Deployment schedule
Early 2015 : First satellite launch
2015-2016 : Deployment of the constellation
2017 : Iridium NEXT constellation fully deployed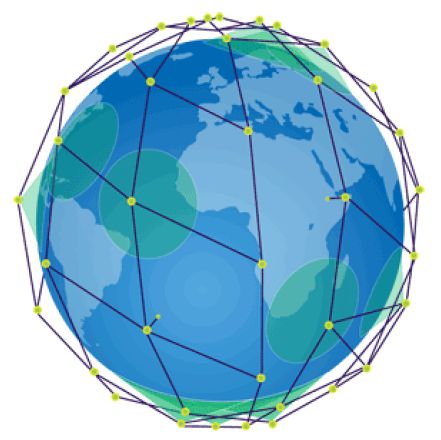 Each satellite Iridium NEXT will be connected to four other satellites, two in the same orbital plane and one in each adjacent plane. These links will create a dynamic network in space. Traffic will be routed between the Iridium satellites without touching the ground with a speed between satellites 8 Mbps, ensuring a reliable connection. Iridium NEXT will be virtually inaccessible to natural disasters, including hurricanes, tsunamis and earthquakes, that can damage antennas and ground-based terrestrial cables.
The Franco-Italian Thales Alenia Space won the contract for the construction and provision of all 81 satellites planned. The contract with Iridium, concerns an amount of 2,1 billion dollars (*). As a result of broadening the scope of the project, the total estimated cost of Iridium NEXT, including all costs associated with developing, the manufacture and launch of the constellation, expected to be approximately 2,9 B$. Furthermore, Iridium has obtained an authorization to proceed (ATP), which allows Thales Alenia Space to begin work immediately on the development of satellites before the end of funding, with the anticipation of launching the first satellite in the first quarter of 2015.
But ?
More good news should rejoice, us boaters. First compatibility, with our current Iridium devices, of future Iridium NEXT services (perhaps still not the oldest). Updates of firmware will probably provide, but no matter. Then data services with data rates much faster – hopefully 56 Kbps instead of 2,4 Kbps – to access Internet, and especially to load large GRIB files, synoptic weather maps or satellite images, as those provided by Meteo France Navimail service. These new broadband services should not increase the costs of communication, provided that they remain reasonable on the use we make of.
Well good things in perspective. No more than 5 years to wait !
—
(*) Financed by a syndicate of nine international banks 1,8 B$ guaranteed, agreement with the French government, up to 95% by COFACE. The balance being self-financed by Iridium Communications Inc..
Iridium Announces Comprehensive Plan for Next Generation Constellation
—
Related Articles :
https/navigation-mac.fr/tag/iridium/
—