As promised in my post on 15 July, here are the results of the comparative test conducted aboard "Prince d'Oc" for our trip from Port Leucate to Dubrovnik.
Thanks to the loan of a full IsatPhone Pro, with cradle and external antenna (big thanks to PYG @Voilier_xhosa, who sent me all this from Belgium), and the presence of a similar facility Iridium on board Olivier's boat : Iridium 9575 with fixed external antenna Sailor, we were able to test in real use.
Principle of implementation
Two types of tests were performed :
MacBook USB connection with Iridium and IsatPhone through GMN XGate application.
iPad 1 WiFi connection via GMN Redport Optimizer, featured onboard.
Three identical GRIB file queries have been made, file 32 KB compressed in all cases 27 KB by the same algorithm (bz2). In each case XGate application was used (MaxGate with MacBook and XGate with iPad). Two tests were carried out at anchor (in the Bouches de Bonifacio) and a navigation test. In all cases the tests are relatively similar.
Results
The tests confirm the claims of GMN times in my previous post (¹) while specifying the real-time communication. The IsatPhone is penalized by the fact that the establishment of each connection requires 50 seconds up to 1 minute for calibration, probably the time that the satellite receives the GPS position to lock its mobile antennas, before transmitting data. Then transfer times are relatively similar.
We noted that the Iridium external antenna, Sailor brand, was particularly effective. Throughout the course, most connections have been completed successfully without using prediction tool satellite pass (²) in Weather4D PRO.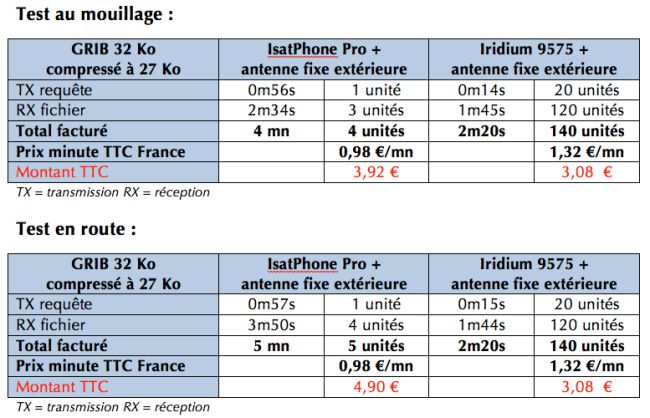 Costing the IsatPhone (³) was confirmed by the invoice received in July by the owner of the device. This shows, as mentioned in my previous post, that communication costs are significantly higher with Inmarsat than with Iridium. Especially the connection time, as receiving the file 27 KB, appears to vary considerably with the IsatPhone based on movements of the boat.
Hopefully, for holders of IsatPhone, that prices will decline in the future by the competition.
—
(¹) IsatPhone Pro versus Iridium, choose which ?
(²) Iridium Mail & Web : GRIB weather files on iPhone and iPad in open sea
(³) The price per minute are those of a prepaid card 500 minutes for both operators.
—