Many questioned the accuracy of GPS to the iPhone, and therefore the reliability of iNavX.
So I delivered a quick comparative, featuring :
A MacBook with MacENC + BU-353 GPS antenna
An iPhone with iNavX
A (old) MLR SP24 with its formidable precision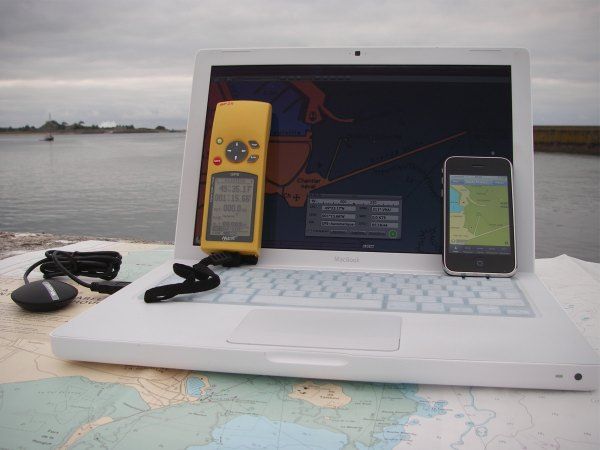 Placed at the tip of a pier 2 meters wide, the three devices gave exactly the same latitude and longitude, the 100th minute (click on pictures to enlarge) :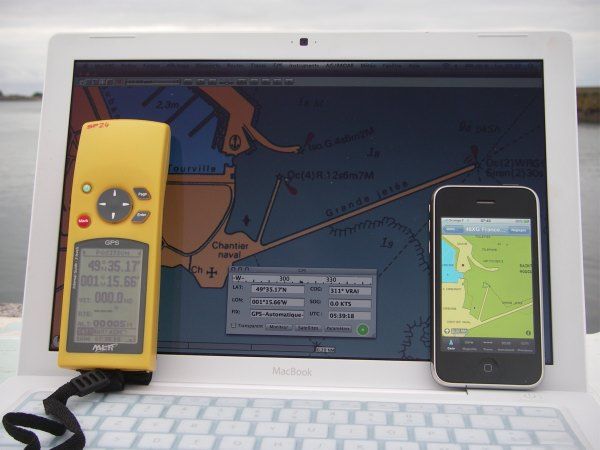 Or 49 ° 35′,17 Latitude and 1 ° 15′,66 Longitude. For MacENC and iNavX, position icon (point at the top of the triangle representing the ship) was placed on the end of the pier, iNavX precisely using Navionics Gold vector mapping , to 1 or 2 meters for using MacENC, this test, my old raster SHOM charting 1998 (Since, I bought the Navionics Gold charts for MacENC).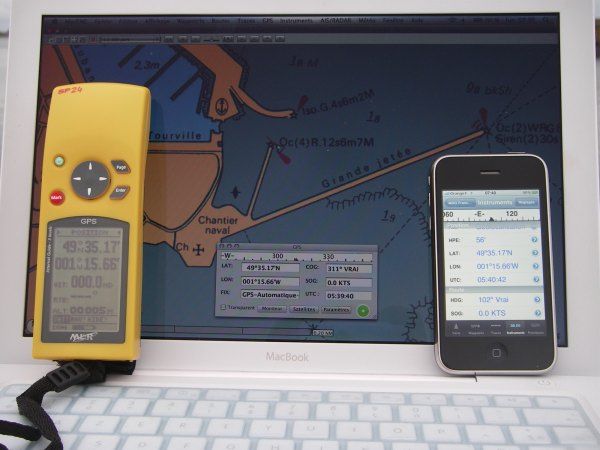 However, if the iPhone GPS accuracy remains largely sufficient for yachting, it has a big shortcoming of not having reception channel WAAS / EGNOS (*) allowing a permanent correction of GPS position. Le résultat est que le récepteur « décroche » régulièrement et présente alors une position fantaisiste, for a period of a few seconds until 1 or 2 minutes (**).
Nevertheless, in most cases in navigation, the built-in GPS of the iPhone has an accuracy quite sufficient, the open-stones in the mist with GPS is particularly not to recommend !
Summary, I give you a testimonial received last summer from a visitor to my website :
This summer I went to Red Sea, in cruise 15 days diving. The boat was obviously reinforced by the Egyptians. I bought a small fee the map of Africa Navionics for iPhone, thus, I had much more nautical information than the captain who was really amazed ! Almost all coral reefs that we had explored were on chart and the coupling of the application with the GPS of the iPhone has proved very effective.
Still doubts ?
–
(**) Update 24 August 2010
Le phénomène de « décrochage » n'avait rien à voir avec la réception SBAS

. Since the passage of the iPhone 3G system iOS4, processing for location services has been improved, GPS is much more stable and constant at sea.