History
Published in 1978 in New York under the title " The Shipkiller ", this nautical thriller was translated in France in Editions Grasset & Fasquelle under the title "The Killer of the Seas" in 1979, then published in Livre de Poche edition as No. 5399 in 1980.
Justin Scott grew up in the USA in a small town on Long Island, parents very prolific novelists, kind "Western" for his father, "Tales and News" for his mother. He proved himself an incredible gift for writing. For him, nothing was " more exciting than to carry a narrative to a degree of extreme tension ". He wrote under his name and several pseudonyms 23 novels and short story collections thriller. Under the pseudonym Paul Garrison, He has written five stories sea 1998 to 2004, including the first and most famous " Fire and Ice ". None have been translated into French, it is very regrettable.
Revelation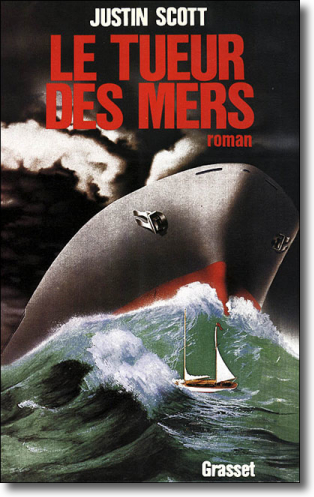 The Shipkiller was my first real sea romance, read straight through onboard a friend's boat in 1981, sailing in a weekend between Lorient and Ile de Groix. This handbook, I still held, I was so struck that I, repeatedly, tried to find it in the original edition, I just do not. I come finally to acquire a re Grasset, now available again. That's why I wanted to share.
What is extraordinary, in this book, Not only is the suspense of the first light to last page, but also the incredible technical knowledge of the sea and boats that demonstrates the author throughout the story, so he never had any other marine activity in his youth a short flight experience on the Hudson. Both maneuvers and descriptions of life aboard the supertanker, that the different boats armed by the central character in the story, demonstrate a meticulous research work. This brings such credibility to the story, especially for a browser confirmed, it becomes almost as real as if we actually read a variety of news magazine.
I shall say no more, run the search. If I had to classify a note 1 to 10 Marine in my library, is the maximum score achieved if.