As is mentioned in GPSNavX and MacENC Help pages, under "Simulator", can use the Simulator to proceed a dead reckoning. Simulator, Indeed, can be handy if you do not – or more – have a connected GPS.
The simulator starts from the GPS menu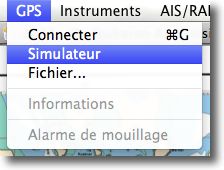 The simulator uses the last known GPS fix to position the vessel. However, a component input window open in the "GPS" lets you enter a starting position in latitude / longitude, or use a waypoint as a starting point by selecting it in the drop down window "Move".
Implementation
Speed and heading can also be prompted. For Cape, a wheel to select the value : if you hover your mouse directly on the wheel to rotate, you can select an approximate value. If you point the wheel, holding the left button you move away the mouse cursor outside of the wheel, the more you move away and you can choose a specific value of course (as if you act on a winch handle).
Of course, you must display a heading that takes into account the estimated drift of your boat : wind drift and/or current drift, as you would do by report dead reckoning on a chart paper.
Once the simulator is on all the navigation features are also active as a connected GPS : waypoints and routes, GoTo, alarm of arrival, etc. For example, in the "Settings card", onglet « Waypoint », you get all the information about your approach to waypoint.
Note :
1 – The simulator does not automatically chooses the speed and heading, even datas come from instruments.
2 – The speed must be greater than 0,4 knots in order to select a heading.