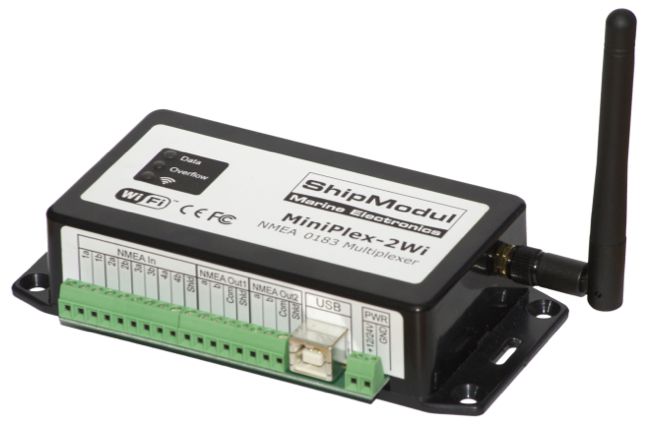 Company ShipModul website just presented on its website its new WiFi multiplexer, Miniplex-2Wi. This device comes in direct competition of'Brookhouse iMux, on which I wrote several posts on this blog, but penalized since early 2011 by delivery prohibitive for France.
The Miniples-2Wi only regards boats owners with NMEA 0183 and/or RAYMARINE SeaTalk instruments. For boats with NMEA 2000, network, refer to the excellent SeaSmart WiFi recently presented on this blog.
The MiniPlex-2Wi
The MiniPlex-2Wi is a NMEA 0183 multiplexer with four input ports (IN), two output ports (OUT), a WiFi interface and a USB port. The multiplexer combines data received on the NMEA ports IN1 to IN4 and sends this data to the ports OUT1, OUT2, the WiFi interface and USB port. The WiFi interface and the USB port is bidirectional, to return to the multiplexer data from one computer to be transmitted to the output port OUT1, and also to configure the multiplexer.
NMEA inputs are galvanically isolated from MiniPlex by use of opto-couplers (¹). The USB port is galvanically isolated, which protects the computer navigation system against potential damage caused by ground loops or voltage spikes.
The two NMEA outputs can address up to four receivers each. Adjustable routing options to specify which NMEA sentences sent to these outputs. In addition to the multiplexing, The device offers several management functions NMEA data by configuration utility(²) : flow control, filtering and routing, priority management input with automatic failover, integrity test, SeaTalk to NMEA translation, etc.
The MiniPlex can certainly be integrated into a Raymarine network by simply enable SeaTalk mode in configuration utility, modifying an input port NMEA for receiving SeaTalk data format. Connected to a Raymarine SeaTalk, the multiplexer will translate SeaTalk data in NMEA sentences and combine them with NMEA sentences that are received on other input ports. Only one entry is necessary since the SeaTalk bus is a single cable that connects all the instruments together through a single cable. However, This translation is unidirectional, we can not return NMEA data to the SeaTalk network..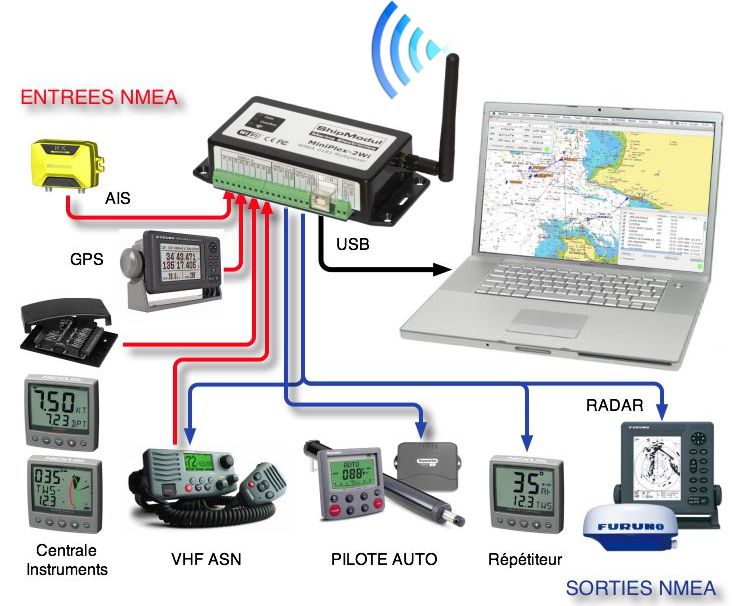 WiFi Interface
With its WiFi interface, the MiniPlex-2Wi can communicate with a wireless device as an iPad, iPhone, PC or Mac. The multiplexer creates a WiFi access point with the parameters :
SSID (Name): MiniPlex-25001234
IP address: 10.0.0.1
Port: 10110
Protocol: TCP/IP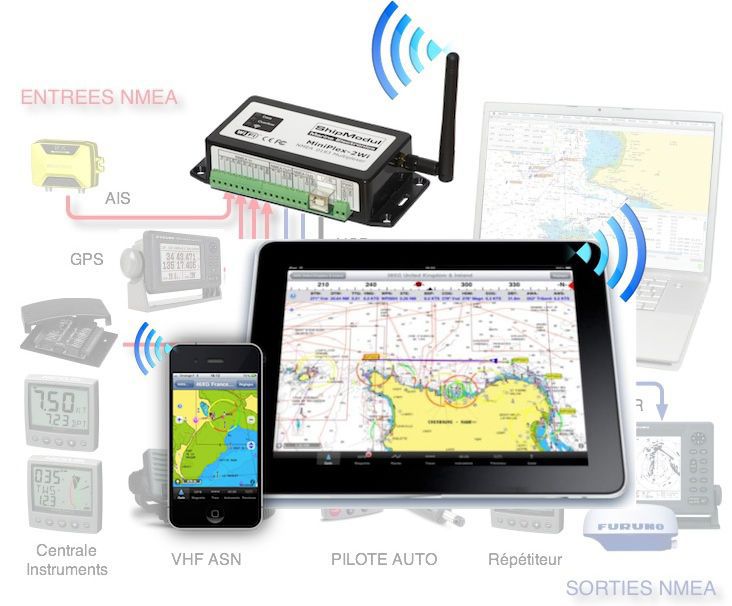 Implemented with iNavX :
Open Settings from iPhone / iPad
Select "WiFi"
Activate "Wi-Fi" to "ON"
Select "MiniPlex-2Wi:xx:xx". If another network is already selected, click on the blue arrow-button, then "Forget this Network".
(:xx:xx are the last two digits of the multiplrxer MAC address as printed on the sticker serial number identifying the device).
Leave the settings and launch iNavX. In Preferences select "TCP / IP NMEA Client" :
Host : enter " 10.0.0.1 "
Port : enter " 10110 ", " TCP » or «» UDP "
Enable "Location Services" to "ON" if no GPS receiver is connected to Miniplex. This will allow iNavX to use the "Location Services" of the iPhone / iPad
Activate "Repeat AP" to " ON "to send active waypoint data to Out1 Miniplex-2Wi output
Set "Active" to "ON"
Close with the "Save" button
The MiniPlex-2Wi supports only WiFi connection in TCP mode, up to 5 in UDP. Wireless interface and USB port operate simultaneously with the same priority. This allows an onboard computer and a wireless device to be simultaneously connected.
ATTENTION : MiniPlex USB driver must always be downloaded from the website ShipModul on page « Downloads ».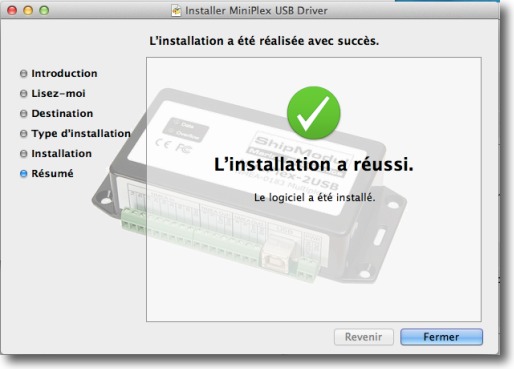 The MiniPlex-2wi is available on the French website iTabNav.fr.
—
(¹) An optocoupler is a device that carries information by means of light instead of electricity, preventing parasitic currents to flow between the instruments and the multiplexer. These currents can damage equipment or interfere with radio signals, galvanic isolation of input is required by the NMEA 0183.
(²) The utility MPX-Config and a User Manual in French are available on the manufacturer's website on the "Downloads" page.
—