Navionics vector charts contain a number of detailed information for each marina, and sometimes some moorings. These places are marked on charts by the symbol shown against.
These data are called in English "Navaids" when information concerning navigation, and "POIs" when dealing with practical and interesting information (Point Of Interest, the "s" is the plural).
Search in iNavX
In Waypoints view there is an option "Port Search". one can enter any part of a name to display all occurrences of what is prompted. Select with a tap the place immediately opens the chart centered on this location.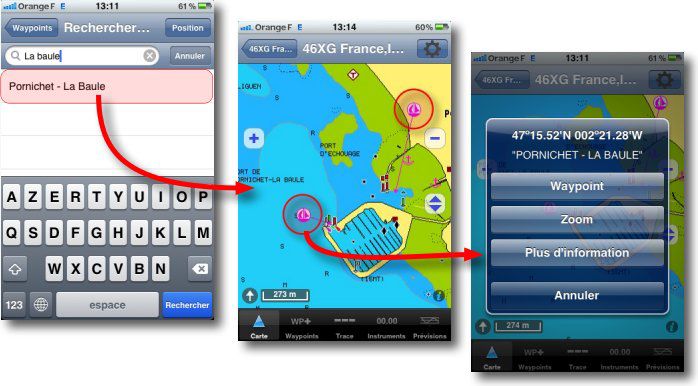 Then a tap on one of the symbols above opens a popup with the "More Info". A tap on this option opens a new window with the information available for this location. With a network connection (2G, 3G or WiFi) button "Google" to open the search engine with the name of this place as occurrence research, complementing the information sometimes succinct of Navionics charts.
Important
These textual information are implemented with Navionics charts. They are loaded on your mobile and available without any network connection. The detailed information provided by other applications often require, as the "Google" of iNavX, access to databases, so to the Internet. They are therefore only useful close to the shore.
—