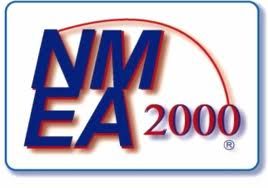 NMEA 2000® (¹) is a standard for electronic communication network specifically designed for pleasure boats, according to an industry standard published by the National Marine Electronics Association (NMEA). It aims to meet many needs, arising from the considerable increase of electronic devices onboard, the widespread use of computers and MFDs (²) with control and navigation application more sophisticated. It also aims to interconnect equipment provided by various manufacturers and brands, allowing boat builders and end users great freedom in their choice of navigational instruments.
Based on the protocol Controller Area Network (or CAN bus) developed by Bosch and Intel, used for decades in the automotive and automation, it enables communication of all devices to the standard "NMEA 2000® Certified", whatever the manufacturer, simply by connecting to the network. Designed to operate in harsh environments, NMEA 2000® uses the principle of a differential pair of wires in a standardized cabling, chosen for its insensitivity to noise and allows up 200 meters long in disturbed areas.
Principle
NMEA 2000® defines high-speed network in a new communication protocol. It can accept up to 50 devices each with 254 addresses and data transfers up to 250 Kb/s. It is multi-talkers/multi-listenerrs. This protocol uses a compact binary message format (PGN), and uses the arbitration of messages based on priority. Such a system is Plug & Play, devices are identified by the system upon connection (As with a computer's USB ports). The installation is greatly simplified.
NMEA 2000® network allows devices with a display to receive information issued by the various electronic sensors on the network : GPS antenna, log, depth sounder, temp sensor, anemometer, AIS receiver, etc. It allows to display digital data from engine sensor, hour meter, tachometer, and fuel and fresh water levels, on numerical indicators or devices with display placed anywhere on the boat.
NMEA 2000® is an important development compared to the standard NMEA0183, 50 times slower, limited to 1 talker/4 listeners broadcasting complex serial messages (ASCII protocol), through a standard wiring rarely respected by manufacturers.
The wiring
NMEA 2000® approved a single standard wiring : DeviceNet. Only this type of cable can use the label "NMEA 2000® Approved". DeviceNet is associated with technology CAN bus in the automotive industry for data transfer.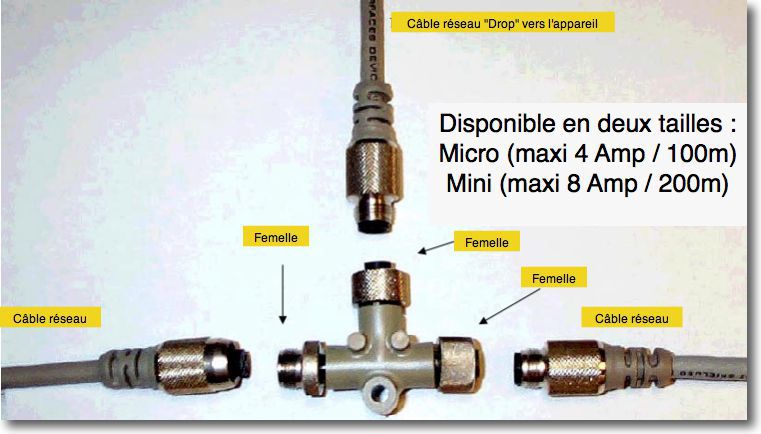 For marine, NMEA 2000® defined three cable sizes :
Mini : the thickest, can support a supply current to 8 Amperes and a length for the network(backbones) up to 200 meters.
Micro : the finest, supporting up to 4 Amperes and a length for the network (Backbone) up to 100 meters.
Drop (or Spur) Cable : used only for connecting instruments, a length less than 6 meters.
The "Mini" cable is mainly used to build a backbone for networks on large ships (generally higher than 20 meters), to which the instruments and sensors are connected with "Drop/Spur" cables. On smaller vessels, the networks are entirely composed of "Micro" cables and connectors to which the instruments and sensors are connected.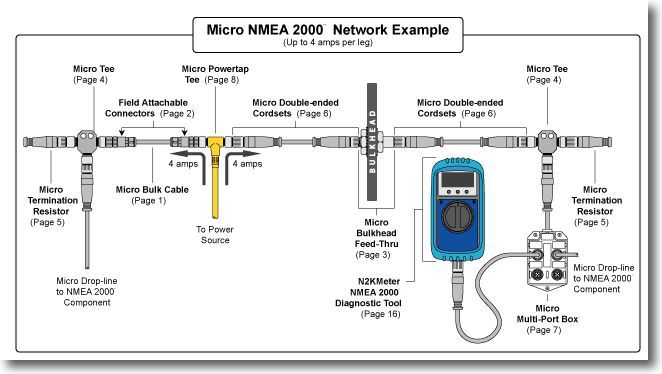 Garmin company provides clear explanations of the connections in this video :
Message format and PGNs
In the NMEA 2000® protocol, messages are sent in packets. Each packet consists of a header 8 data bits indicating the sending device, the receiver (can be all receivers)), the priority, and PGN. The Parameter Group Number (³) is a number of 6 characters indicating what type of message it is, and thus how the data should be interpreted to determine the values ​​of the data fields contained. NMEA sells the standard that describes how to decode each message providing its PGN, this information is not public.
Proprietary networks
Many manufacturers have created their own formats of communication : Simrad (SimNet), RayMarine (SeaTalk NG), Furuno (NavNet), Garmin (GMN), Stowe (Dataline 2000), Brunswick (SmartCraft), etc. Some of them have designed adapters to communicate their devices with NMEA 2000® network, but not all. It is therefore important to consult the list of certified products NMEA 2000® (⁴) if you want to incorporate a device to the network.
Still not widespread at the beginning of the years 2010 on pleasure craft of less than 20 meters, there is no doubt that the NMEA 2000® Standard will increasingly interest boatyards, French as foreign, who will install cabling at the construction stage to offer their customers the freedom of choice of navigation devices. An additional selling point in an increasingly competitive market. A blow to manufacturers of proprietary networks that favor locking customers into a single brand. A benefit for users who may change, replace the way they like, their instruments over time.
—
(¹) NMEA 2000® is a registered trademark of the National Marine Electronics Association.
(²) Multi-Fonctionnal Display, multifunction display.
(³) Parameter Group Numbers
(⁴) NMEA 2000® Certified Products
—