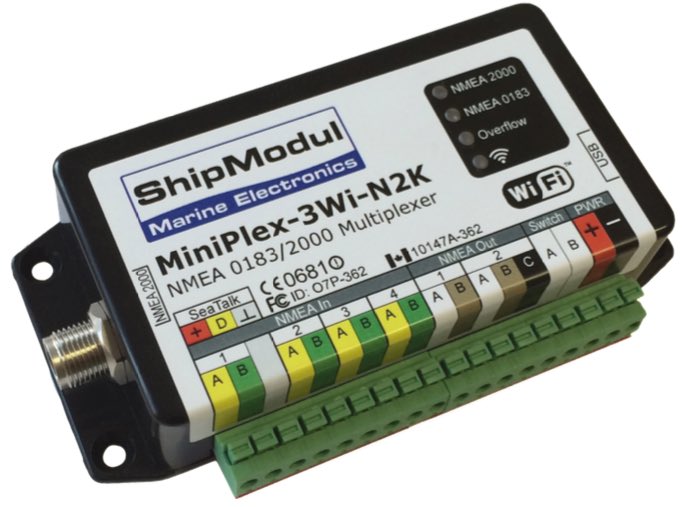 ShipModul manufacturer comes to provide on its web site two major updates to dowload for its multiplexer Miniplex-3 :
Firmware Miniplex-3 V.1.17
Firmware Wireless V.1.4
Two update files, featured with a procedure (in English), are packaged in a single folder WiFi V1.4.0.0. Download. The implementation can be done with the configuration utility MPX-Config V.2.1.0 minimum, available in PC and Mac versions.
Miniplex-3 V.1.17
Necessary to operate the new Wi-Fi V.1.4 firmware, adds the following functions :
NKE Support : support of some NKE proprietary NMEA sentences used by the manufacturer to add ASCII characters not supported by the NMEA0183 standard. The new firmware provides compatibility with these specific sentences.
NMEA 2000 – AIS targets class B : the Miniplex-3 converts the PGNs (

¹

) NMEA2000 V.2.0 in sentences NMEA0183. New firmware provides support for converting standard NMEA2000 V3.0 PGNs for AIS Class B targets to NMEA0183. This last standard is still used by many AIS transponders (

²

) including Raymarine.
Wi-Fi V.1.4
Support of TCP and UDP modes of TCP/IP protocol (³). The TCP mode allows only one device (client mode) to receive data from a transmitter (server), the UDP mode allows multiple connections. The new Wi-Fi firmware allows you to connect up to 4 devices simultaneously to the Miniplex-3 in UDP, one of the devices can also connect at the same time one application in UDP and a second one in TCP.
Update procedure
You should use the utility MPX-Config (latest version) from a Mac or a PC. These must be connected both with the supplied USB cable AND Wi-Fi to the multiplexer powered 12V. It will be available in USB only if a suitable driver was previously installed (download from Downloads ShipModul's website, not from the CD-ROM).
Follow step-to-step procedure provided with the firmware files, first update firmware, and then Wi-Fi. The operation only takes a few minutes. Updates run in a few tens of seconds.
———
(¹) PGN = acronym for NMEA2000 sentences Parameter Group Numbers
(²) See https/navigation-mac.fr/category/materiel/ais/
(³) TCP/IP means "Transmission Control Protocol/Internet Protocol" and is pronounced "T-C-P-I-P". TCP/IP is a communication protocol, client-server, consisting of a set of standardized rules of communication on the internet and is based on a technique to provide an IP address that is unique to each computer on the network in order to route data packets.
———