So many of you are still wondering about choosing an iPad for navigation use. Unfortunately having no time to respond to every request a post is required. Each year it is advisable to review this question, and sometimes more often.
With the delivery of iPad Air 5 in March 2022, the chipset Apple Silicon M1 appears on a mid-range model in a housing similar to the previous version, with moreover 8 GB, the double, of RAM memory. The last iPad 9 "low cost" delivered in last september, on the other hand, has almost the same dimensions as iPad Air 3 and iPad 8, with the only difference of switching to A13 Bionic and M13 graphic. These two latest models can still be protected in waterproof cases aiShell 10″5 and 11″.
Criteria to choose an iPad
There are several, which does not only depend on marine use, but also the home use of your tablet.
Model : I have mentioned it several times in my website (

²

) and several entries (

³

), model Wi-Fi + Cellular is imperative to be provided with GPS. With a single Wi-Fi model, you must add, either GPS Bluetooth, either multiplexer to fetch NMEA data from the on-board GPS, which limits the use of the tablet.
Storage memory : with 32 to 512 GB depending on the version and up 2 TB for the latest "Pro", the choice is wide. For a strict navigation use , with applications using cartography vector, 64 Go could be enough to go around the world. But if you use raster charts, larger than the vector charting for equivalent area , therefore 128 GB are a minimum. Beware though : if you store your travel pics and videos, if you add music and movies, 256 GB or more will not be too much.
The size and screen resolution : iPad (10-11 inches) or iPad Mini (± 8 inches), I would say that the choice depends mainly on the distance between mariner and screen. So actually vessel size. I will take an iPad Mini on a 18-25 feet, but beyond the distance between the helmsman and the location of the iPad justify maybe a screen 10 inches screen for easier reading. The screens Retina High resolution became widespread and provide excellent definition on raster charting and satellite imagery. Since 2016 devices benefit from a laminated screen antireflection multicoated which allows fairly correct daylight reading, especially with a sun visor added to the box.
Different versions
There are now countless versions : 19 total models since 2010 in 10″, 5 in 13″, and 6 Mini 8″.
• History : from iPad 1 to iPad Air 2 (2010-2015)
Initial iPad1, historical tablets some of which have traveled thousands of miles for several years, are no longer supported by Apple, just like iPad 2 to 4 and iPad Air. This means no more possible updates to iOS and the eventual obsolescence of applications that developers cannot keep backwards-compatible indefinitely. The majority of applications today only work on iOS/iPadOS 10 and next.
iPad Air 2 in October 2014 provided an improvement to the quality of the display with a 'Multi-laminated screen technology thinner and antireflection treatment. We can finally read it (nearly) in broad daylight. With 2 GB RAM, a "racing machine" for its time, lighter and thinner than Pro models. It was my favorite tablet, and my own for six years.
The first iPad Mini in october 2012 had the same characteristics as the iPad 2. It was a great tablet, with a screen that has nothing to envy to its big sister, autonomy for long days of navigation and fast power charging. Replaced by the successive versions Retina display, an iPad Mini 6 was released last September with an 8.2″ equippedA15 Bionic processor.
• Today (2016-2022)
March 2016, the arrival of an iPad Pro 9.7″ with a still more powerful processor and a memory up to 256 GB, but more expensive than iPad Air 2, do not then represented a decisive advantage for navigation use. The following years, Apple has expanded the size of the iPad Pro screen to 10,5″ then recently 11″. But these high-priced devices have been accompanied each year by several iPad 9,7" "low-cost", to attract tight budget. In 2019 the arrival of the new iPad Air 3 10,5″ at a very attractive price despite its A12 Bionic processor and 3 GB RAM, positions it between the iPad 9.7″ 2018 and iPad Pro 11″. It replaced my own iPad Air 2 in 2020.
How easily one gets lost, in a nutshell, Apple now offers three lines of iPad :
iPad = "Low cost " (generally based on a previous box with one or two improvements) first pricing.
iPad Air = thin and light midrange with good quality features. Still attractive prices.
iPad Pro = the brand's high-end technology. The most expensive of course.
In November 2015 has launched the large iPad Pro with a 13″, optionally provided with a keyboard, supposed to come competing Microsoft Surface devices in the professional market. For pleasure, its size and weight make it ideal for the chart table, Despite the availability of a waterproof case for 2 first generations (³) and supports allowing to use it outside. since November 2015, The Pro 13″ has been the subject of four new versions The last is provided with the processor Apple M1, with 16 GB of RAM and up to 2 TB storage.
My advice
• Used or Apple refurbished
iPad 6 (2018) and iPad 7 (2019) ""low-cost" to start at a low price. Tablets with decent performance that are good enough for navigation, if you are looking for the cheapest but not the oldest.
iPad Air 3 (2019)

always remains my best choice

as a second hand tablet to navigate, but it has become difficult to find in the refurbished market.
iPad Pro 10,5″ (2017) and 11″ (2018), if you are looking for more efficient.
iPad Pro 13″, heavy and therefore rather reserved for use on a chart table. Warning : the first two Pro 13″ have a

aiShell case

, not the following (³).
• New
iPad 9 10,2″ (2021), it's the latest iPad"low cost". Its characteristics hardly differentiate it from the iPad model 8 previous, except storage which increases to 64 or 256 GB and the A13 Bionic chip.

This is my best choice as new

for navigation.
iPad Air 5 10,9″ (2022), a powerful device perfectly suited to navigation, but still expensive in WiFi + Cellular with 256 GB.
iPad Pro 11″ and 12.9″ 5th generation (2021), they are overpowered and very expensive, and the 13″ still do not have an aiShell protective case(³). To avoid for navigation.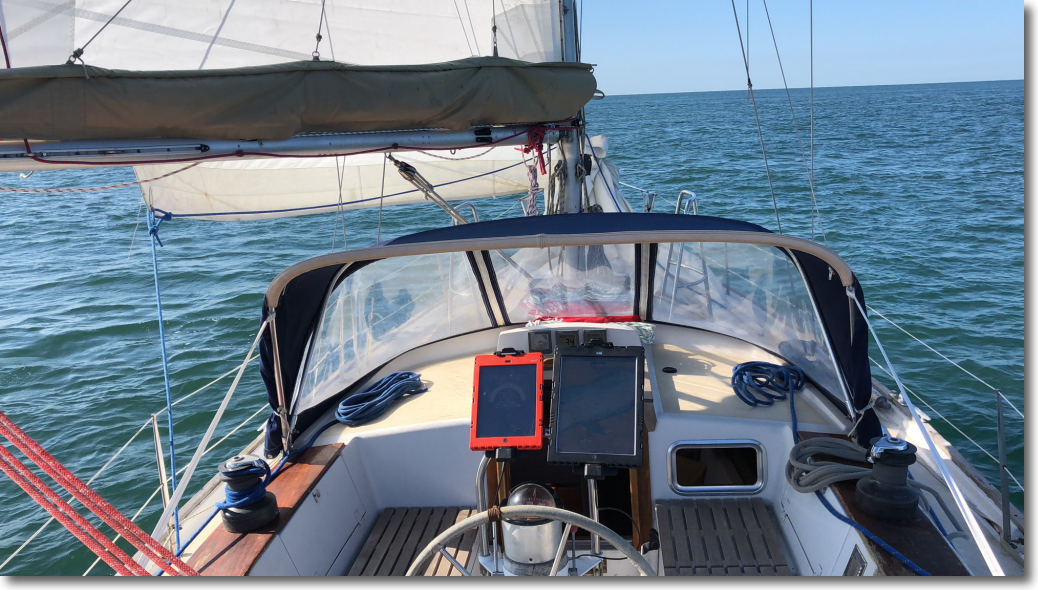 Warning : the last system iPadOS 15.x is only compatible with iPad Air 2 and newer. Older iPad, iPad Air 1 and earlier, will not change. Reminder, once the devices cross the fateful seven-year mark, they are considered obsolete by Apple.
Meet you when the next models come up.
–––
(²) Apple devices
(³) iPad , GPS and subscription to the cellular network This post dating from 2011 is unfortunately still relevant !
(³) A new aiShell protection is expected in spring 2022 for the most recent models 13″.
–––