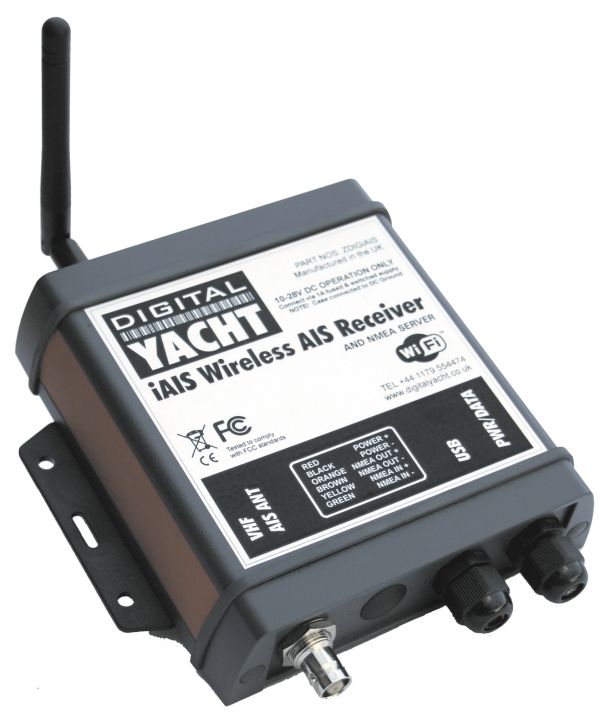 I explained, in a recent post, on receiving NMEA data from instruments on board without going through a Mac (or PC) aboard. It is now possible to do the same for receiving AIS data with an iPad or iPhone.
Digital Yacht has developed a new AIS receiver designed for use with mobile devices from Apple. iAIS, is its name, WiFi transmits navigation data received from vessels to dedicated applications on iPhone or iPad via TCP / IP. Featured with AIS dual-channel A and B receiver, It also allows applications to access consistent data NMEA instruments aboard.
How it works ?
IAIS communicates with Apple's mobile WiFi. It requires a simple connection to a standard antenna VHF dedicated, or the VHF antenna by adding an edgesplitter. IPhone users or iPad must enable WiFi and connect to WiFi network IAIS. No Internet connection is necessary, no bulky cable to connect. AIS data (providing information such as position, name, call sign, MMSI number, course and speed of vessels) are then available to any compliant application.
IAIS may also be multiplexed with other NMEA data available on the boat, GPS or instruments, and forward combined with those of AIS. Some users may prefer to use the GPS data from the onboard device rather than the location services of an iPhone or iPad. In addition to WiFi, two outputs NMEA0183 and USB allow a direct connection to a Mac, a PC or chartplotter.
With which it works ?
The most suitable application for iPhone and iPad is naturally iNavX, which manages TCP / IP and supports real-time reception and display all NMEA data. iNavX selectively displays AIS targets on the chart, and vessels information.
Digital Yacht offers on the AppStore a standalone display of AIS target information and how to display a RADAR, developed by Richard Ray (Designer iNavX, MacENC and GPSNavX). This application is free but does not support mapping.
IAIS is also compatible with PC and any application (Android, Windows Mobile, aso.) knowing how to manage the transfer of wireless data (TCP/IP) for navigation information.
Implemented with iNavX :
Open Settings from iPhone / iPad
Select "WiFi"
Activate "Wi-Fi" to "ON"
Choisir «DY-iAIS-XXXX». If another network is already selected, click the blue arrow button, then "Forget this Network"
Exit Settings and launch iNavX. In the Preferences select "TCP / IP NMEA Client" :
Host : enter "169.254.1.1 "
Port : enter "2000 "
Activate "Location services" on "I" if no GPS data is sent to the iAIS. This will allow iNavX to use location services on the iPhone / iPad
Set "Active" to "ON"
Close with the "Save" button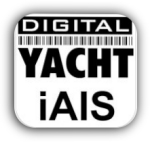 The application is available free on the AppStore, two versions for iPhone and iPad. We will easily recognize on the screens the " design touch » de Richard Ray.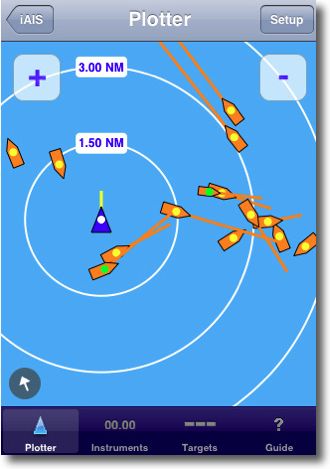 Digital Yacht has made this video, dubbed in French, for explanation :
———
Related article : Connect GPSNavX/MacENC with an AIS
———