This summer, It's decided, We rent a large catamaran in family ! At last, would be better to say "in extended family. : four adults, two older teens + their respective boyfriend-girlfriend + a child of 11 years. It has thought of everything : journey, victualling, clothing, Sun creams, sunglasses, caps, masks and snorkels, fishing lines… about ! A week before our departure, the skipper has whispered :
-You thought to charge phones ?
There, a silence, then the response :
-UH, isn't it, what for ?
-You will be new on board, It's been so many smartphones and certainly half of tablets… and there are only two plugs cigarette lighter on the boat !
-Damn…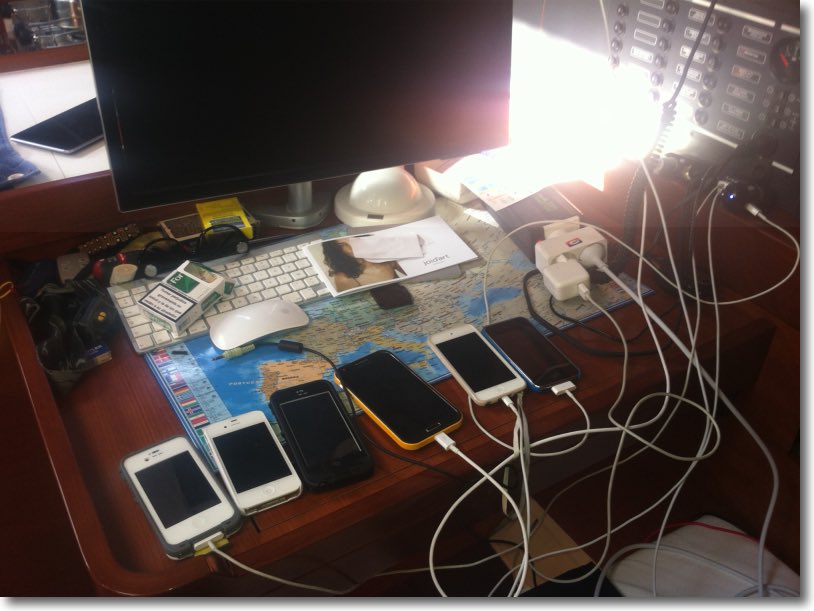 Actually, between youth smartphones, the old iPhone and iPad, the Nexus of the junior, and one of the two Sockets 12V of the vessel who shall be reserved exclusively to the iPad's browsing, It'll be war if it does not find a solution for everyone.
The market today offers many solutions, but few of them are suitable for the use at sea. Even if a catamaran wet not much, better be careful. A brand has been selected by our friends at iTabNav, company X Move, offers several products to rather barbarous names, but meeting our criteria of use : robustness and tightness.
Sealed batteries
X-Moove© Rugged™
This small battery of Pocket fun design is perfect for a smartphone. It allows two full recharges from an iPhone, 20 h additional use. It gets 70% the load of an iPhone in 2 hours, 100% in less than 3 hours. You can continue to use its smartphone connected to the battery in a Pocket. 3 green LEDs show the charge and/or discharge levels. a mini torch and a small laser pointer complete functions. It is the happiness of my wife, iPhone addict !
Specifications :
Sheathing rubber shock
Sealing : IP67 (valve closed)
Compatibility : Smartphones and USB devices
Battery capacity : 5600 mAh
Time to recharge the batteries of 0 to 100% about 5 hours
Supplied with Micro-USB cable, Dock iPhone adapter, Mini-USB adapter
Dimensions : 102 mm x 56 mm x 26 mm
Weight : 145g
Suggested retail price : 59,99€ inc VAT
Promo iTabNav : 44,95 € inc VAT
X-Moove© Rugged™ Adventure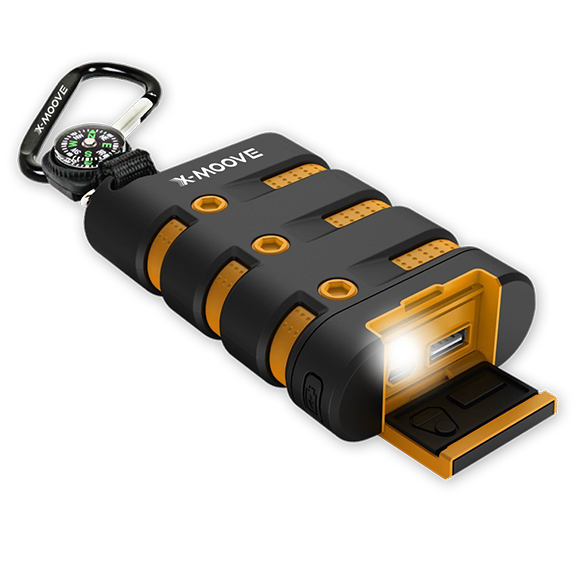 Big sister of the previous, This very powerful battery is perfectly suitable to the iPad and other tablets. It allows to charge to 100% d'un iPad, up to 6 an iPhone or a Galaxy full refills, charging a GoPro, and many other devices. 4 charging/discharging control diodes, Mini-torch with SOS function. This is the ideal battery, all-terrain, the Rolls ! The manufacturer advertises :
"Its X-Charge technology™ detects your device and optimizes the charging speed. It allows to recharge your device as quickly as your original charger. "

What better ?
Specifications :
Sheathing rubber shock
Tightness IP67
Compatibility : Smartphones and USB devices
Battery capacity : 9000 mAh
Output power : 2A
Time to recharge the batteries of 0 to 100% : about 7 hours
Dimensions : 102 mm x 56 mm x 28 mm
Weight : 140g
Supplied with Micro-USB cable, Dock iPhone adapter, Mini-USB adapter
Suggested retail price : 69,99€ inc VAT
Price iTabNav : 59,90 € inc VAT
The solar panel
Solargo™ Trail 18W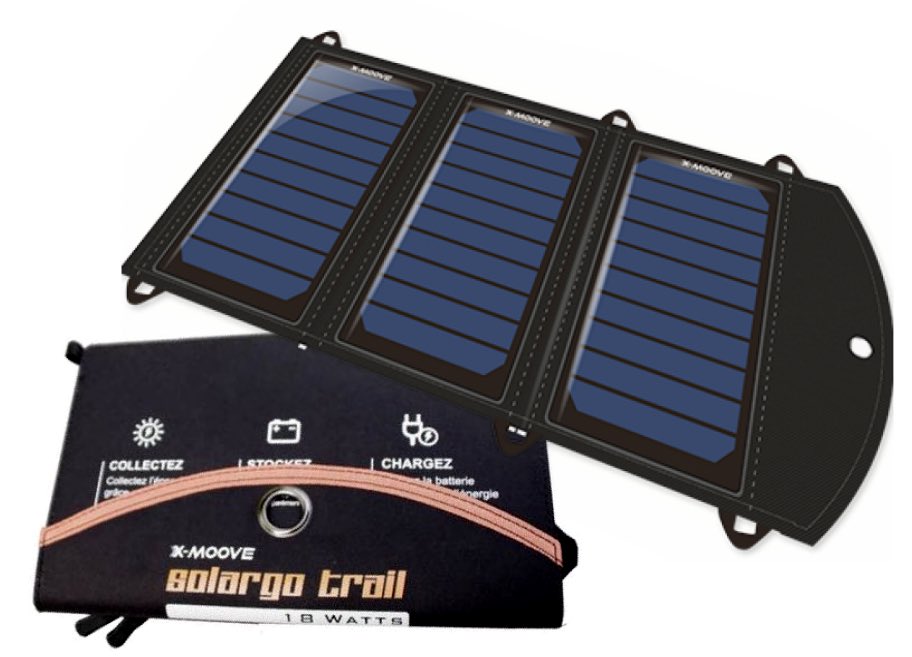 Brand new portable solar panel for iPad and smartphones. Ships as a small Briefcase, folds and hangs anywhere by a robust stainless steel eyelet and several clips how to sail, which are also used to secure it.
"Equipped with SunPower solar panels™, world leader in photovoltaic cells, X-Charge technology™, the Solargo™ Trail has a yield 40% superior to equivalent surface compared to competing products. "

Dixit manufacturer. Actually, with nominal power 18W (Sun at 90 °), a voltage of 5V. and dual USB output, the Solargo can recharge two devices simultaneously, including two iPad, but can also recharge the Rugged battery™ and 5h. et la Rugged™ Adventure en 9h.
Light, robust, impact resistant, water and extreme temperatures, It is the response to the absolute autonomy ! At last, as long as there is sunlight…
Specifications :
Dimensions : 260 mm x 174 mm x 40 mm
Weight : 660 g
Compatibility : Any USB device
Delivered without cables
RRP : 149,99€
Price launch iTabNav : 129 €
Good, well, There's more than just to heat the blue card… to prevent the mutiny ! And especially, do not forget all kinds USB cords :
USB cables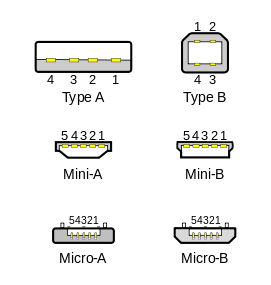 USB type A to :
USB standard A et B
Mini USB A and B
USB micro A and B
Apple Dock (old generation)
Apple Lightning (new generation)
Apple USB-C (universal format)
A real puzzle. 6 different formats for a standardized connector (USB) and three Apple formats. And a Council, Mark your own cords with adhesives of color, It will avoid discussions on the return of cruise.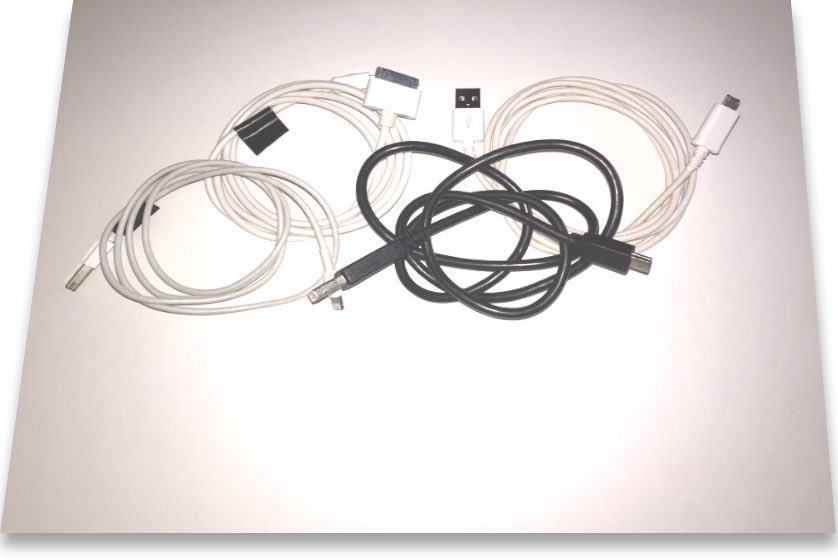 ———