During a weekend of January a little sad, we joined the port of L'Herbaudière, Isle of Noirmoutier, via the picturesque Gois passage at low tide.
We, that is to say, a boating journalist, my wife and myself.
Welcomed by two "natives" from the country, Henry and Jean-Etienne. The latter giving us a superb Oceanis 347 for the first test board, in France, navigation applications on a Mac, iPad and iPhone. A big first, somehow.
The scenario
The scenario included a test in two acts :
Act 1 :
MacENC on a MacBook, an BU-353 GPS connected to a USB port, receiver AIS RX Carbon (True Heading) connected to a second USB port. MacENC configured to transmit data from the GPS and AIS targets in TCP / IP to the iPhone and iPad board : 3 iPad WiFi 3G models 5 iPhone 3G, 3GS and 4, oh my !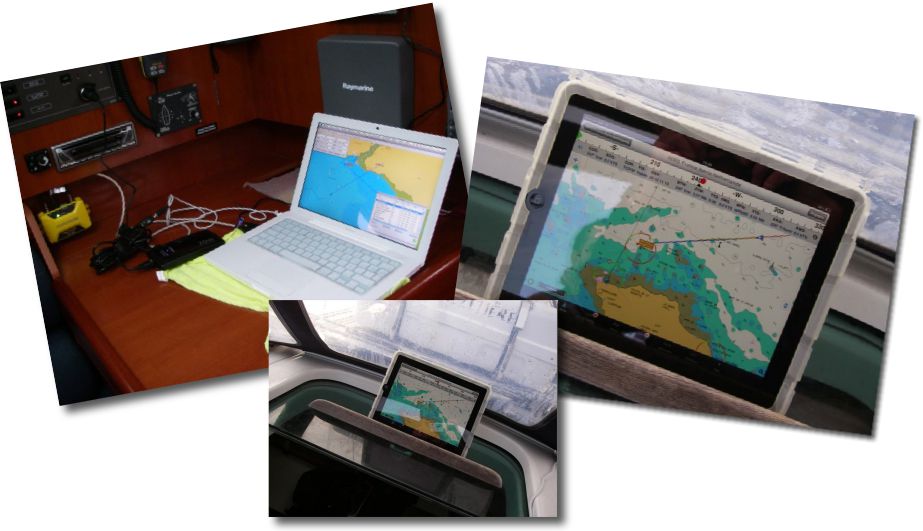 Act 2 :
The Raymarine GPS onboard power, The'AIS RX Carbon and a wind-gear NASA Clipper connected to a multiplexer iMux standard (Brookhouse) transmitting NMEA data directly to a WiFi iPad.
Actors :
The making-off :
After the crafts required to install all the equipment on the chart table by Jean-Etienne, we took a short day, we made a roundtrip to Pornic in a light breeze from south / southeast and persistent fog, just evaporated return.
The movie :
Sorry, there will be no preview ! Must await a future issue of the magazine "Boats" to see the results of this exciting event. [Update] N° 635 – April 2011.
A big thank you to our skipper for the friendliness of its welcome, both at sea and home, in the heart of the Bois de la Chaise. Thank you to Henry for organizing it all, to Damien for his excellent company, to my wife for her patience in the midst of all these techno-geeks and maritime abstruse language. And finally I do not forget the aperitif offered by the friendly leaders SRIN (Regatta Society of Ile de Noirmoutier).
Hope to meet again !