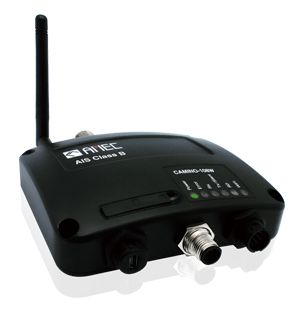 The Taiwanese company Alltek Marine Electronics Corp, also known by the acronym AMEC, spreads specialized for 2006 in the design and manufacturing equipment AIS. In his presentation, AMEC announces that was founded with the aim to provide the best marine electronics for navigation, communication and security. In pursuing this goal, AMEC is committed to provide AIS solutions to meet customer expectations for the quality, the performances, values ​​and services. Its solutions address to commercial vessels, fishing vessels and pleasure boats.
The Camino-108W (¹) is a Class B AIS transponder extremely compact (13 cm wide 9 cm deep) weighing only 250 grams. It has two channels receiving AIS Class A and Class B with a shared DSC reception (²), and a transmission channel AIS Class B. It includes a built-in GPS receiver 50 channels and Wi-Fi module.
Interfaces :
AIS received data are transmitted simultaneously Wi-Fi (150 Mbps), NMEA2000, NMEA0183 2 adjustable rate channels (4800/38400 bps) and USB for PC connection.
Connectivity :
It is featured with 6 connectors :
VHF antenna
External GPS antenna (for steel/carbon boats)
Wi-Fi antenna 802.11 b/g/n
NMEA 2000
Power / Data NMEA0183 2-interfaces / Switch
Mini-USB (watertight)
For a lower price 590 EUR, it has a relatively unprotected box (IPX2) and does not provide antenna splitter (Brand). The GPS receiver is integrated and the WiFi module allows the reception of AIS targets on tablets and smartphones with the appropriate applications. It operates also as accepting up to WiFi access point 10 concurrent connections (Version 2). SD-Card reader also allows backup of AIS data. It will still add a passive GPS antenna (65 €) and a splitter (³) Cubo-161 if you are using your VHF radio antenna (180 €). The configuration have to be done only from a Windows PC.
This device is symptomatic of the effect of increasing volume transponders for two years hence a significant decline in prices. Hope this encourages boat owners to prefer transponder option than receiver option, thus contributing to enhance collective security.
———
(¹)Sold under the brand McMurdo Smartfind M10W
(²) Digital Selective Calling
(³) AIS Transponder, dedicated antenna or antenna splitter ?
———
Related article :
AIS, the second maritime revolution after the GPS
———