Improvements…
No respite for this application : two and half months after joining the currents in the routing calculation, this latest version provides significant advances on this function. Improvements provide greater accuracy in the calculation of optimized route and new settings allow to fine-tune.
… and two good news :
They relate to current, follow the guide…
Currents :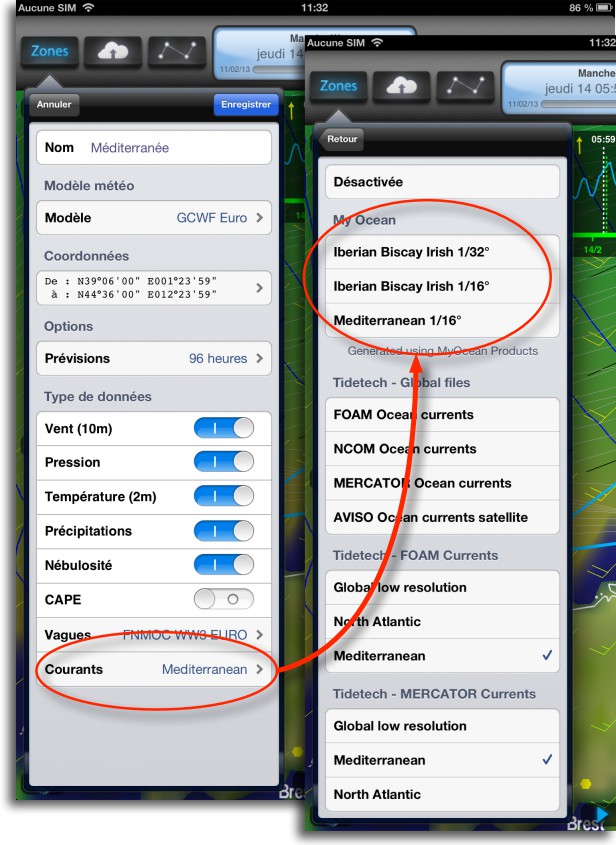 Firstly the subscription service for global currents prediction Tidetech is reduced to 60$ (about 45 €) yearly. This is a specific offer to Weather4D, knowing that the normal rate is 348$. It therefore provides GRIB files for the current worldwide less 4 € per month. The subscription is on a dedicated page of Tidetech website.
Then new models of fine grid currents are provided for free by MyOcean (¹) and directly available in data settings. Three models are supplied :
IBI model (Iberian-Biscay-Irish) : two resolutions 1/16 (4 NM) and 1/32 degree (2 NM), step 1h., up to 5 days.
Mediterranean : 1/16 degree resolution (3,75 NM), step 24h., up to 8 days.
Global : global coverage at 0.5 ° and 1/12 ° (5 NM), step 24 hours, maturities 7 days.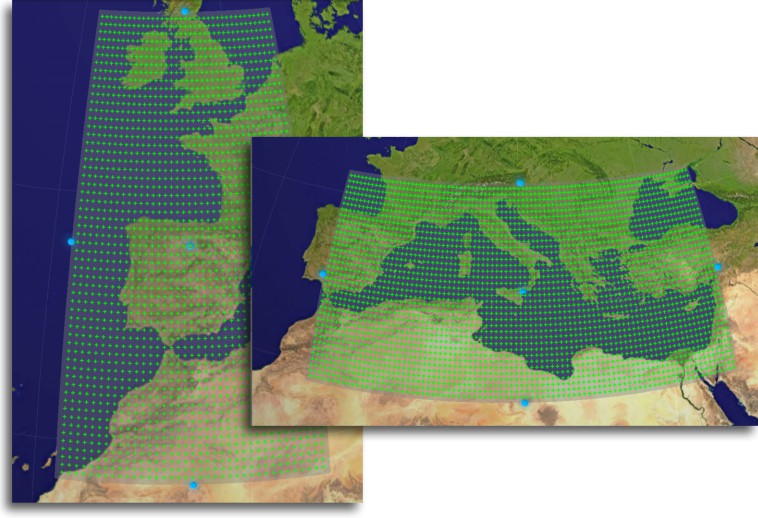 Routing :
Many improvements are :
Vector outline of the coast (200m accuracy).
Better detection accuracy crossing ashore.
More accurate routes simulation with currents.
Routing algorithm improved with currents.
Stimulation of boat heading with position icons (green and red).
Capacity of routing without polar (routing engine alone).
Displaying the route in case of partial routing.
Saving the display isochronous selection.
Polar : new settings TWS Max (Maximum True Wind Speed), TWS Min (Minimum True Wind Speed).
Polar : can disable a sails set.
A window has been added to select fine adjustments before starting the route calculation :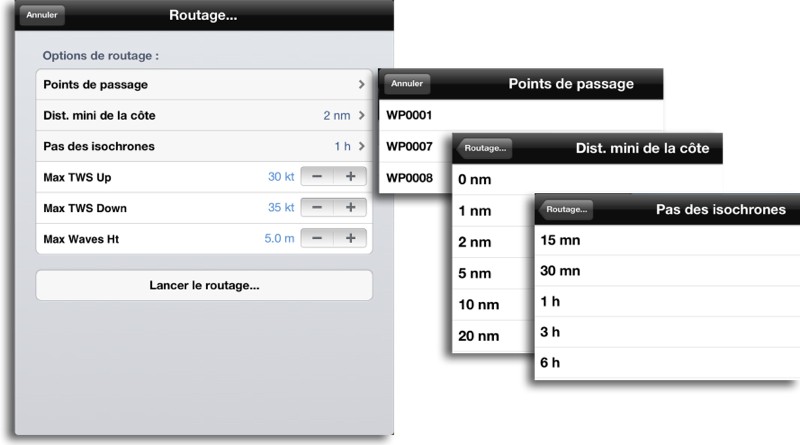 Selection passing waypoints for routing (can choose to deselect some).
Minimum passing distance to the coast (0 Nautical Mile, 1NM, 2NM, 5NM, 10NM, 20NM).
Isochronous steps (15mn, 20mn, 1h, 3h, 6h).
TWS Up Max (Maximum True Wind Speed close-hauled).
TWS Down Max (Maximum True Wind Speed before the wind).
Maximum wave height.
With this advanced settings set, the boater will be able to put constraints, e.g. wave height, that will determine more comfortable route, even if it is less efficient than the direct route, or in the worst case interrupt routing if weather conditions do not match these requirements (in that way, we do not go !). Taking into account the wave height must be considered a major component of well-being of the crew. The "engine only" routing function, that is to say without selecting polar diagram, is also extremely interesting to navigate the best route and therefore the most efficient fuel economy that may result. Finally, the choice of isochronous steps allows to adjust calculation of the optimization with route length.
Weather4D PRO 1.3.3 crosses yet another step on the way to excellence. In all cases, this application provides, for a very low price, enough to satisfy the most demanding boaters of us.
—
(¹) A word about MyOcean :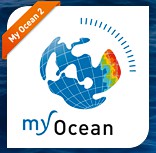 MyOcean is a project initiated by the European Commission and coordinated by Mercator Ocean, the French analysis and ocean forecasting center. It fits into one of the 2 European space programs COPERNICUS named (formerly GMES « Global Monitoring for Environment and Security program »). The other being GALILEO space program.
MyOcean consortium aims to implement from 2014 a European perennial oceanic survey to provide products and services usable by users forecast for all marine applications : maritime safety, marine resources, marine and coastal environment, weather forecast, oceanographic and climatological.
MyOcean acquires and compiles data space-based observations and in-situ, analyzes, develop predictive ocean models, designing products and put it available for free to all relevant stakeholders on an internet portal. Forecasts of ocean currents, temperature, salinity are, in example, part of these products.