As I have already written, in the word "aircraft" there is "water". It's not a coincidence. So much so that for many years the world of aviation develops a concept similar to the maritime AIS : ADS-B. I also would not be able to say which of the two is the first , it doesn't matter !
As the news about us is a little flat these days – normal in July – I am interested in aerial navigation by discovering an application for iPad, I speak a little lower.
ADS-B, Automatic Dependent Surveillance-Broadcast, which can be translated as "Automatic Dependent Surveillance Broadcast by" generally based on the same principle as the AIS. Only the technical means differ.
ADS-B is considered the successor to the radar by the U.S. aviation administration (FAA). It uses the positioning provided by the GPS system to identify and share accurate information about the position and flight characteristics of aircraft, broacasting this information to surrounding aircraft equipped with the same system.
The principle
The aircraft automatically communicate with each other and ground stations. On board, the ADS-B transmits the information : airplane type and identification, location, heading, horizontal and vertical velocities, trajectory. With a GPS mapping, this instrument allows pilots to view aircraft around them and be seen by them, as well as displays of ground control stations.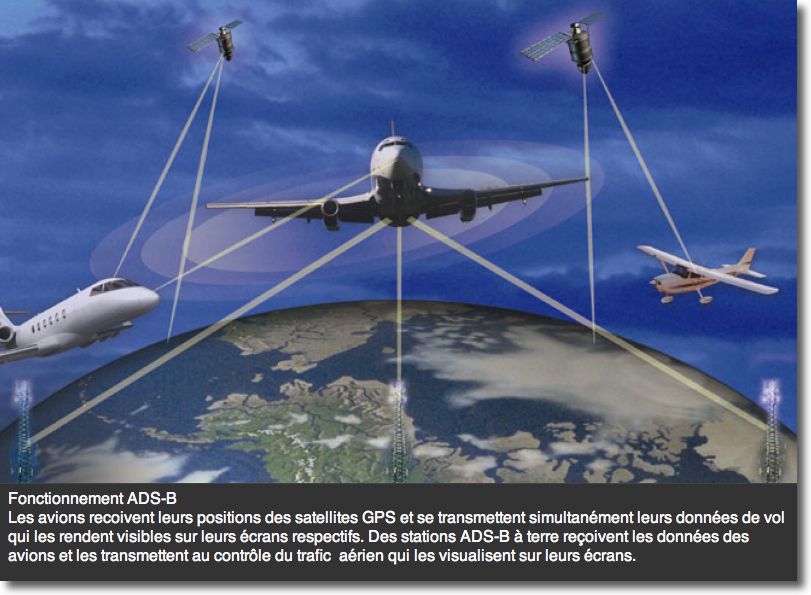 In addition to position data and conventional navigation, ADS-B can also provide information on terrain and obstacles, display traffic information and, within limits, hazardous weather conditions to avoid.
The system
There are three ADS-B communications systems available :
1090ES = 1090 MHz Extended Squitter
UAT = Universal Access Transceiver
VDL-4 = VHF Data Link Mode 4
The 1090ES is an extension of existing Mode S radar transponder on board commercial airplanes working 1090 MHz. On aircraft equipped, these transponders can already send and receive messages used by air traffic control ground (TCAS). A simple modification of the equipment allows them to send messages (ADS-B OUT) and receive (ADS-B IN). Ground, ADS-B information may be received either by a Mode S radar, either by a single omnidirectional antenna, much less expensive. Since nearly all commercial aircraft are already equipped with TCAS, 1090ES is a relatively inexpensive solution for them. This is not the same for other aircraft, especially small private planes, for which ADS-B 1090ES installation is very expensive.
The'UAT is better suited to private aviation. It is a transceiver designed specifically for ADS-B which works 978 MHz. The UAT is a specifically American. UAT conceptors hope that the cost of this equipment will soon be affordable enough for it to be installed on all private aircraft.
The VDL Mode 4 is both a means of monitoring and reporting, Operating in the VHF aeronautical navigation equipment (108-118 MHz). The VDL-4 allows ADS-B surveillance and communication controller-pilot data link and not by the voice. As for the UAT, VDL-4 is more affordable than the 1090ES for general aviation, especially pleasure flying.
Application
The first application is the monitoring : ADS-B data are indeed more accurate than radar, since their accuracy is GPS. A second application of ADS-B, using the receipt, is ATSAW (Airbone Traffic Situation Awareness), allowing pilots to have an accurate picture of air traffic around them.
However, as maritime AIS, only aircraft equipped with ADS-B will be on view to pilots. Transitional measures will be needed, and studies are still in progress in Europe to solve the transition from "all RADAR" to a mixed solution.
At last, and it is not the slightest concern, ADS-B is not encrypted, anyone can follow the air traffic with a single ADS-B receiver, which can cause security problems. In addition, a hijacked plane who knows the surrounding traffic could be directed to another aircraft in flight. This new risk is, one suspects, debated in the U.S..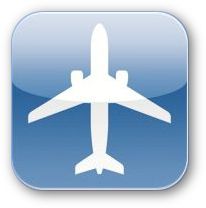 This is particularly true that applications for monitoring aircraft are now available for a few dollars for iPhone and iPad, as Plane Finder that uses an ADS-B data stream in real time to display the position, flight and identification of all aircraft equipped with ADS-B. Just as the data stream Marine Traffic or SiiTech (*) for marine navigation.
Deployment
Since 2009, FAA has deployed ADS-B stations (1090ES and UAT) its territory, and plan to make the system mandatory until 2020. Europe, well covered by radar, is still in experimental phase. China, Australia and other countries began deploying the system for several years. France will equip the area of ​​Ile de la Réunion and then extend this system to all areas difficult and expensive to equip with radar (Polynesian archipelagos, Guyana, aso.)
To conclude with a little humor, there came the question of seaplanes. commonly used in Africa, Canada and the USA, will they be equipped with ADS-B or AIS, or both ? Or will there be one day merging the two systems on one screen ? Electronics manufacturers have the work cut out for a few years ! 🙂
—
(*) Receiving AIS on the Web
—
Source :
Wikipedia
http://www.aero-hesbaye.be/ADS-B.htm
http://www.ads-b.com/
—