At the bend of a search on App Store for my previous post, I found out under the term "Simrad" an application that furiously reminds me of something. From research to research, I discover the company Electric Pocket. This British applications publisher develops the applications for mobile from 1997, and recently the applications nautical under the name Pocket Mariner. That company is based in Wales, United Kingdom, and deals with partners from around the world.

SeaNav
This navigation application, which comes in three versions : SeaNav-HD, SeaNav UK & Ireland-HD and SeaNav US - HD is none other than the application sold by Digital Yacht under the name NavLink, as I mentioned on this blog a few months ago (¹). Interesting discovery. I invite you to follow the link (¹) for details because these two applications are strictly the same, with iOS (iPhone / iPad) and Mac OS X version. You will see the chart and the navaids overlayed in augmented reality on the landscape through the lens of the mobile, as well as AIS targets with their routes. On this point Pocket Mariner is actually innovative. Rest to see the usefulness in practice.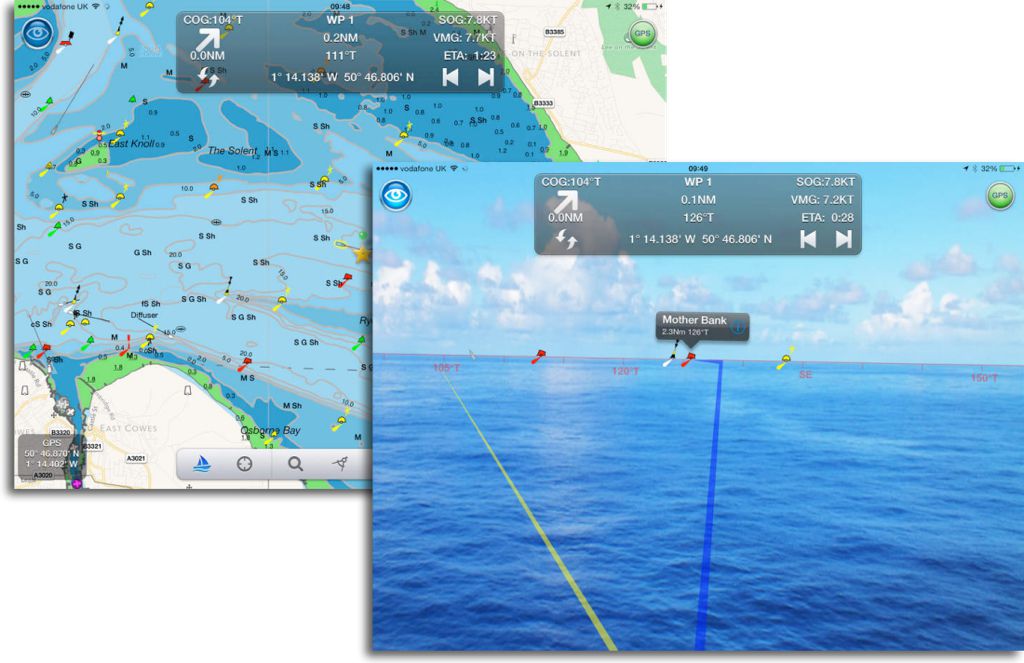 Compass Eye
You may remember the defunct application Compass AR, in the early days of this blog, missing since a certain time of the AppStore. Compass Eye does the same thing ten times better. Early 2010 the application disappeared from the German company Convelop faced the handicap of iPhone screens virtually unusable in bright light. Today the iPhone 6 and 6+, are perfectly readable by clear and sunny weather.
Pocket Mariner, with his experience in augmented reality, has added extremely useful functions, In addition to compass display : instant input of bearings, by tap on side icons, as green lines, red and yellow for a triangulation location by bearings, with digital display of angles. Bearing lines can be moved by dragging with the finger. Input an angle of approach of a ship to check constant bearing that means collision route. Screenshot by a tap on an icon. Speed over ground display (GPS) and Lat/Lon location, Day/night lighting, Zoom up to 8 x.
Shortly, a really useful application to many points of view for a perfectly affordable price (4,49 €). I recommend.