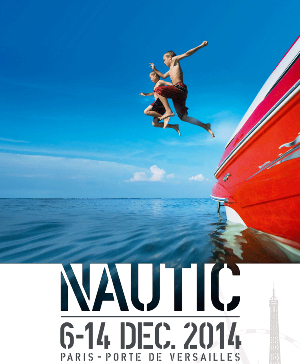 A few days before the opening of Nautic Paris boat show where, I remember, I will be present on the stand iTabNav (Hall 2.1 – D31), an overview is required. And precisely, in our immediate horizon we will have, like every year, the proximity of their representatives and marine electronics manufacturers.
In the previous edition of the boat show, I could see the nervousness - not to say hostility - manufacturers respect the phenomenon Crescent of tablets and other smartphones on the market of navigation. (A) promote these devices and their applications, I do probably not have only friends in this environment. However, the strong pressure of the purchasers of boats, and so navigation electronics, a forced such manufacturers to incorporate a minimum of interactivity between their own equipment and mobile devices now owned by a majority of browsers.
What prompts me to do a quick update on the State of the supplied applications and the progress of the proposed functions.
The first observation concerns the integration of a WiFi access point on virtually all recent models of plotters and multi-function displays. This helps to smartphones and tablets to connect to these devices, either for remote viewing, be better for remote control functions. See this in detail. To offend nobody marks are presented in alphabetical order.
FURUNO
NavNet-Remote / NavNet-Viewer (iOS / Android)
NavNet-Viewer displayed on all mobile devices a remote image of the screens of the series TZtouch and NavNet-Remote allows more tablets these multifunction displays remote control. Used with a smartphone or iPhone/iPod Touch, NavNet-Remote works only in mode Viewer. MFDs TZtouch equipped with a firmware version TZT9/14 or higher allows connection up to 5 simultaneous mobile WiFi access point.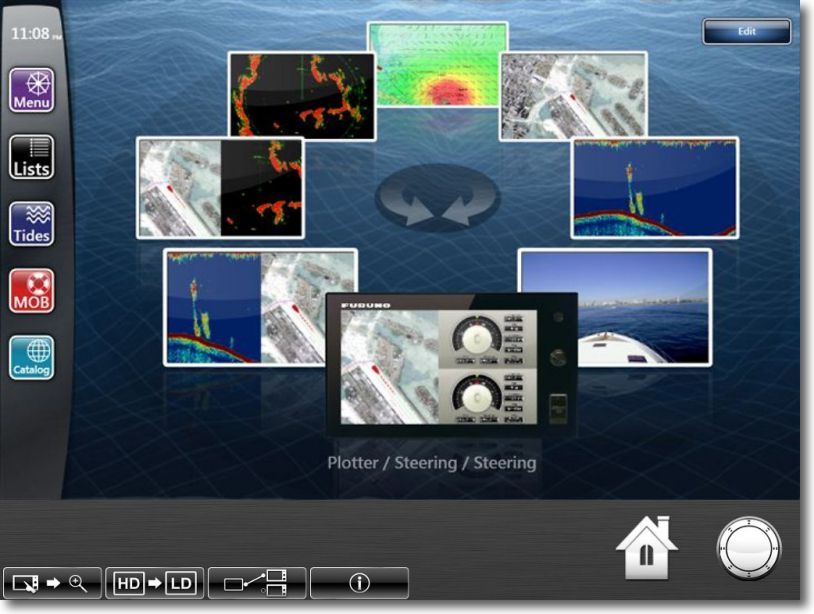 Latest versions to the 22/11/2014 :
Version : 1.0.5 (iOS) Updated : 25 rd, January 2013
Version : 1.0.5.8 (Android) Updated : 2 September 2014
Languages : English, Japanese
Editor : FURUNO ELECTRIC CO. LTD..
GARMIN
Garmin Helm (iOS / Android)
This application allows to view and control a compatible Garmin plotter from an iPhone, d'un iPad, a Smartphone or an Android Tablet. Compatible with the GPSMAP ® markers 527, 721, 820, 1020, series 74xx, and MFDs series 8000, with Wi - Fi built-in Garmin. When coupling with a tracer GPSMAP series 8000, the use of a Wi - Fi Garmin Marine adapter is required.
Features :
Display and control of the information of the tracer
Enhancing the visibility of the situation
Seamless integration with SmartMode™ to group the plotter thumbnails by station when using a GPSMAP system 8000 Glass Helm
Easy switch from plotter to another using the preview thumbnail thumbnail
Can connect up to 5 devices simultaneously and to define the permission level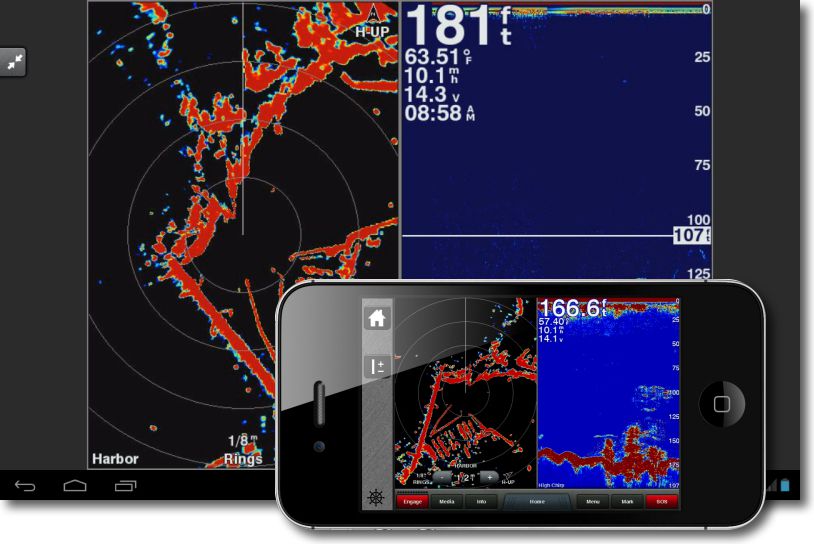 Latest versions to the 22/11/2014 :
Version : 1.2.0 (iOS/Android) Updated : 30 June 2014
Languages : French, German, Spanish, Italian, Portuguese
Editor : Garmin International
NAVICO (B&G / Simrad / Lowrance)
GoFree (iOS / Android)
An application for the three brands of marine Navico-owned instruments. Also the same functions. GoFree Controller & Viewer allows you to connect the mobile to the screens of the compatible society multifunction displays. Smartphones work like simple Repeater remote screen, the shelves are in addition to take control display Multifunction to perform different actions, including the seizure waypoints, the setting of the parameters at radar and even control Sonic HUB audio directly from the shelf. However the application does not auto-pilot control.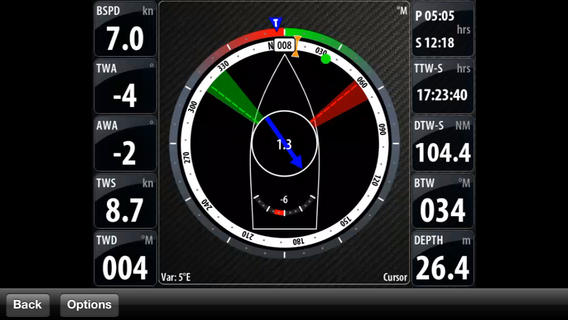 Access point WIFI-1 must be integrated in the network of each brand to enable WiFi connection. Compatible devices are :
B&G – Zeus Touch. Zeus2 W (iOS only).
Simrad – NSS7, NSS8, NSS12, NSO evo2. NSS7 evo2, NSS9 evo2, NSS12 evo2, NSS16 evo2 (iOS only).
Lowrance – HDS Gen2 Touch, HDS Gen2 (view only mode).
Simrad equipment must be equipped with the latest firmwares NSS software V.2.5.42.77 and sup.
Latest versions to the 22/11/2014 :
Version : 2.1 (iOS) Updated : 29 May 2014
Version : 1.3 (Android) Updated : 8 November 2013
Langue : English
Editor : Navico Auckland Ltd
[Update 28 November 2014] Navico announced at the METS in Amsterdam as the most recent MFDs (Evo2 Simrad NSO, NSS Evo2, B&G Zeus2 and Lowrance HDS Gen2 touch) will receive a software update next January which will allow the users with'buy new maps and to software update directement Since their devices via Internet. GoFree will become a service in the cloud, GB of RAMFree Shop, accessible to the Multifunction devices the current generation projects for buy the own cards at Navico and also those of partners to participate in the program.
NKE
NKE Display (iOS / Android) NKE Display pro (iOS)
NKE display allows to display all the information of navigation station from an NMEA interface connected to WiFi, and runs on both smartphone and Tablet. With this application dedicated to the regatta and the cruise, the mobile device becomes a Repeater offering 8 pages predefined displaying data. Default, communication WIFI settings are to work with the nke interface. However, the user may modify them to work with other NMEA/WIFI interfaces. Pre-programmed sources avoid configuring the iPhone WIFI link. Several settings for the display to customize the application (choice of units, display themes, etc,).
NKE display pro (iPhone / iPad ) allows not only to visualize all the information of the vessel, but also to order the installation and send orders to the autopilot. The application connects to the boat thanks to the WiFi network in the edge. The box WiFi nke allows the application to have a two-way communication and therefore to send commands on the Topline bus, to order the driver e.g.. Advanced features like control multifunction and driver requires that the application is connected to a WiFi nke update box.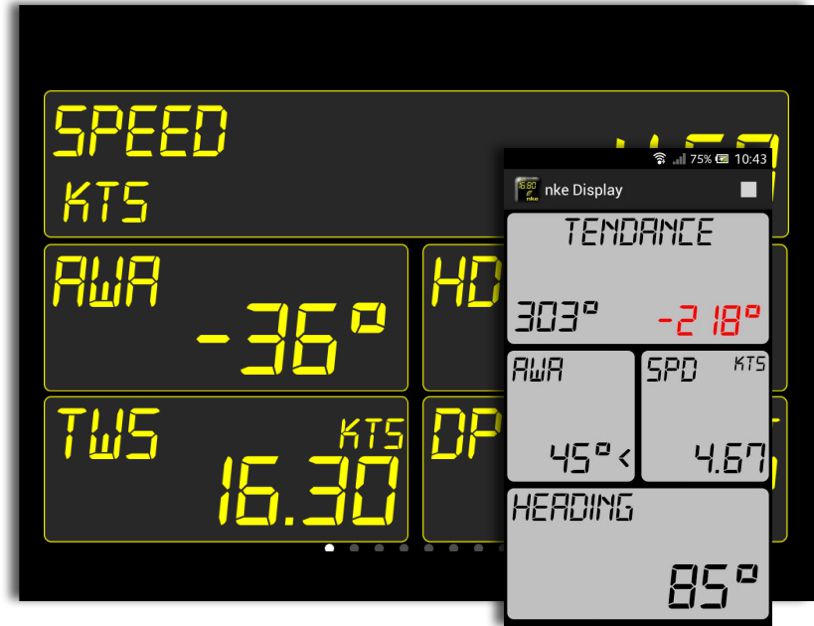 Working hand in hand with the WiFi nke box, You can make a diagnosis of the present instruments on the Topline bus and check whether the instruments software is up to date. You can customize screens by selecting the data to display. NKE Display Pro is a universal application, that is, it works on iPad and iPhone with a dedicated interface. Thanks to iCloud synchronization, integrated purchases and preferences are shared on all devices.
Latest versions to the 22/11/2014 :
NKE display
Version : 1.1 (iOS) Updated : 18 October 2012
Version : 1.0.1 (Android) Updated : 5 June 2013
NKE display pro
Version : 1.1 (iOS) Updated : 8 sept. 2014
Languages : French, English
Editor : NKE Marine Electronics
RAYMARINE
RayControl (iOS / Android)
RayControl allows to visualize and control a multi displayfunction Raymarine E-series or C series from a tablet or a smartphone. RayControl eMule Multifunction devices Raymarine with interaction touch screen and a virtual keyboard sliding. The slide-out keyboard allows you to control all functions display and The'Uni-controller virtual allows to rotate the menus and the settings without effort. Control and display of electronic mapping, Sonar, radar, and vision thermal, same night, from the Tablet. The control of autopilot n'is not possible via a mobile device.
For Use this application with Raymarine Series C-series or e-series, the software version of these devices must be updated version 3.15 or later. Compatible devices : E7, e7D, e95, e97, E125, e127, C95, C97, c125, c127.
Latest versions to the 22/11/2014 :
Version: 1.3 (iOS) Updated : 15 rd, January 2013
Version : 01.06 (Android) Updated : 27 August 2013
Langue: English
Editor: Raymarine Belgium BVBA
Summary
As seen in this rapid inventory, manufacturers can only meet the demands of their clients by creating a bridge between mobile devices and their multifunction displays. Apart from the nke display that can be used with devices other than those of the mark, all applications remain owners, 'companions' only dedicated to each manufacturer instruments.
It is curious to note that only Furuno and Naylor have developed a control of the autopilot function, function which seems yet major for security because it allows to avoid an obstacle to the boat from anywhere on board, Since the bow, in example.
Positive, the generalization of the porting of applications in two popular operating systems, iOS and Android, is a good thing for users who can freely choose the mobile devices that are right for them.
It seems to me however that these small developments, easy to implement, do only delay an inevitable evolution of the marine electronics to more mobility and universality. I do bet than it was five years before new players will have produced a ' boxes black» on which multiple sensors will be connected (probe, speed, wind, AIS, radar, cameras, etc,) who will broadcast their wireless data. With a simple tablet in his sea bag, the browser will connect and its multifunction applications will bring much more than heavy and static current MFDs, internet connectivity by cellular and satellite networks, weather, Security and port information, the instructions on protected areas, the moorings regulated, and many other things in addition to mapping, routing calculations, and other I forget . All this exists already, but still very scattered. Once unified all of these services in applications costing only a few dozen euros ($ or) installed on tablets for universal use ten times less expensive than the current Navy multifunction, What will be the choice of boaters ?
I leave you to guess.
—