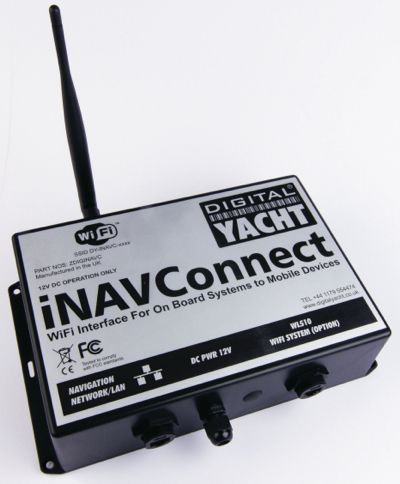 Company Digital Yacht continues to offer new products for yachting (¹). One, iNAVConnect, allows to connect by WiFi iPad or iPhone, featured iNavX, Navionics Marine, or any other compatible application, to Raymarine MFDs C and E series. This allows transfer waypoints and routes from Raymarine systems to applications on iPhone or iPad, and vice versa.
It's a start, Digital Yacht hope other manufacturers implement these transfer functions in the future.
But iNAVConnect is not only limited to this single function. It can connect the wireless access system WL510, which allows to connect to long-range WiFi access points on the coast. So iNavConnect becomes a WiFi router that allows all computers, tablets or smartphones onboard to connect to the Internet. Unlike home routers, iNavConnect and WL510 are supplied with 12/24V and totally marinised.
Digital Yacht has recently recruited a French collaborator to post-synchronize the numerous video presentations made by CEO Nick Hayes. Happy initiative which is to be welcomed ! Below are videos showing, in French, the two devices :
iNAVConnect :
WL510 :
—
(¹) See Receive AIS data wirelessly with iNavX