The acronym " VAtoN " means in English Virtual Aid to Navigation. En Français : Virtual assistance to navigation (¹).
This concept is an extension of AIS. It allows, by means of a spacific AIS transponder located onshore, managed by an administration software, reporting virtually unreported hazard. The position of these hazards is plotted by an AIS target as an appropriate icon. For example, a buoy indicating a flush rock may have been temporarily destroyed by a storm. The VAtoN makes up for the absence of this marks the time that the maritime services back in place. Another example, creating an exclusion area of prohibited anchorage has not yet been an update on ENC charts.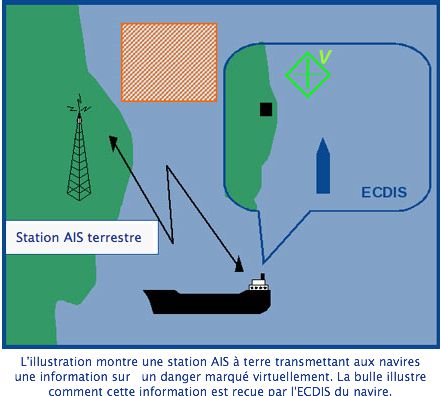 This system could also be applied to harbour guidance services, allowing a harbour master to create an AIS target conducting a ship making the request to a specific docking. This ship would see the target displayed on a navigation screen, facilitating the docking.
The main proponent of this technology, New Zealand's company Vesper Marine, has tested a Virtual AIS Beacon that might interest many maritime activities : marinas or commercial, oil platforms, aquaculture, fisheries, etc. The functions of this beacon are :
Warn ships of non physically marked danger.
Mark navigation channels to improve the transition from one buoy to another in condition of poor visibility.
Mark navigation areas subject to frequent changes (draft, air draft, tidal levels, etc).
Mark visible and hidden dangers, such bridges, roundheads, reefs or shellfish beds.
Mark areas where grounds are often modified (sandbars or mud) continuously showing the position of the dangers.
Temporarily materialize a security cordon around an event (yacht race, grounded ship) or a protected area in which no vessel shall enter.
One of many examples of using the Virtual AIS Beacon is to mark a shipping channel. It may be necessary to increase the number of existing physical buoys or to materialize a temporary route, as in the example below :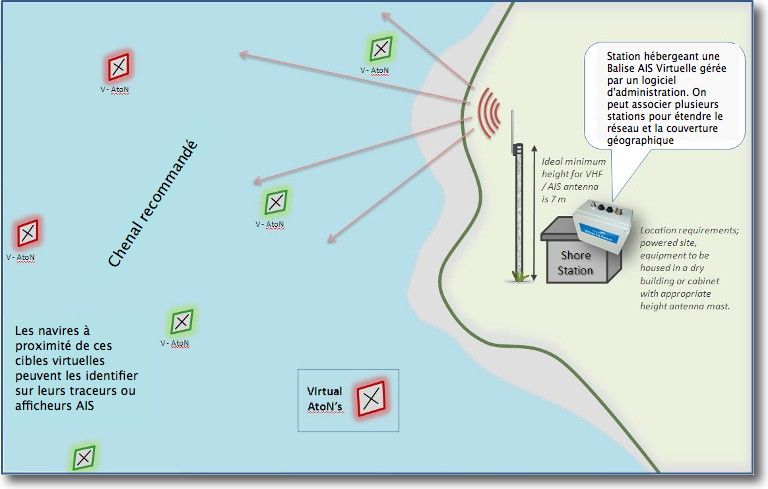 No doubt that with the proliferation of AIS transponders and devices capable of displaying targets, as ECDIS, chartplotters, navigation software or dedicated displays, this technology should develop in the near future. The cost of implementation is significantly less than equipment type RADAR. It should naturally find its place within the VTS (²).
—
(¹) Source PANBO
(²) Vessel Traffic Service. See Glossary
—