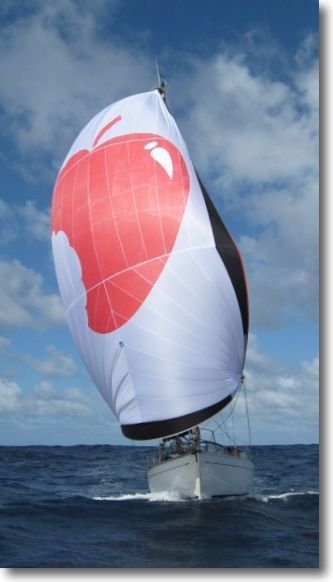 After Jean Debèze, avid supporter of Navigation Mac, made me the pleasure of a detailed tutorial about installing a multiplexer aboard his sailboat, here's a ticket by Jacques Vermeulen, reflecting very didactic experience during the recent Transquadra, on board " Bluestairs ", with the owner and friend Marc Bolla.
—
Placed at the Transquadra 2011/2012, we met, at the first stage of the Mediterranean Barcelona-Porto Santo (Madeira), problems receiving and sending data and GRIB files via the Iridium network. Email was impossible to use with the Iridium Airtime cards we used. Do we remained as the ability to call with the Iridium.
Back after this first stage, I decided to deepen the subject and educate myself with Francis Fustier whom I had knowledge, hitherto, through his blog, really comprehensive.
Mail a handshake followed by a phone call with details to define my needs. Francis prior to any training : be equipped with a Mac and leave the "PC attitude". Following his advice, I opt for a MacBook Air, associated with a 64GB iPad WiFi 3 G (I already had). A tele-training is scheduled for the following days and with the expertise of Francis everything becomes simple.
Meanwhile I had the opportunity to meet some "sailors" registered Transquadra and discuss the problems they had encountered on the reception of GRIB files and data. I was surprised and reassured by the fact that all had experienced similar problems on PC, none being on Mac :
Whew ! I may have been null,
but I'm not the only one !
Some applications are required to run on Mac and iPad, listed below :
IPad :
iNavX
Weather4D PRO
Files Connect
AyeTidesXL
Mac :
Restrict
Mailasail
iResize
Thunderbird
Zygrib Mac
For messaging, Francis and I chose the Apple Mail 5.2 and MailaSail, English supplier of communications satellites paying (140£ / year) but with an excellent rate of data compression and especially spam filter and attachments filtering very effective. For example : mail address Navimail was not referenced as a reliable source by MailaSail. We have asked him to allow this source, this was done in few hours.
We also bought the Iridium prepaid card at Mailasail and during the second step we had to reload units without any problems and that in few minutes. The tariff, not particularly attractive, is consistent with other suppliers (497.56£ to 500 minutes). But the service is to go and be able, in the middle of the Atlantic, purchase more units is much appreciated, without the intervention of a third-party.
Before the second step of the Transquadra, I've tested the package iPad / Mac aboard "La Louise", Thierry Dubois's schooner, while crossing from Newfoundland to Etel River. Emailing worked fine and queries and receiving GRIB files too. Only problem for me at this point : transfer GRIB and data to my iPad. I had not fully assimilated the establishment of a link Ad-Hoc Mac to iPad for exchanging data over WiFi between two units. Back home, Francis quickly identified the cause of my misunderstanding and it was finally resolved.
During the crossing, very committed, since we have crossed paths with two tropical Lows (¹) with winds over 65 knots and waves up to 12m, I could familiarize myself with the application iNavX and Navionics charting associated. Thanks to Thierry Dubois we also realized that it was important to have an overview of weather and had to come off of GRIB. Weather training with Sebastien Fabre, meteorologist and router, only served to confirm this attitude.
At the automne 2011, was added application Weather4D PRO by Olivier Bouyssou, which has really "boosted" the use of the iPad in navigation. This application provides a reading weather maps very intuitive with the capacity of a route and estimated course with progress of weather situation both with the progress of the boat. Only loss this software a small distance scale. The export of GRIB from W4D PRO to iNavX is a single click. Very significant also the 3D view of the High and Low Pressures that allows an excellent understanding of ridges and troughs areas and isobaric contours. This helped to choose the best way to avoid two areas "becalmed". But the benefits of PRO W4D does not stop there. Olivier also added a map of Iridium satellite network constellation in real time which allows for Iridium connections at the most opportune and thus saving your prepaid card units. This feature obviously requires a good synchronization of the internal clock of your iPhone with the application and a forced updating the hours before your departure at sea.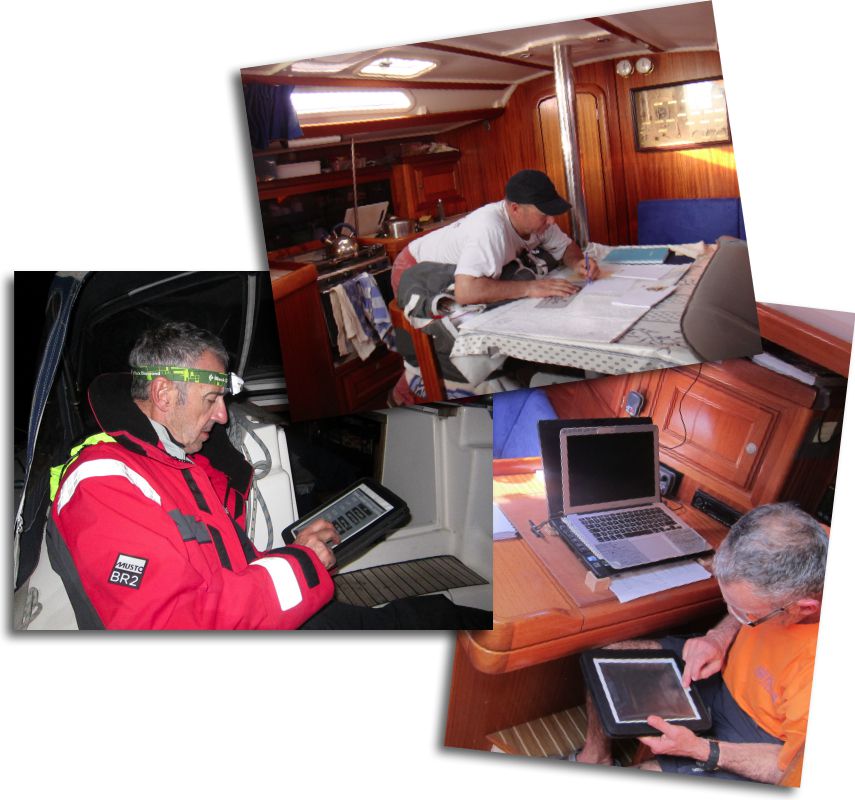 So we crossed the Atlantic with only two applications W4D PRO and iNavX ! Our weather requests were made at saildocs.com and Navimail. Thus we could compare GFS (²) U.S. data and IFS (²) from Meteo France, very similar in all cases. With Navimail, one can appreciate the great speed of response that happens in the same connection, and also an area covered by West Indies GRIB files consist of a very fine grid, useful when approaching to Martinique.
Other applications, such as Restrict (³) and iResize, provided by MailaSail, we used, for the first secure communications and the second to resize the photos we wanted to send to our weblog and our loved ones.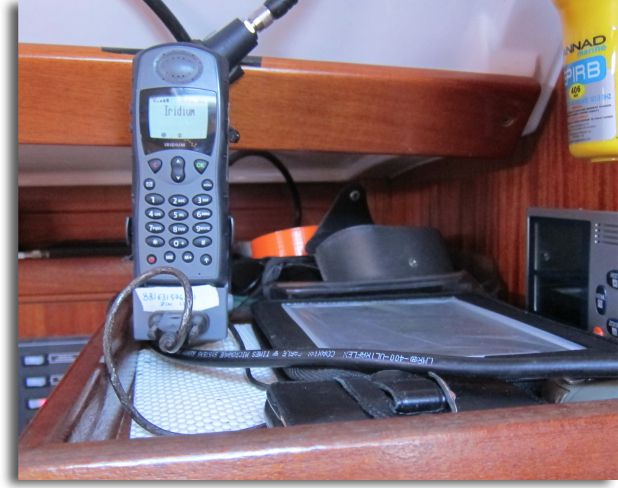 We sent news once or twice a day by email that my wife Laurence, from the iPad, could put them online immediately. Our friends were invited to support us by SMS to Iridium. It is recalled that this function is free ! up to 160 characters, in order not to clutter our mailbox. The connection time when sending and receiving request and data are highly variable from 1mn30 to 9mn, with transfer rates sometimes exceed the 2400 bps announced. The best transfers were obtained at night between 02h00 and 06h00 UTC. We have transferred over 20 emails a day with no problem but the card 500 units is essential for a crossing time of 18 days, with the possibility of re-crediting of units if the Airtime expiration is more than 90 days for great talkers like Mark and Jacques aboard the Dufour 38 Classic « Bluestairs ».
Our Iridium was an old model 9505a old with a "bullet" recent antenna shielded cable 10m antenna adapter, but it gave us complete satisfaction. The latest Iridium devices offer the possibility of a direct connection with the iPad (cf. article on the subject Iridium AxcessPoint : GRIB weather files on iPhone and iPad in open sea). Similarly, Iridium provides now the possibility of free access to the email application Iridium Mail & Web.
You have however to your accounts ! If you already have an Iridium phone, adaptations we can make a saving of some € 2000.
Ease of navigation on the iPad should not be a substitute for conducting paper charting surveys which remain essential ! For let us never lose sight that all hardware is likely to fail !
The landing to Le Marin in Martinique was done at night, the iPad tablet and Navionics chart associated with iNavX allowed us a nightly approach without any worries. You place your tablet in front of you at the helm. Some obvious precautions must be taken however :
Charge 100% completed.
Tablet properly secured.
Option "Auto Lock" set to "Never" in the General menu.
iNavX version "Night View" in the Settings view Map.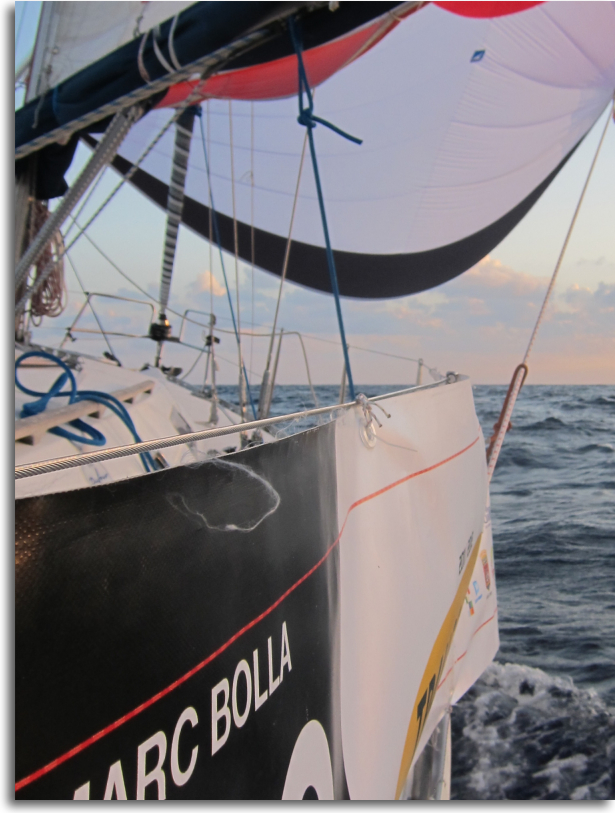 You have in front of you the most convenient chartplotter, and you can tack in the cove of Le Marin with its sandbars and rocks without any tricky problem. Navionics also incorporates changes buoys color code to U.S. standards (green on port and red on starboard).
The results of this trip across the Atlantic from Madeira to Martinique is very positive. We had 17 days, 9 hours 50 minutes in real time. Our final standings on corrected time on the whole event puts us in 14th place which, given our boat, we are fully satisfied. If we had to redo this crossing, we would pick the same computer equipment, that after further thoughts is the best proof of our satisfaction.
—
(¹) When the meeting Katia Louise
(²) See Forecast Models in the Glossary
(³) Restrict app prevents all automatic updates that might want to set up when connecting Iridium.
—