iNavX allows connection, since version 3.1.7 from 11 October 2010, to the data server AIS SiiTech I mentioned in a previous post (¹). The benefit of this remains questionable in France because of the low coverage of our coasts. This may change.
Indeed, the number of SiiTech ground stations is increasing, the Channel coast are now well covered, and the Atlantic coast should be progressively equipped (²).
In addition, version 3.2.4 of iNavX comes with an improvement that makes a revival of interest for this feature : it is now available to select the origin point of AIS data from SiiTech server, the position of the ship (that of the iPhone / iPad used), or a previously created waypoint. The reception range is about 30 nautical miles from the place of origin, This greatly increases the coverage of AIS data reception.
Needed, of course, to have a cellular network (3G) or WiFi connection to access the server SiiTech with TCP / IP. But if you engage in coastwise, or during a landing, and if you do not have an AIS receiver on board, This feature can be very useful.
In the example above, I'm connected from Nantes to SiiTech server using as a waypoint origin located near Cherbourg (Pointe Barfleur). It allowed me to follow in real time the movement of ships and get their information, toward very important distance.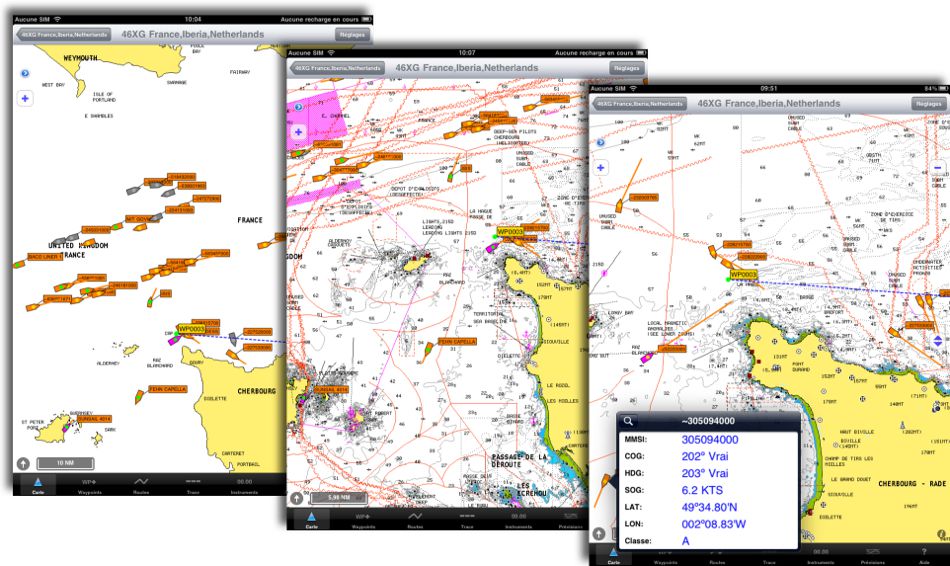 Another advantage of this connection is to follow, from land, a friend's boat equipped with an AIS Class B transponder for pleasure.
It should be noted that access to SiiTech server is integrated in iNavX, username and password are provided, so there is no subscription fee to provide, This professional service is free.
A dedicated page has been added to help file in French version 3.2.4 of iNavX, available April the 8 April.
—
(²) Coverage Area