The latest version of iOS for iPad, iPhone and iPod Touch has caused a lot of updates to compatibility. This time, with iOS7, developers have had hard work to put their interfaces in accordance. For our purposes, the latest versions optimized for iOS7 to date are :
iNavX 3.7.0
iSailor 1.5.5
AyeTides 3.0 (iPhone) and AyeTides XL 2.0 (iPad )
Weather4D 1.3.2 and Weather4D PRO 1.3.7
iNavX
This is the application that has the greatest adaptation of the interface to the new system. On a functional level, nothing new, no particular improved responsiveness in various manipulations.

iSailor
Transas take this update for some improvements, mainly :
Improvements of the auto loading and Chart Generalization algorithm on large and small scales.
Cross Track Distance (XTD) is now adjustable for the each leg of the route separately.
Cross Track Distance (XTD) zone can be presented graphically on the chart layer.
AyeTides and AyeTides XL
August Hahn took this update to bring significant improvements in both versions for iPhone and iPad.
Additions for Europe current predictions for hydrographic services referenced locations. At first database for the English Channel with more than one hundred geographical locations.
Display predictions current hourly or hours of max / min currents.
Print and sending by email the day predictions.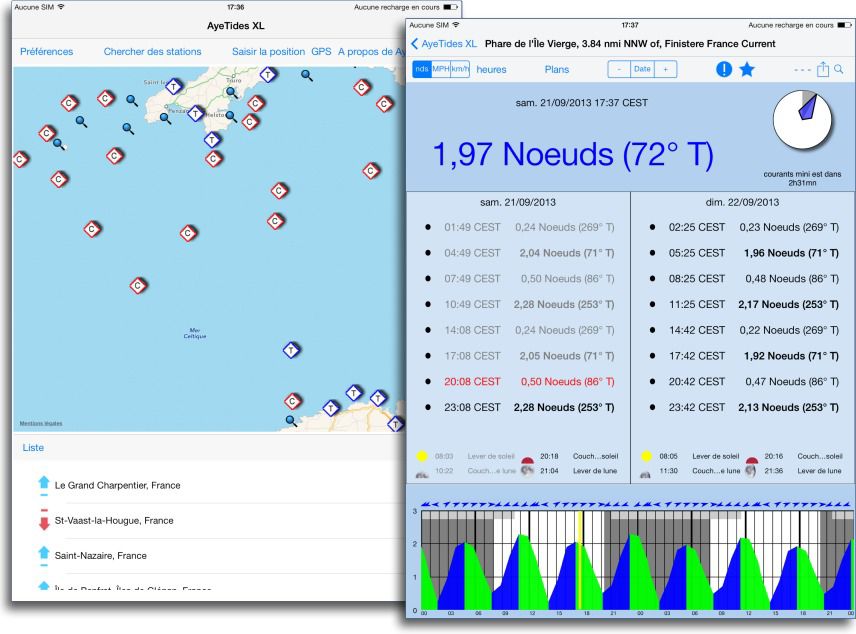 For AyeTides on iPhone, adding a page of graphical presentation of daily predictions for actual month and following month.
Weather4D and Weather4D PRO
In addition to the optimization iOS7, new elements are :
Display GRIB file size in area settings dialog box top banner.
Adding the current model of My Global Ocean 1/12 ° – 24h – 7j.
Added GCWF model for Greece.
Other applications, as Plan2Nav and Garmin BlueChart not yet updated. About Navionics Marine, I guess we'll have to go through the purchase of the optional Navionics , I do not intend to.