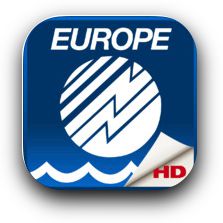 Fort of 1 million applications for mobile devices sold, announced end of April 2013, Navionics continues to introduce new and more attractive options. However, the term "attractive" might sometimes rhyme with "disenchanted".
The last option in-app available from 15 August 2013 is called NavionicsPlus. This is the fourth paying option that adds to its applicarions Navionics Navionics Marine iPhone and iPad. What is it ?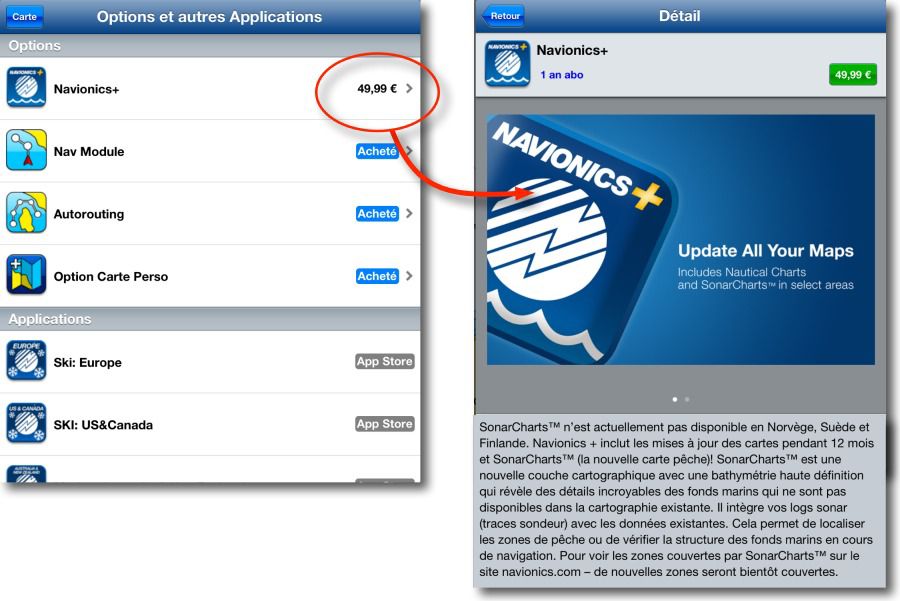 NavionicsPlus includes SonarCharts™ as well as charts update for 12 months. See it.
SonarCharts
SonarCharts™, trademark of Navionics, is a new chart layer with high definition bathymetry showing details of seabed. Here is how Navionics present this module :
« With SonarCharts™, Navionics became the first global company to introduce crowd-sourcing (¹). The SonarCharts layer™ is made up of data from multiple sources and its evolution over time, with the integration of new sonar logs from the nautical community and fishing, is revolutionizing the mapping. It is easy and convenient for everyone to save their sonar logs and upload them to navionics.com. […] Thanks to real-time crowd-sourcing data, Navionics can provide new updated maps for almost all areas for Navionics maps with SonarCharts. SonarCharts™ has exceptional value for browsers, mapping because they have to constantly improve ! "
When looking at the different available screenshots to illustrate this option, it actually looks attractive. However, some notions of discourse ask me : " data from multiple sources ", " save sonar logs and upload them to navionics.com ". I can not help but ask myself : What is the reliability of these data ? How can we ensure the accuracy of the sonar of a boater ? How can we collect hundreds, even thousands, recordings of depth sounders and use without verification ? This seems all the more surprising, for the most worrisome. Unless this community sharing secretes other sources more… Business ?
Charts updates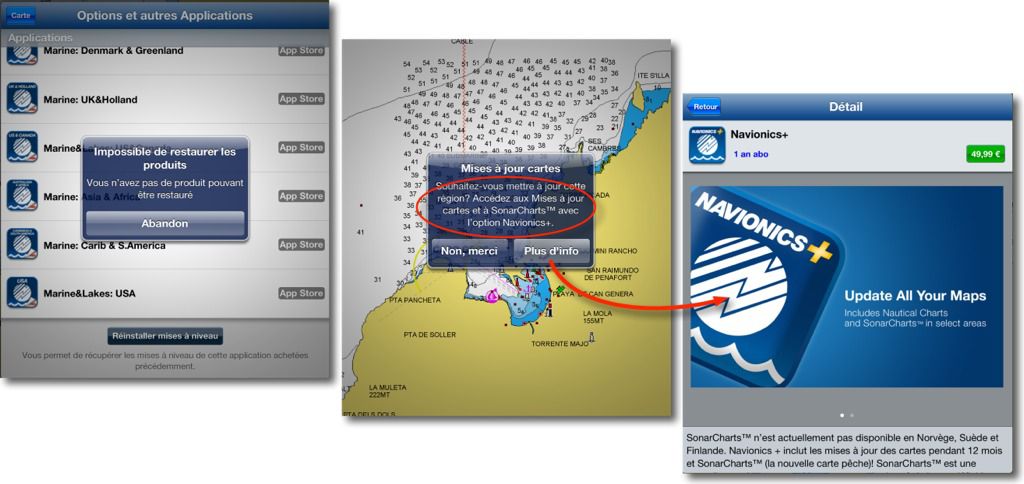 NavionicsPlus includes a yearly subscription to update the Navionics Marine. Previously, updates were free by update sytem AppStore, and sometimes, as 2010, a straightforward renewal application. And it is here that one is entitled to disillusioned. It is no longer possible to update the contents of the application (charting) without an annual subscription at Navionics for the modest price… 50 € for iPad and 20 € for iPhone.
I mentioned several times in this blog Navionics trade policy for the least versatile (²). This new option is no exception to the rule. The price of the application has not only increased significantly since its launch, but optional modules (sometimes unavoidable as the Nav Module) have weighed the bill. Subscribing to Navionics for just being able to do updates, even if it is not affected by SonarChart, to buy back the application each year ! There is something I am missing.
As I have always said and written, I strongly believes in Navionics real advance for the quality and accuracy of its charting. But for Navionics Mobile applications sold directly from online stores, there is the risk of users, vexed by steadily increasing prices, divert to competing charts.
—
(¹) Participative charting. See my post Navionics Mobile and Community Sharing.
(²) Navionics knows no crisis.
Navionics charts trade policy.
———