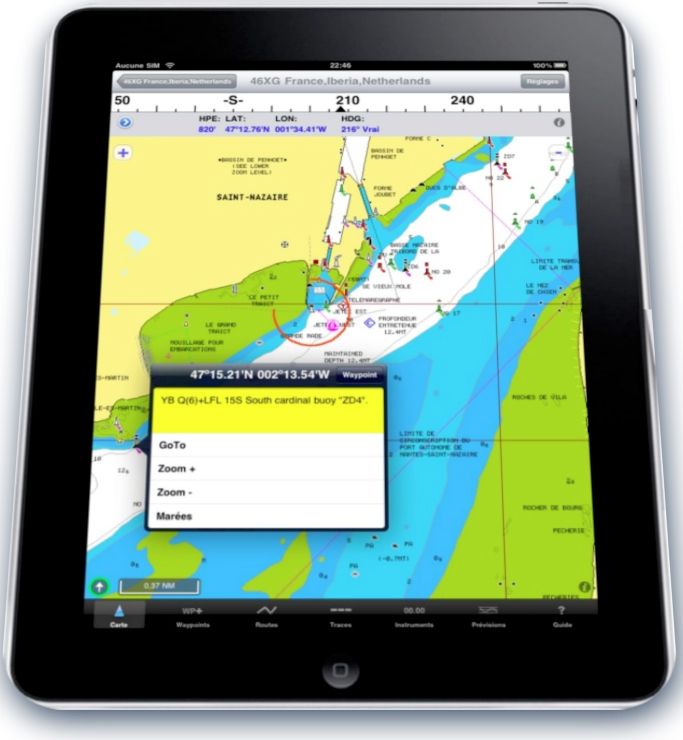 With iPad 3G finally in hands, featured iNavX and (beta) version AyeTides XL in testing, I'm going to give you my first impression, previously to perform an extended test at sea.
Regardless of the fact that the iPad can be used for many other things than shipping, I am now totally convinced of its utility on board, here are the reasons.
Positive
Built-in GPS effective even inside the boat, well above the iPhone 3Gs, was the thing to look primarily. Warning, you should check the reception in a steel vessel or aluminum.
Screen bright, fluid image and excellent resolution, well above the mid-prices chartplotters. The Navionics have a superb sight.
Minimum space (extra-flat) So easy to install and / or store. On the chart table, it will still provide support, rotating as preference.
Less fragile than a PC / Mac laptop (no keyboard, no mouse, no trackpad, sturdy glass slab) and certainly more resistant to seawater wet fingers.
Power consumption ridiculous.
Easy to embark / disembark.
Associated iNavX, the iPad offers all the functions of a chartplotter : waypoints, routes, tracks, instruments, File Transfers, and additional functions : TCP / IP, receiving GRIB weather files, link with the "Plans" application, link AyeTides XL (coming soon) for tidal predictions.
Non-waterproof device : I do not know how to use it outdoors without putting it in a waterproof case, and so therefore it will also be convenient to use and reading. We would need testing.
No connectivity provided to date for external instruments. However there is one WiFi solution detailed on this blog.
The screen is no more or less readable in direct sunlight than any other device when the sun is directly on the screen. I had the opportunity to use a Furuno 8″ recent on helm : unreadable with the sun perpendicular to the screen. Do not dream !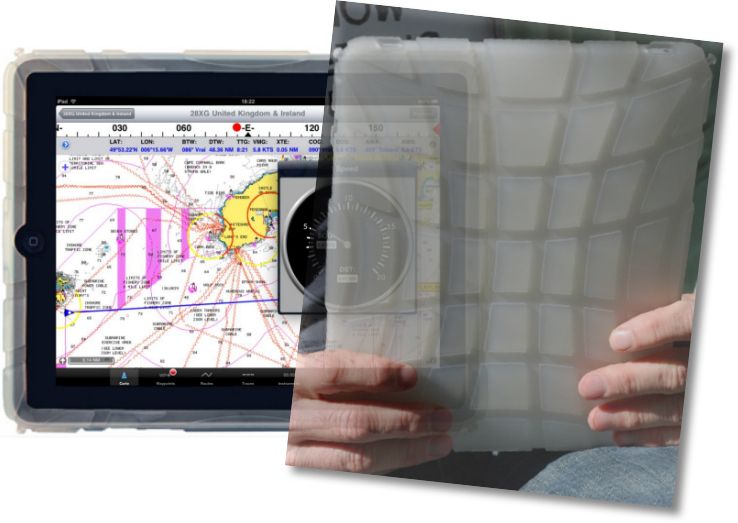 Essential accessories for the boat
A shock-absorbing case. Example below by HardCandy Cases. Excellent quality, is the one I use.
A charger cigarette lighter 12V 2.1A, like the Kensington model opposite. Warning, cylinder model is fairly short, It may not make contact with some female cigarette lighter connector. Model Griffin PowerJolt is more cumbersome but more along.
A waterproof case if you want to use it on the deck, like Andres Industries.
And of course support, preferably rotary, iPad firmly fixing the above chart table. It remains to be invented, or make your own, like this pretty wooden stand from an American beta tester.

To summarize
For my own opinion, this device is perfectly suited to electronic navigation on small boats : GPS, consumption, dimension, very functional software continuously improved, universal vector charting very cheap, the use of WiFi to receive GRIB weather files by mail with iNavX,
Warning : 3G model essential for built-in GPS and electronic compass. On the other hand SIM card and subscription to the 3G are absolutely not useful for navigation. Finally, if you only load applications and charting, 16 GB model is more than enough.
—
Related Articles :
iPad : new support for iNavX ?
Question of choice