For some years websites for viewing marine traffic grew on the web. They transmit continuously via the internet the positions received from the AIS transmitters of the ships, captured by shore-based reception bases, all along the coast. Two of them caught my attention because they present very different options : Marine Traffic and SiiTech.
Marine Traffic, AIS Community
Marine Traffic was, originally, a university project, free and community-based project, devoted to the collection and presentation of data used in several research areas. Now a company, Marine Traffic continues to provide free near real-time information to the general public, and paid services to professionals, concerning the movements of ships and ports, with global coverage. Initial data collection is based on AIS through the largest network of terrestrial reception bases, supplemented by offshore satellite data. Marine Traffic offices are located in Greece, in the United Kingdom and Singapore.
How data are collected ?
Based stations are equipped with an AIS receiver, a PC and a broadband internet connection. These stations may have a range of 40-60 MN depending mainly on raising their antenna. The AIS receiver receives the data that are processed by software on the PC, encoded in NMEA, then sent to a central database by means of a "web service". This software is free for anyone interested. Marine Traffic project is constantly looking for people wishing to take part in community. They will install an AIS receiver and share data in their area with Marine Traffic, to cover the possible areas and ports around the world.
Data Display
The position and track of the ships are displayed on an OSM Live Map as the data is received. Positions are pointed in near real time but can be up to an hour off with reality. The information on vessel characteristics are provided, and their pictures when they are available. Different icons characterize the types of vessel, and if they are underway, stationary or dockside. Data are updated automatically, manually or by refreshing the browser page. Out of range of ground receiving stations, vessel tracking is done by satellite and requires a paid subscription to the service.
For what purpose ?
Marine Traffic will be primarily an information database, to follow the route of known vessels, or view the most heavily trafficked areas, for example. Not as a means of security.
SiiTech AIS Server, Professional Services
SiiTech is a company founded in 2004 Vancouver, Canada. SiiTech server works on the same principle of collecting information from AIS shore-based receivers, but its destination is totally different. SiiTech provides a set of payed web services for different professional needs (Vessel Traffic System), and different levels of access to an AIS server to receive AIS and ARPA data (*). A simplified web interface is freely available to users.
AIS Server is the base for SiiTech maritime traffic display solution. Combined with Web VTS, AIS Server allows the analysis, filtering and representation of information for users from one or more AIS base stations, from AIS transponders and/or receivers. Since 2015 SiiTech has received ISO certification 9001 quality management.
With iNavX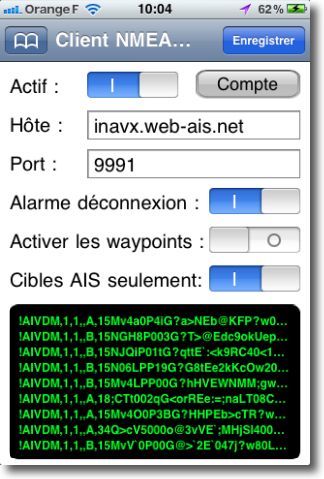 Access to the server has been implemented in SiiTech iNavX from version 3.1.7. Free in its early days, this service now requires a fairly expensive annual subscription. Can only be used in coastal navigation, a permanent Wi-Fi or cellular connection is essential. The server is to select in TCP/IP view. Once connected, iNavX receives NMEA AIS targets information present within 30 MN of the ship's position. Targets are displayed on the map in iNavX, and information about them is available with a simple tap.
Global coverage has increased significantly in recent years, but without reaching the density of Marine Traffic. The data are far more numerous on the trunk traffic, as the English Channel and North Sea since the stations on the British coast are numerous. A look at the world map on their website makes it possible to realize it.
These Web services are interesting and will certainly grow in the future, by increasing the capacity of Internet connection and the spread of AIS transponders on ships, including leisure yachts. But beware, under no circumstances should these services be used for security, but only for information on traffic density or tracking a friendly boat. They cannot replace the presence of an AIS receiver on board, or even better a transponder, for browsers who consider them essential for their security. These devices are the only able to provide instant information, independent of any internet connection.
Other servers
Other AIS tracking services have developed, as Vessel Finder, Marine Traffic's largest competitor, AISHub which always offers a Free API enabling the integration of the service into an application, as in Weather4D Routing & Navigation and SaiGrib WR, or even SpanishLocalizaTodo. And I certainly forget some…
—
(*) See Glossary
—