You will soon hear about Signal K, a marine data communication standard, developed in open source, which aims to replace the standard NMEA (0183 and 2000) technically overwhelmed by the exponential development of connected objects. Designers intend to make an open and free protocol developers and industrial customers, allowing to get over the constraints linked to the NMEA : cost of licenses, flow limits, limit the number and type of devices, failure to adapt to complex environments, wireless communications, therefore incompatible with the Internet of Things and the Internet itself.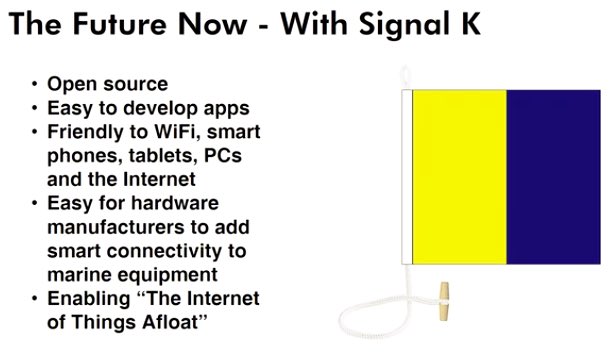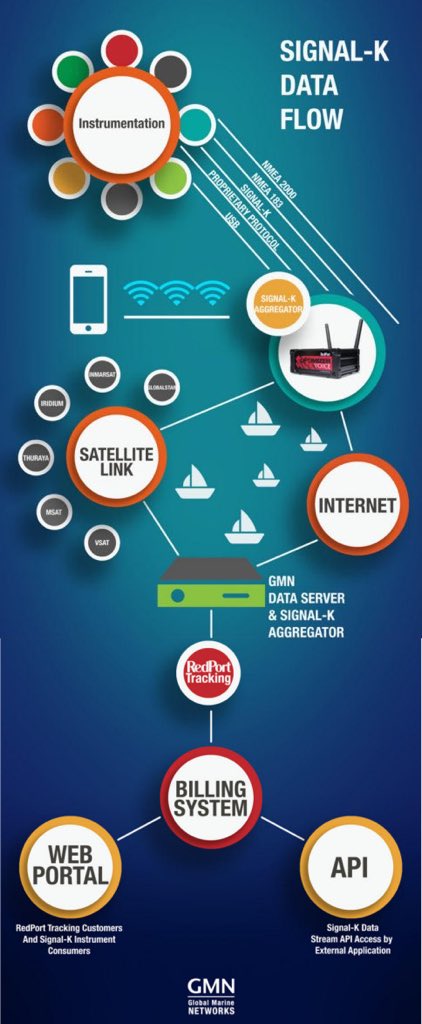 Some manufacturers, as Nick Heyes, CEO Digital Yacht, have not hesitated to follow in the footsteps of the project. Digital Yacht has launched the design of an NMEA gateway to Signal K, iKommunicate, by raising funds through a call to collaborative financing via KickStarter. Other well known actors like Luis Soltero, with Global Marine Network and Redport, or Jeff Siegel, founder Active Captain (the most important community nautical database), have embraced the project with enthusiasm. No doubt this should be emulated rapidly and boost the project (¹).
In addition, the National Marine Electronics Association (²) which publishes the NMEA standards, acknowledged the project last May and gave it its support.
It remains to discover how the major marine electronics manufacturers will react, Furuno, Raymarine, Garmin, Simrad, Nobeltec, who have made significant investments in NMEA, especially NMEA2000, which cost them a fortune in operating licenses. (¹).
I give you hereafter the in-extenso translation of the presentation on the website of the project :
Signal K is the publication of a common, modern open data standard for marine use. A standard for modern boats, compatible avec NMEA, suitable for Wi-Fi, smartphones, to tablets and Internet. A format accessible to all, for which everyone can contribute.

Introduction

K signal is to be the next generation solution for the exchange of marine data. It is intended to be used not only for the communication between the instruments and sensors on board a single vessel, but also to allow data sharing between several boats, navaids, bridges and marinas. It is designed to be easily implemented by web and mobile applications and to connect to modern boats Internet of Things.

Justification

There is a need for a new communication protocol for maritime industry to meet the needs of a changing world and increasingly interconnected. The currently most widely deployed mechanism for interconnecting instrumentation has been with us for over thirty years. Unlike other ubiquitous communication protocols in the same period, NMEA 0183 has not aged as well. It was recognized from 1994 when a replacement development began, NMEA 2000. Unfortunately, when such replacement has arrived on the market in early 2001, he was already showing its age. Fourteen years later, it is clear that a new forward-thinking approach is needed.

There are several major problems with existing standards. By breaking, the first problems are technical. The two standards are essentially local networks in series designed for limited deployments in simple environments. NMEA 0183 is limited to 4800 baud (115.200 bps maximum, which saw a limited deployment to AIS instruments) and one transmitting device. NMEA 2000 operates at a significantly higher speed (250 kbps) and allows multiple devices to transmit on a shared bus, but it is limited to 50 devices on the bus. These decisions may have been perfectly rational, there are twenty or thirty years, but today, we need something more powerful and extensible.

The next major problem is not technical, but rather a legal issue. These standards are published and available for use by developers. However, although they are open standards and that everyone can develop a product using it, the two are not for free, in that their use is subject to a license agreement that restricts how they can be used and, in the case of NMEA 2000, a non-disclosure agreement. En substance, this prevents the diffusion of an open source application developed using these standards.

At last, and especially, both NMEA standards and other proprietary protocols in the industry were developed when the instruments on board medium-sized boats were much simpler and less efficient. In a world where the thermostat in your home is connected to Internet and the number of Internet-connected devices in the US alone is expected to exceed one billion by 2016, it seems archaic that your boat is still itself an island.

After all, your boat is not alone on the sea. There are many others, and also many other information sources . In the modern world connected, shouldn't you be able to access this information from your boat wherever you are and whatever device you are using ? To move forward, we need to think in a connected way, with a fundamentally different way from the NMEA protocols. Sun Microsystems is famous for inventing the sentence "The network is the computer", and Signal K reflects this global peer-to-peer concept."
In concept, Standard Signal K will help make future navigation devices able to communicate beyond the single-board cable, via Wi-Fi, Bluetooth, through Internet, without need for costly gateways or specific applications. Navigation data can be saved and shared on the cloud, information can flow between ships, and between land and ships. Harbor master's office will be able to provide useful real-time information to ships that access it, immediately displayed on the chartplotters, as anchorage areas permitted or prohibited, for example. And many other services can be developed.
Perhaps an important step for marine electronics, the entrance of boating in the third millennium. let's wait and see…
———
(¹) Source : Panbo
(²) See NMEA in Maritime Charting Glossary
———